Heller protects Filipino funds in Senate spending measure
November 10, 2015 - 11:32 pm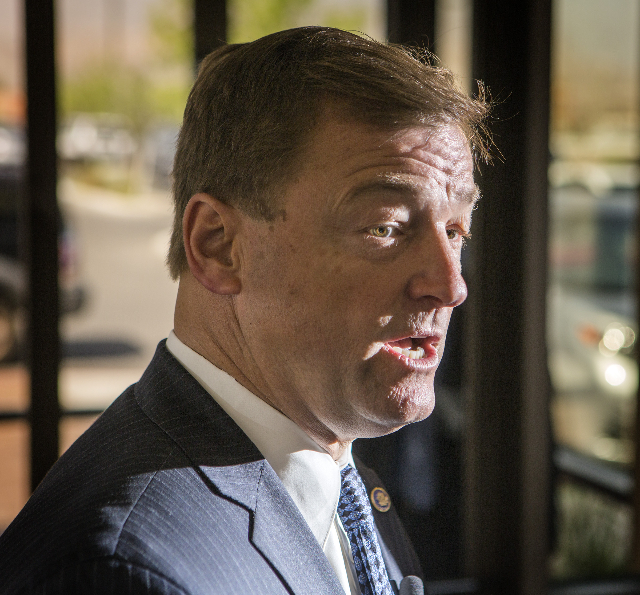 WASHINGTON — Although stormy weather kept him from the U.S. Capitol, Sen. Dean Heller was able to protect the Filipino Veterans Equity Compensation Fund in legislation that cleared the Senate on Tuesday.
During debate on an $80 billion spending bill for military construction and veterans programs, the Senate agreed to accept the Nevada Republican's amendment that would prohibit the VA from transferring money from the fund established for Filipinos who served in the U.S. military during World War II.
The Department of Veterans Affairs had planned earlier this year to redirect $35 million from the fund to help bail out a troubled hospital project outside Denver. About $56 million remains unspent in the Filipino fund that offers a one-time payment of $15,000 to eligible U.S. citizens and $9,000 to eligible noncitizens.
Protecting the funds provides veterans advocates with breathing room for a campaign to distribute more money from the fund.
Close to 43,000 claims were filed by a September 2010 deadline but only 18,929 were found eligible, according to the VA. At congressional hearings, lawmakers have been told that while some families missed the filing deadline, many fighters were denied on questionable grounds. Some were not correctly identified in rosters compiled by the Army during and after the war. Others might have fallen victim to military politics and some likely were the victims of racism.
Rep. Joe Heck, R-Nev., has sponsored a bill to reopen the compensation program, allowing surviving veterans to reapply and changing the criteria to qualify for benefits. Heller and Sen. Mazie Hirono, D-Hawaii, have a bill directing the VA and the Department of Defense to come up with a fair plan.
Heller's amendment to the spending bill was accepted by unanimous consent. The bill passed 93-0. Heller missed the vote because his flight from Reno had been canceled due to severe weather, his staff said.
Rep. Harry Reid, D-Nev., who voted for the bill, noted that it had improved with age — as Democrats resisted approving an early version drafted before Congress struck a two-year budget deal that lifted spending caps.
"As a result of us holding firm, the veterans have $2 billion more than they would have had we followed the Republican lead," Reid said. "I'm satisfied it is a good bill."
The bill would increase current spending by $8 billion and exceed President Barack Obama's request by $1 billion.
This is the first spending bill to clear the Senate this year, and will likely serve as a vehicle for negotiating a broader package needed to cover $1.1 trillion in annual discretionary spending that typically is split among a dozen appropriation bills. The fiscal year, which began on Oct. 1, is being funded through a temporary stopgap measure.
Contact Peter Urban at purban@reviewjournal.com or at 202-783-1760. Find him on Twitter: @PUrbanDC