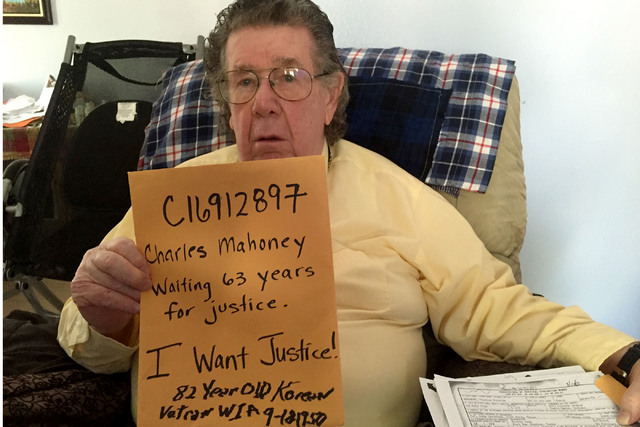 Like the quote from the general he fought for during the Korean War, old soldier Pvt. Charles P. Mahoney didn't die.
And at 83 years old — to paraphrase Gen. Douglas MacArthur's "old-soldiers-never-die" speech — he's not yet ready to fade away, at least from his Veterans Affairs war-stress disability case that's nearly as old as MacArthur's 1951 famous farewell address to Congress.
Having nearly exhausted his appeals in the VA's administrative courts, the Las Vegas resident, with the help of veterans advocate Phil Cushman, is preparing a complaint letter to be sent in the next few weeks to Nevada's U.S. Attorney Daniel Bogden.
The letter will demand an investigation into the VA's alleged violations of Mahoney's right to due process of law, obstruction of justice, ignoring medical evidence "and continuously defrauding him out of service-connected disability compensation benefits commencing during 1952," Cushman wrote in an email to the Las Vegas Review-Journal.
Cushman, a Vietnam War combat Marine from Oregon, won a "due process" challenge that was heard in a federal appeals court and resulted in an award for hundreds of thousands of dollars from the VA in 2011. The award came 12 years after he filed the challenge and 34 years after the VA had fraudulently altered his medical record.
Now, through his nationally known nonprofit Veterans for Due Process Inc., and with 33 years experience challenging the VA's budgetary-driven benefits rationing policy, he is Mahoney's adviser.
Instead of the $37,000 Mahoney was awarded for only 10 percent disability retroactive to 1952 that followed his electroshock treatments for war stress, the soldier who was wounded and thrown 15 feet in the air by a mortar blast should have received between $800,000 and $1 million for what the VA now says is 100 percent service-connected post-traumatic stress disorder, PTSD.
"The reason I didn't know what I was doing was because of shock treatments," Mahoney said in an interview at his modest east Las Vegas home.
"I spent eight months in a psychiatric ward at Fort Hood, Texas. All I remember is being shipped out of there in a straight jacket, strapped to a stretcher," he said.
He said he was transported to a hospital — Brooke Army Medical Center. "I call it a prison because it had a very high fence with barbed wire at the top," Mahoney said.
Mahoney's VA records show that on March 20, 1952, he went before a physical examination board, where doctors determined that he was permanently disabled from service-connected schizophrenia.
Mahoney claims his due process right to counsel was denied to appeal his zero-percent rating for service-connected schizophrenia in the 1950s because the VA never informed him a claim had been filed on his behalf.
Six decades later, Mahoney learned that there were two different DD-214 discharge papers among his Army records.
The one that was sent to his file at the National Personnel Records Center from the Army Chief of Staff office omits reference to his service-connected psychiatric disorder.
The other that was sent to his VA regional office states that "schizophrenic reaction mixed type acute" was the reason he was separated from the military. The VA opened a service-connected compensation claim on Mahoney's behalf.
The VA "did not process it and did not adjudicate it. There was no decision," Cushman said Friday. "This is a massive violation of due process of law and also denied Mahoney the right to counsel by never telling him that it had opened the claim — a fact which he would not learn for 50-plus years."
Mahoney hand-delivered a packet of documents about his case to VA Secretary Robert McDonald when McDonald came to Las Vegas in August 2014 to address the Disabled American Veterans national convention. He had just taken the reins of the scandal-rocked agency three months after former VA Secretary Eric Shinseki had resigned.
The packet included a 16-page letter from Mahoney's psychiatrist, Dr. Donald L. Davies; an affidavit from Mahoney's son; and a letter documenting his problems with holding down jobs because, unbeknownst to him for more than a half century, he suffers from PTSD from his Korean War experience.
He received no response.
Then on Oct. 6, 2014, Mahoney sent a fax and Express Mail request to Board of Veterans' Appeals Chairman Steven L. Keller, and faxed a copy to McDonald requesting the Veterans Appeals Board vacate the June 9, 2014, decision "which continue VA's 62+ years of continuous violations of my right to due process of law. … VA's 62+ years of obstruction of justice continues," the letter reads.
VA public affairs officials at the Department of Veterans Affairs headquarters did not respond Friday to phone calls from the Review-Journal and an email request for comment.
On Tuesday, sitting in his easy chair at home, Mahoney held a duplicate of the envelope he gave to McDonald. "I want justice," he had written in large, black letters on the envelope.
Contact Keith Rogers at krogers@reviewjournal.com or 702-383-0308. Find him on Twitter: @KeithRogers2
RELATED:
Korean War veteran fighting for benefits
Veterans say legitimate claims routinely denied or ignored