Las Vegas D-Day veterans will never forget June 6, 1944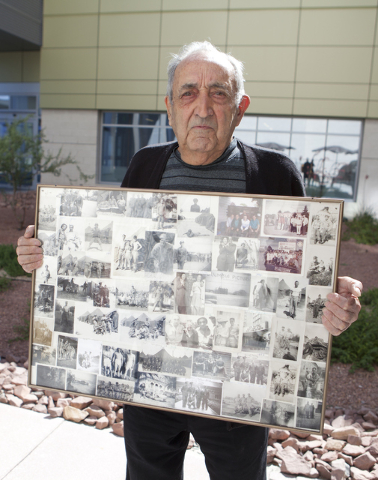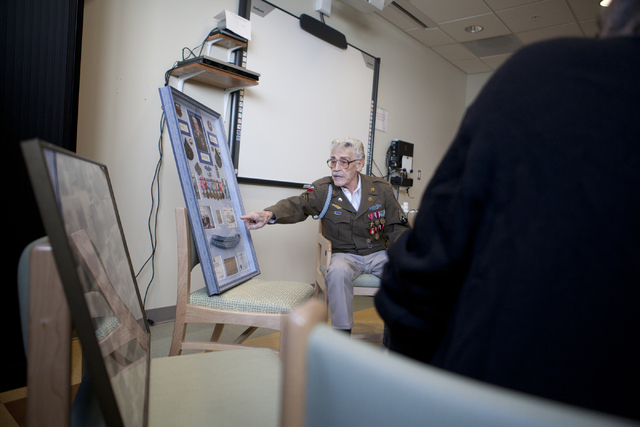 Firecrackers on the Fourth of July or even the smell of diesel fuel is enough to trigger horrible flashbacks that have been etched in Onofrio Zicari's mind since June 6, 1944.
An Army private in the 5th Amphibious Brigade, he landed in the fifth wave on Omaha Beach during that deadly Tuesday on France's Normandy coast.
"The last man off the boat got hit. The boat got knocked out. Three sailors and my buddy got killed," he said Friday, during one of his regular post-traumatic stress disorder classes at the North Las Vegas VA Medical Center.
"I was scared, man. I was scared," he said.
Those from his outfit who made it through nearly neck-high water to reach "Red Easy" beach were pinned down for five hours by machine-gun fire from a German pillbox on a cliff.
"I said a confession and said, 'Lord, take me, take me,'" he said. "I wasn't afraid to die, But I was scared."
Bleeding from shrapnel wounds in his knee and shoulder, he "looked over and saw this G.I. sitting on his helmet," Zicari recalled.
"And he's just holding his guts … He kept laughing at me and saying, 'I'm going home! I'm going home!' I don't know if he ever made it. He was a redhead. I'll never forget him," said Zicari, a draftee from Geneva, New York.
After U.S. firepower knocked out the pillbox, his unit advanced. A medic who had patched up his knee was killed about an hour later.
Rather than return to the ship, he elected to continue with his unit and later volunteered to go to Bastogne, Belgium, where soldiers from the 101st Airborne Division and elements from the 82nd Airborne Division were surrounded.
"By the time we got there, Patton had broken through and the battle was over," he said.
Zicari, 93, is one of two D-Day vets in addition to World War II combat infantry soldier Milton Duran, 91, who attend PTSD sessions at the VA Medical Center.
A rifleman with the Army's 417th Regiment of the 76th Infantry Division, Duran saw 40 percent of his company get mowed down by Nazi machine gunners near Germany's Saar River in early 1945.
"It's very hard to explain the actual feeling of a rifleman," Duran said. "It's hard to tell people exactly what you went through."
The other D-Day veteran, Bill Knapp, a former 82nd Airborne Division paratrooper, didn't attend Friday's session because he is spending 10 days in Normandy "to find closure for the Normandy invasion," said VA web content manager.
Scott said this is Knapp's first trip back to Normandy since the war. "He's now finally opened up to the point where he feels that he needs closure to this whole thing."
Discussing their combat experiences in a group helps them heal some of the mental scars, Scott said.
It's important to remember D-Day, he said, because "these kinds of atrocities are never going to go away."
"Everything is cyclical in our history. We have these nations that rise to power that try to overtake the thoughts or processes of the entire world," Scott said. "So D-Day in my mind reminds us to remember that we don't have to put up with that.
"Our freedom and our ability to help fellow mankind against these atrocities is important for us to remember. We need to pass these histories down … especially to the younger generation so they understand."
Contact Keith Rogers at krogers@reviewjournal.com or 702-383-0308. Find him on Twitter: @KeithRogers2
This article previously referred to John Scott as a counselor. He is a VA web content manager.
D-Day at a glance
The June 6, 1944, invasion became known as D-Day for the military term denoting the "day" of the attack. It had been planned by free-world military leaders under Supreme Allied Commander Gen. Dwight D. Eisenhower. The attack's code-name was Operation Overlord but the landings were orchestrated under Operation Neptune.
It would go down as the largest amphibious invasion in history and a turning point in World War II that led to the defeat of German dictator Adolf Hitler's Nazi forces.
In all, about 2.7 million Allied troops gathered in southern England for the assault. The 150,000 who participated in the Normandy landings crossed the English channel on board some 5,000 vessels that also carried 30,000 vehicles to the beaches.
In the air, more than 300 aircraft dropped 13,000 bombs to clear the French coast for the invasion. Hundreds more fighter planes were involved in escorts and attacks. Spearheading the assault were more than 800 transport planes, some towing gliders, that delivered six parachute regiments totaling some 13,000 paratroopers.
By the end of what's known as "the longest day," about 10,000 Allied troops had been killed or seriously wounded.