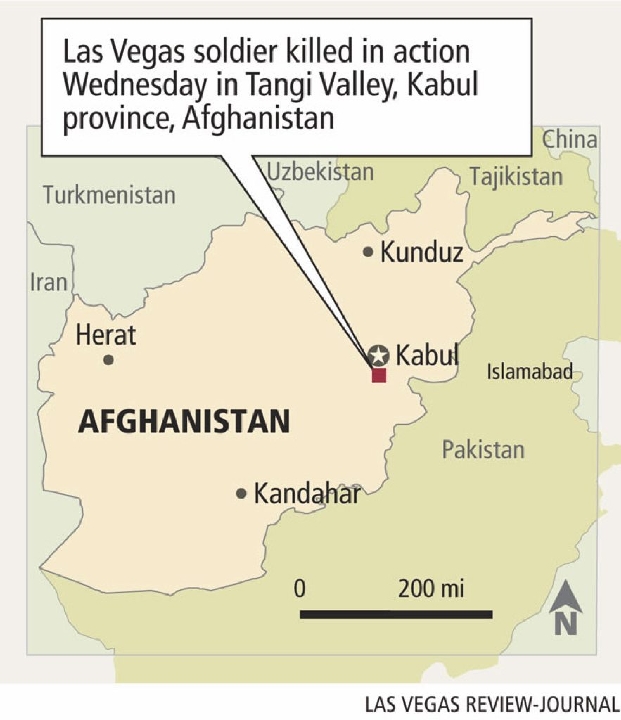 A 20-year-old Las Vegas paratrooper who died Wednesday in Afghanistan was the last announced Army soldier death this week by the Defense Department, bringing to 1,063 the number of U.S. military personnel who have died in the region since the invasion in late 2001.
The Pentagon listed Spc. Matthew R. Hennigan of Las Vegas as killed in action. He died at Forward Operating Base Shank from machine-gun bullet wounds he suffered during a firefight in Tangi Valley, 40 miles south of Kabul.
Family members confirmed he was a 2007 Silverado High School graduate but wouldn't comment further.
According to the Army, he was assigned to the 173rd Special Troops Battalion, 173rd Airborne Brigade Combat Team, Bamberg, Germany.
His death brings to 69 the number of U.S. military personnel with ties to Nevada who have died in the nation's wars overseas since the Sept. 11, 2001, terrorist attacks in New York and Washington.
He was the third Nevada armed forces member killed in Afghanistan in less than a month. Two airmen from Nellis Air Force Base were killed June 9. Air Force 1st Lt. Joel C. Gentz and Air Force Staff Sgt. David C. Smith died when their helicopter was shot down in Afghanistan's volatile Helmand province during an attempt to rescue wounded NATO soldiers.
According to a count Friday by The Associated Press, at least 1,063 U.S. military personnel have died in Afghanistan, Pakistan and Uzbekistan as a result of the 2001 invasion after the 9/11 terrorist attacks. Of those deaths, 841 were the result of hostile action in the Afghan region. The AP count is six more than the Defense Department tally that was updated Friday morning.
Seventy-eight more members of the U.S. military have died outside the region in support of Operation Enduring Freedom.
A Camp Pendleton, Calif., Marine was the last announced death at 5 p.m. Friday by the Pentagon. Cpl. Larry D. Harris Jr. of Thornton, Colo., died Thursday supporting combat operations in Helmand. Harris, 24, was assigned to the 3rd Battalion, 1st Marine Regiment, 1st Marine Division at Camp Pendleton, Calif.
The Associated Press contributed to this report.