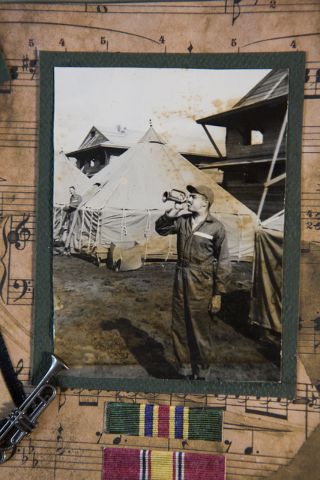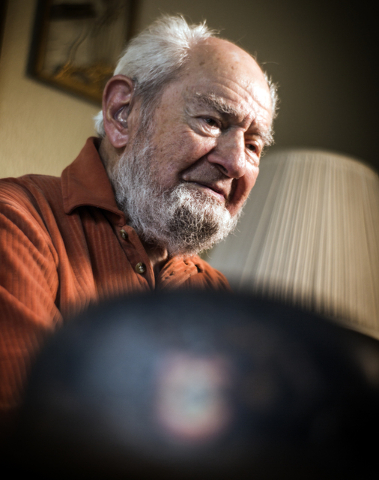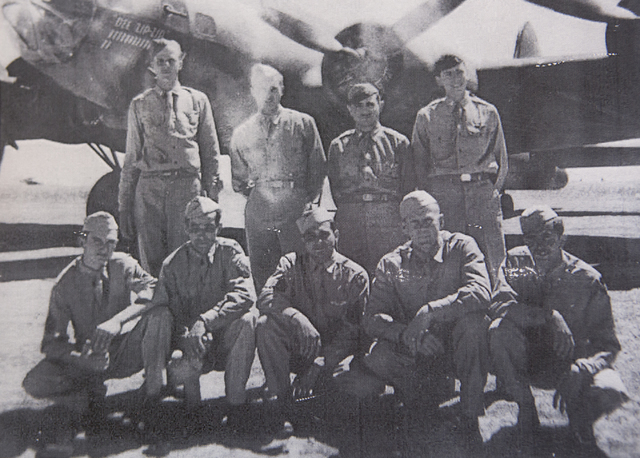 The steel Nazi helmet with a pair of swastikas on its rust-pitted sides reminds Vince Shank of the 22 months he spent in prisoner-of-war camps.
The German soldier's black helmet was shiny on the day he snatched it as a war souvenir 71 years ago on April 29, 1945.
That's the day Gen. George S. Patton's 14th Armored Division liberated him and thousands of other U.S. prisoners of war from the infamous Stalag VII-A camp in Moosburg, Germany.
"Artillery could be seen crashing into Moosburg," he printed in a diary he had kept since his capture in Sicily.
A notation at 12:45 p.m. reads: "The old American Flag was just raised over the town which brought a tremendous cheer from us all. … I really got the shivers. Can still hear heavy stuff occasionally."
At age 99, that memory is still fresh in his mind.
"He was in the lead tank," Shank recalled in an interview for Memorial Day earlier this year.
"He came into the place dressed beautifully. He had his pearl-handled things by his side," he said, referring to Patton's revolvers, which had grips made of ivory.
Shank said the frail and starving war prisoners crowded around Patton.
"I was maybe 10 feet from him. He was telling us how proud he was of us that we'd kept our civility under the conditions," Shank said. "It was such a blessing to see him. He was there for such a short time. It was the highlight of my life."
'DEE ZIP-ZIP' DAYS
As a Stanford University student who made his money playing a trumpet, Shank was probably better suited to serve in the Army band than the Army Air Corps. Born in Los Angeles and raised in Corona, California, he had played with a youth band at the 1933 Chicago World's Fair.
Five years later, after earning his bachelor's degree in music from Stanford, he landed a job as a trumpet player at a Lake Tahoe hotel with a dance band that traveled across the country playing gigs at major hotels. It was a career that after World War II would land him in Las Vegas, playing venues with the Rat Pack and at casinos on the Strip.
When the United States entered the war in 1941, he wanted to become a pilot. Instead, at age 27, he wound up being a second lieutenant bombardier on one of the new B-17 Flying Fortresses being churned out from plants in Seattle.
The bomber was dubbed "Dee Zip-Zip," a play on the pilot's wife's name, Doris. Its crew was assigned to the 99th Bomb Group, 348th Squadron. Bound for North Africa to fly bombing runs across the Mediterranean Sea, the bomber had its first close call, a midair collision during a foggy, "blind-flying"exercise over Brazil.
"All of a sudden, there's a grinding crunch," Shank said. "The plane started flopping around and we were headed down. We were right over the jungle. Birds were flying up like crazy."
No one was hurt, but the crew had to wait a couple of weeks to repair a wing that had been clipped before Dee Zip-Zip's hop across the Atlantic Ocean.
BAILING OUT
The crew began the first of its more than 30 combat flights in 1943 from Navarin Airfield in Algeria.
"We were flying combat missions practically every day," Shank said.
On a mission July 5, 1943, to soften up targets in Sicily for an upcoming invasion, the B-17 encountered enemy fire.
German air corps had come down "and they worked us over. On the bomb run, we got knocked out by ground-fire on engines two and three," Shank said.
"So we're flopping around and eventually our pilot rang a bell and says we're going to get the hell out. So I jumped out.
"I can't tell you what was going through my mind because I was just so busy trying to save my life. … They killed four of the guys in my plane," he said. "When we were coming down — we — I was alone and it was so quiet. Unbelievable. … It was the most depressed I had ever been. I was wondering, 'What am I going to tell my mother?'"
Shank landed in a tray of cookies that was cooling on a stone wall. He tried to quickly gather the parachute, but it was too late for him to go unnoticed.
"I could hear funny sounds, like chickens heard from a distance. What it was was voices of the men and women mostly crying because we were the enemy and we had been softening them up," he said. "They were spitting on me and pulling my hair. They (police) took their rifles and were pushing the screaming women away from me."
PRISONER OF WAR
At the police station, he was stripped down to his underwear and interrogated. "I had taken Italian in college, so I understood a little about what they were saying," he said.
"The marshal became quite friendly and told me the Italians were going to bomb New York, Boston and San Francisco," he wrote in his diary.
From there, his nearly 2-year journey in prisoner-of-war camps took him north through Italy. First stop was Rome, 200 yards from the Vatican. He went on to outposts and trains that would take his group to east Germany and Stalag Luft III.
Once, when a steam engine was switched out for an electric engine to pull the train over a pass, a nearby power generation plant became the target of a U.S. attack.
"Some guy with a file was opening doors" to the cars of prisoners, he said. "We're all pouring out. This was the scariest time of my whole experience in the war. … I went to a depot, and I was lying in the street and the bombs are coming down. I thought any second it was going to be my end."
After the air raid, German guards corralled the prisoners and put them back on the train.
While at Stalag Luft III, men who were musicians in the camp were given instruments provided by the Red Cross.
"This contributed not only to the delight of the POWs but also the German officers who enjoyed the music," Shank's daughter Nancy Shank wrote in a letter documenting her father's prisoner-of-war experience.
Vince Shank became the camp bugler who would rally the captive troops.
"When spirits became the lowest, all of a sudden the sweet sounds of a trumpet rang out with the song, 'When Johnny Comes Marching Home Again, Hurrah, Hurrah,'" his daughter's letter reads. "Many of the men wrote after the war, how Vince Shank picked up their spirits and enabled them to carry on again."
Such was the case when they were forced to march through the snow in Bavaria as the Nazi grip on eastern Germany was loosened by fast-approaching Russian soldiers.
On Memorial Day, Shank said he'll be thinking about the men in his crew who were killed.
"I think of them often. I think of what I know about them and their family life and all the guys that we lost," he said.
Contact Keith Rogers at krogers@reviewjournal.com or 702-383-0308. Find him on Twitter: @KeithRogers2