Lawmakers 'astounded' Filipino WWII veterans denied for benefits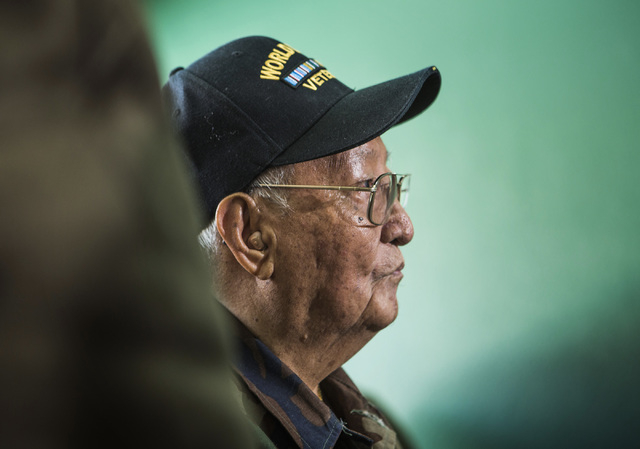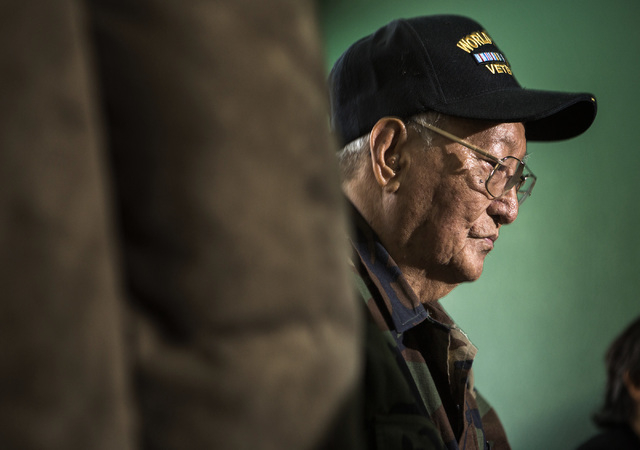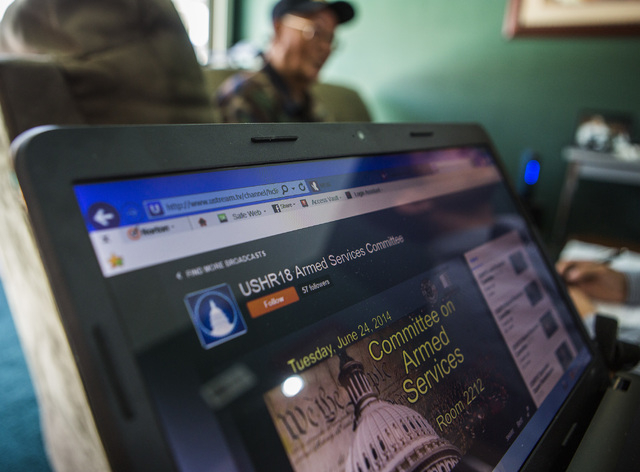 A handful of Filipino-American patriots in Las Vegas cheered on members of Congress Tuesday for insisting that the nation must follow through on a promise.
They watched a broadcast of lawmakers in Washington, D.C., declaring themselves "astounded" and angry that a program set up to benefit soldiers who fought alongside Americans in World War II denied payments to more than half the applicants.
Among the Nevada group were two veterans dressed in military fatigues and "World War II Veteran" caps.
Aurelio De La Cruz, 85, was approved for the benefit. But Anastacio Sumajit, 88, is appealing his denied application.
"Although I received the $15,000, I am always supporting my comrades, especially those that are older than me," De La Cruz said, pointing to his comrade.
Congress in 2009 authorized one-time payments to Filipinos who served as soldiers, guerrillas and scouts alongside U.S. forces fighting the Japanese. Close to 43,000 claims were filed but only 18,900 were found eligible, according to the Department of Veterans Affairs.
While some veterans missed the September 2010 deadline, others were denied compensation because reconstructed guerrilla rosters submitted as documentation were rejected by the VA and the National Personnel Records Center, which is the depository for the service records of individuals.
At the House hearing, lawmakers were told that large numbers of deserving veterans were denied for various reasons. Some were not correctly identified in rosters compiled by the Army during and after the war. Others may have fallen victim to military politics and some likely were the victims of racism. A small number of appeals still are pending.
On a table in the Las Vegas home sat a rusty helmet. Supporter Lynn Perry said it belonged to her father, Edilberto Briones, a 95-year-old Filipino veteran who fought for the U.S. military in World War II. Briones, who now lives in the Philippines, applied for the benefit but was denied twice.
Lynn Perry and her husband, Luke, have been trying to process paperwork for her father for a few years.
Luke Perry pointed to a bundle of yellowed paperwork from the Philippines which he said was evidence of his father-in-law's participation with the U.S. military.
"I am absolutely astounded," said Rep. Tammy Duckworth, D-Ill., back in Washington. "These men are dying. These men didn't wait when the United States asked for help. They stepped forward and volunteers to serve. Why are we making them wait 70 years?"
Duckworth noted $50 million sits in the compensation fund, "and we are quibbling with these men, less than 200 probably who have been denied who are on appeal, waiting for them to die so this goes away."
"'Archaic' doesn't begin to describe the process" by which veterans were deemed eligible for payments, Duckworth said. The program authorized $15,000 to eligible Filipino veterans who are now U.S. citizens and $9,000 for those living in the Philippines.
The hearing of the House Armed Services investigations subcommittee was the first one organized by Rep. Joe Heck, R-Nev., who took over the chairmanship of the panel in January.
Duckworth and other subcommittee members suggested Congress reopen the benefit program. Heck has introduced a bill to compel the VA to accept alternative documentation, such as an AGO Form 23 affidavit issued at the Army at the time certifying a person served.
"Why does your name have to be on a list when you have a piece of paper?" Heck said.
Sen. Dean Heller, R-Nev., also introduced a bill directing the VA and the Defense Department to reconsider the process for determining eligibility.
At the hearing, Army Brig. Gen. David K. "Mac" MacEwan told lawmakers the Army "maintains complete confidence" in records it compiled between 1942 and 1948 of Filipino participants in the fighting.
"The records and files completed in 1948 provide the best and most accurate determination that could have been made from that time until today," MacEwan said.
But, Heck observed, "It certainly is possible that individuals who served honorably in a recognized guerrilla unit may have been omitted from the reconstructed rosters for several reasons. Perhaps their service was not determined to be valid service. Some may not have shown up to put their name on the roster for whatever reason."
Duckworth said she had little confidence in Army record-keeping then or now. An Iraq War veteran who lost her legs when a Blackhawk helicopter she was piloting was shot down in 2004, Duckworth said several others in the aircraft had to struggle for combat recognition when the military said it did not have proper records.
Also, she said, "We have to remember that the United States Army and the United States itself at the time had some racist tendencies and some of those decisions may not have been necessarily based on actual facts of how these men served. Asian-Americans have seen this time and time again.
"So let's not talk about how great the Army's recordkeeping is, because as best the Army does, we all understand what happens in a wartime situation."
Rep. Jackie Speier, D-Calif., said Filipino soldiers were told they would be treated like veterans at the end of their service, only to have the promise rescinded.
"It is the only group of nationals of the many that served with us across the world that were given that pledge that then had it reneged, and that's pretty shameful," Speier said.
While the Las Vegas veterans said they were optimistic about their chances after watching the hearing, not all of their supporters felt the same.
"I don't believe for one minute that the people that testified there today have any intention of changing anything," said Luke Perry, referring to VA officials.
Contact Steve Tetreault at stetreault@stephensmedia.com or 202-783-1760. Find him on Twitter: @STetreaultDC. Contact Alex Corey at acorey@reviewjournal.com or 702-383-0270. Find him on Twitter: @acoreynews.