Military police off to Iraq
November 12, 2007 - 10:00 pm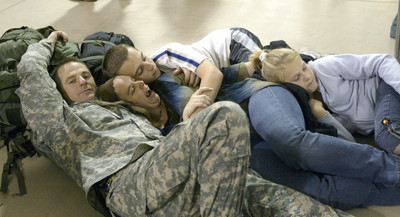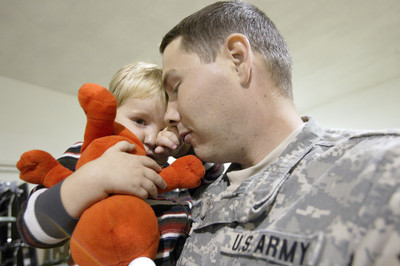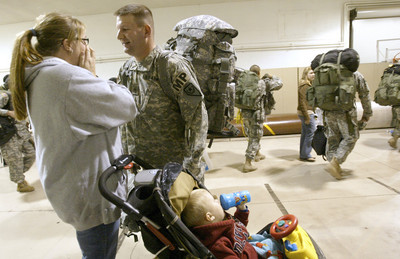 In the first hour of Veterans Day on Sunday, the veterans of the war in Iraq from Nevada's 72nd Military Police Company headed out again for the battleground on which they served four years ago.
They took with them a new group of National Guard soldiers who have never been there.
Three buses loaded with soldiers wearing pale green-and-gray duty uniforms and carrying sleeping bags and packs pulled out of the Henderson armory at 12:17 a.m. A pair of police cruisers with their lights flashing escorted the buses through the darkness to a chartered jet at McCarran International Airport.
Before the company left, its overseas commander, Capt. David Evans, said the situation in Iraq is "just as dangerous" as it was in the months after the 2003 invasion.
"We're not going to let our guard down," he said.
They are to first stop at Fort Dix, N.J., to hone their abilities to fight terrorists and avoid roadside bomb attacks. Then they'll go to Iraq for about 10 months. They don't know exactly where they're going or what their assignment will be. They do know that they are to return home after about 400 days.
"My game plan is I don't want to fire one round, and I want to come home in one piece with all my body parts," said 31-year-old Staff Sgt. Michael Roe, a Las Vegas police officer, who accomplished that same goal in 2003 during Operation Iraqi Freedom.
For some members of the 72nd, this is their third long-term deployment since the Sept. 11, 2001, terrorist attacks that led to leaving their civilian jobs as investigators, jail guards, deputy sheriffs and Highway Patrol troopers. One is a convention worker.
In an era of no draft, they epitomize the role citizen-soldiers play in the nation's overextended military.
Their first deployment after Sept. 11, 2001, was a homeland security detail guarding the Defense Language Institute in Monterey, Calif., for Operation Noble Eagle. Their assignments since then have included a stint in New Orleans two years ago to maintain law and order in the flood-ravaged city after Hurricane Katrina.
Thirty of the 115 soldiers are Iraq combat veterans, including 13 who were with the 72nd MPs at the infamous Abu Ghraib prison in the company's second deployment.
They got the prison on the outskirts of Baghdad in running order after the 2003 invasion, then turned it over to Army reservists from Maryland, the 372nd Military Police Company. A handful of soldiers from that company who carried out the much-publicized prisoner abuse scandal are serving time in jail for their roles.
The aftermath of the harassing, torturous acts carried out by the Maryland MPs at Abu Ghraib devastated the Nevada MPs because of the confusion with the companies' similar names.
The 72nd MPs were on their way home before the scandal took place.
"Looking back at Abu Ghraib, it hurt me and my unit that a few bad apples ruined it," Roe said as he stood with his wife and children inside the Henderson armory about an hour before the buses left.
"The difference between us and them is our leadership and professionalism. We didn't let our integrity get down. We built the place. They tore it up," he said.
Roe hugged his 2-year-old son, Andrew, and gave some last words of encouragement to his daughters, Kaitlynn, 9, and Torie Orosco, 12.
His wife, Sherry, shared her thoughts.
"I'm scared," she said. "It's always a little apprehensive. Why does he have to go?"
Carey Simmons, wife of Staff Sgt. Todd Simmons, couldn't put into words her feelings on what will be her first experience of a deployment farewell although her husband is a veteran of operations Iraqi Freedom, Noble Eagle, Desert Storm and Desert Shield.
"I can't describe it," she said, adding that she will take their 23-month-old son, Brayden, to stay with her sister's family in Superior, Wis., while Todd Simmons is in Iraq.
"The toughest part is that he is leaving his son," she said. "We'll get through it."
Todd Simmons said he has a different mind-set about this departure.
"This is the first time deploying with a family (at home)," he said. "All the other times you could afford the luxury of being a little bit more reckless. But with the family on the forefront, it definitely makes it harder."
On the concrete floor across the armory, 39-year-old Staff Sgt. Sargent Kolteryahn of Boulder City lay holding his wife, Cynthia. Their son, Kevin, 13, and daughter, Kaylin, 11, were close by.
Kolteryahn contemplated what will be his first overseas experience in a combat zone.
"It's an honor and a privilege," he said. "I feel blessed for the opportunity to serve my family and my country. I feel very lucky."
His wife said, "I'm just scared for all the things I'm going to have to do while he's gone, all the guy stuff. There's loneliness. A lot."
Said son Kevin: "It's really sad. It's hard to comprehend that my dad is leaving."
Pfc. Anthony Irenze, a 20-year-old Transportation Security Administration worker at McCarran, said he was eager to follow in the footsteps of his father, Marco, who went to Iraq and returned in 2005 with the Nevada Guard's 1864th Transportation Company.
"I'm pumped," the younger Irenze said. "I'm excited. I just want to get the training over. Get over there. Do my job and come home safe."
Pfc. Rhonda Holloway said she, too, was "excited to go" as she boarded the bus.
There are 27 women soldiers in the company. Before they left, many of them cut their hair short and donated the locks to "Locks of Love," a charity that makes wigs for children with cancer.
Contact reporter Keith Rogers at krogers@reviewjournal.com or (702) 383-0308.
Operation Iraqi FreedomA special package of news updates, local coverage, multimedia and more.