National Guard, local authorities practice for disasters, terrorism — PHOTOS
February 26, 2015 - 2:19 pm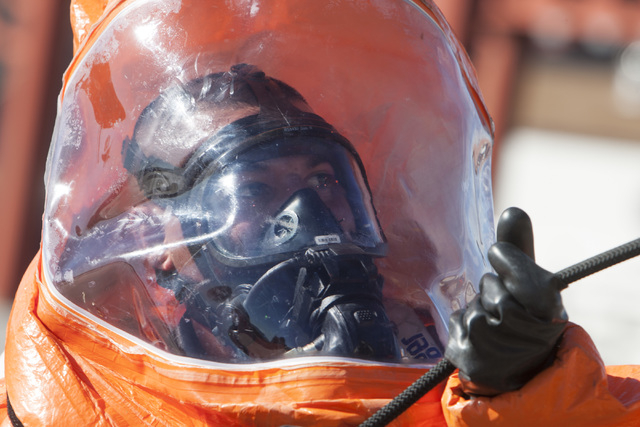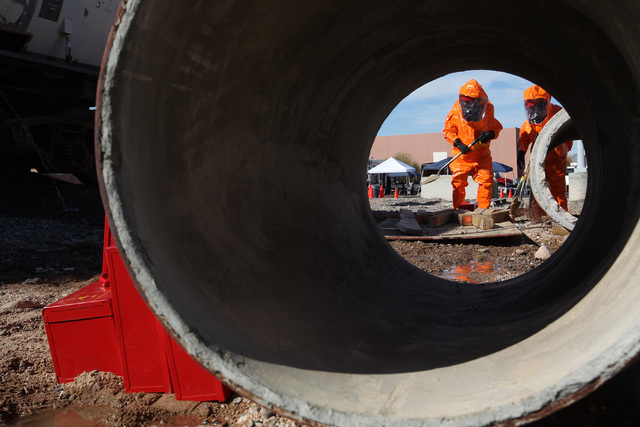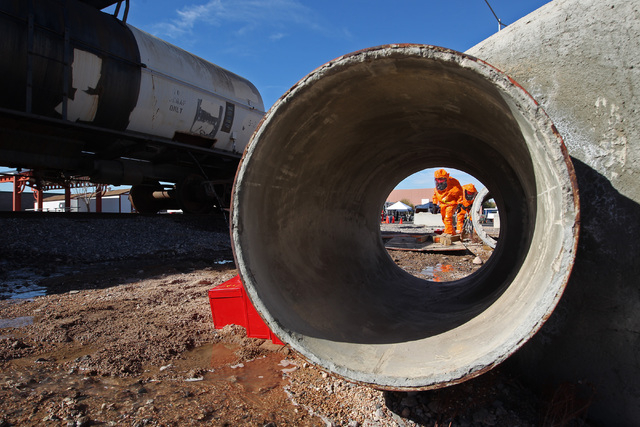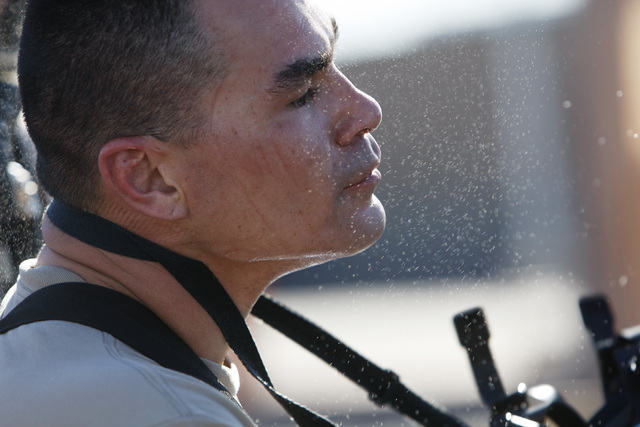 The scene Wednesday of first responders wearing bright orange hazardous material suits, scaling railroad tank cars and trying to shut off leaks was not far from the place where 42 tons of liquefied chlorine spewed from a pipe at the Pioneer Chlor Alkali plant 24 years ago.
But unlike the May 1991 accident that occurred when a shutoff valve failed, sending up a toxic green cloud that draped much of Henderson and sent more than 200 people to hospitals, the leaks Wednesday at a fire training facility involved only water.
Nearly two dozen Nevada National Guard soldiers and airmen from the 92nd Civil Support Team participated in the drill.
They, along with colleagues from the Las Vegas Metropolitan Police Department, Nevada Highway Patrol and other state, local and federal agencies would be tasked with keeping the public safe from dangers ranging from chlorine spills to terrorists with weapons of mass destruction.
"Some of the valuable lessons learned between the inter-agencies was the communication techniques that we used. We used different radios. We had to use different hand and arm signals to overcome some of those challenges," said Maj. Brett Compston, commander of the support team.
The Nevada Guard's response team is stationed in North Las Vegas but will move this summer to Northern Nevada. There are a lot of hazmat responders in the Las Vegas Valley, Compston said, but relatively few in the Reno-Carson City area.
A key component of the hazmat capability in Southern Nevada is the ARMOR Task Force, short for All-hazards Regional Multi-agency Operations and Response, according to Las Vegas police Sgt. John Leon, a task force member.
Task force response efforts for weapons of mass destruction include procedures for dealing with situations involving the deadly Ebola virus, which "can be" considered a weapon of mass destruction, Leon said.
"It's really more of a pandemic issue. There is a response protocol," he said, noting that locally the Southern Nevada Health District is the lead agency.
Compston said the 92nd Civil Support Team's role would involve decontamination of a localized area that might have been impacted by fluids from an Ebola victim.
Contact Keith Rogers at krogers@reviewjournal.com or 702-383-0308. Find him on Twitter: @KeithRogers2.