Nellis Air Force Base welcomes 57th Wing's first woman commander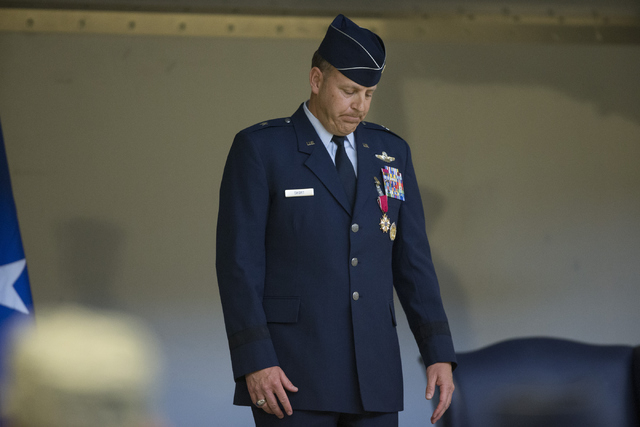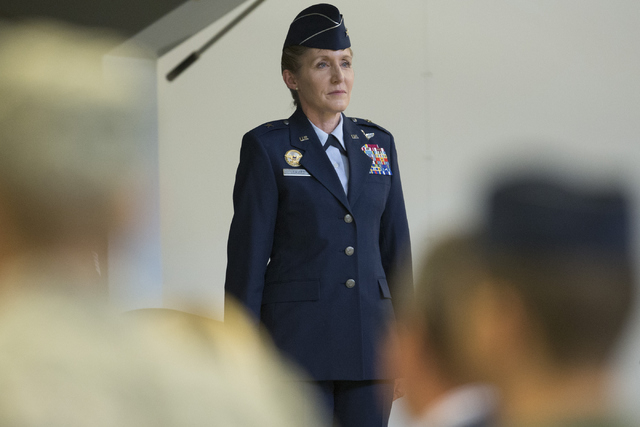 In a historic ceremony Friday at Nellis Air Force Base, Brig. Gen. Jeannie M. Leavitt took the reins of the 57th Wing, bridging the gender gap to become the wing's first woman commander and highest-ranking female officer to command at Nellis.
She downplayed that significance in an interview after the ceremony while standing in front of an F-15 like the one she piloted in combat over Afghanistan and Iraq, and in 1993 when she became the Air Force's first female fighter pilot.
"To be honest, I never thought about in terms of being the first female commander" of the 57th Wing, she said. "I am just truly humbled to be selected to be the commander of the 57th Wing."
Leavitt is married to Craig Leavitt, a retired colonel. They have a daughter, Shannon, 10, and son, Michael, 9. This is her third assignment at Nellis.
The 57th is the Air Force's largest composite wing. It manages all flying operations at Nellis, including Red Flag and Green Flag air combat training exercises. It also runs the graduate-level U.S. Air Force Weapons School, oversees the world-renowned Thunderbirds air demonstration team, and supports the Air Force Warfare Center's test-and-evaluation activities.
Leavitt acknowledged there will be hurdles to overcome in her new post.
"I know there are challenges because we've got fiscal constraints upon us. But I know that I've got a fantastic team who will do a wonderful job to ensure that we train tomorrow's warriors," she said.
At the top of her list next week will be to meet her commanders, chiefs and first sergeants, and "give them a little bit of my philosophy."
"We're going to accomplish a mission. We're going to take care of our people. And, we're going to be good stewards of our resources," she said about her management philosophy.
Leavitt comes to the 57th Wing from a Pentagon post as Secretary of Defense Ashton Carter's principal military assistant. She advised him on policy development, planning and resource management.
She replaces Brig. Gen. Christopher Short, who will become a senior defense official and attache to the United Kingdom for the Defense Intelligence Agency at the U.S. Embassy in London.
In his parting remarks, Short told his fellow airmen that the "impact of this wing is seen on the battlefields of Syria and Iraq and it will be seen on the battlefields of the future."
"You need to be part of a winning team. And in our business there is no room for second place," Short said. "Our nation is counting on us to win."
During the ceremony inside the Strike Aircraft Maintenance Unit hangar, Leavitt said the 57th Wing's continued success "depends on each and everyone of you … your enthusiasm, your imagination and your creativity.
"You are the keys to our future success," she said. "Remember that we are American airmen."
Contact Keith Rogers at krogers@reviewjournal.com or 702-383-0308. Find @KeithRogers2 on Twitter.