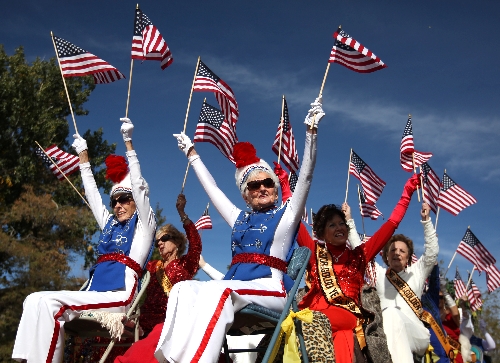 CARSON CITY – More than 35,000 people turned out on a sunny Saturday to celebrate Nevada's 148th anniversary and America's military heritage, and to catch up with friends during a good old-fashioned Nevada Day Parade that featured bands, beauty queens, planes and politicians.
"It was a very large turnout, substantially larger than in the past," Carson City Sheriff Kenny Furlong said, adding he thought the big draw was the theme.
With the theme Honoring Our Military and Their Families – Past, Present and Future, the parade featured many jeeps and military vehicles equipped with guns.
Gov. Brian Sandoval and his wife, Kathleen, rode on a large, armored military vehicle, while U.S. Sen. Dean Heller, R-Nev., opted to ride on his own horse. Rep. Shelley Berkley, D-Nev., rode with state Treasurer Kate Marshall in a classic, 1970s vintage red Pontiac. The parade began after five military and National Guard aircraft dating back to World War II era P-51s thundered overhead.
With temperatures approaching 70 degrees, the crowd lined up 10-deep in front of the Capitol to watch for four hours as 200 entries ambled along Carson Street. One bystander led a group of children in singing Nevada's state song, "Home Means Nevada," while others just exchanged greetings with friends they may have not seen since last year's parade. A couple even got married on the route just before the parade began. The annual parade has been celebrated in the capital city since 1939.
Leading the parade were three grand marshals – World War II Army Air Corps Sgt. Edward Cosens, Nevada National Guard Sgt. Jeremiah Mock and 12-year-old Alexis McKenzie, a student interested in the Navy. Mock was wounded in September 2011 when a mentally deranged man walked into a Carson City International House of Pancakes restaurant and began shooting patrons. Three other National Guard members were killed. Mock had returned only weeks before from duty in Afghanistan.
The Nevada Day Parade hardly resembles the Tournament of Roses Parade and its flowery and expensive floats. Instead it is a celebration of small-town life, complete with Boy Scouts and Girl Scouts waving to the crowd while sitting on bales of straw in wagons pulled by trucks.
"We go every year," Carson City resident Carrie Fields said. "It's a perfect day. I love the heli­copters and balloons. I like the bands. The politicians are part of it, but we come anyway. It's an election year."
But this year's attendees were a polite group who applauded for Las Vegas' Berkley, as well as hometown boy Heller, both whom are running for U.S. Senate.
The biggest cheers of the day were not for the politicians but for the bands, particularly the University of Nevada, Reno marching band that walked in precision step along the two-mile route playing the "Battle Hymn of the Republic," an appropriate tune for the Battle Born State.
A group of people marching for President Barack Obama did receive scattered boos from the crowd, while Josh Romney, the son of Republican presidential candidate Mitt Romney, was treated largely with in­difference as he rode next to Lt. Gov. Brian Krolicki. Obama captured largely Republican Carson City in the 2008 election.
Cheers and some hoots were given to a float carrying working girls from the Bunny Ranch, a house of prostitution about five miles away in Lyon County. They were dressed appropriately for the family celebration.
Parade President Ken Hamilton said they cannot outlaw floats for "any legal Nevada businesses."
What you didn't see Saturday were any floats, wagons or bands from Clark County. Hamilton said he cannot remember the last time when a float or band from the state's largest county performed at the parade, but was confident that there will be a large turnout from across the state at the 150th state anniversary celebration parade in 2014.
While the state's actual birthday is on Oct. 31, the Nevada Day Parade has been part of a three-day weekend celebration at the end of every October since voters – especially those from Clark County – passed enabling legislation in 1998. Friday then became the official holiday and a day off for state workers. Saturday became parade day.
Berkley began the day by attending the Republican Party-sponsored pancake breakfast at the Governor's Mansion – and found a polite reception.
She acknowledged there is nothing like the Nevada Day Parade in Las Vegas, but dismissed suggestions that Nevada is really two states.
"Each part of the state has its traditions. The parade is a tradition for Carson City. There is something special in each part of the state. Las Vegas is the entertainment capital of the world."
Heller said he has participated in the past 25 Nevada Day parades and remembers as a child sitting on the street watching the parade with friends while eating Halloween candy. He said he once was even frightened by Cecil the sea serpent, a long float that celebrated a sea monster alleged to be hiding in Walker Lake.
He noted that Las Vegas has Fourth of July and veterans parades, and the Nevada Day Parade is a fitting tradition for the state capital.
Contact Capital Bureau Chief Ed Vogel at evogel@reviewjournal.com or 775-687-3901.