Nevada veteran cemeteries offer xeriscape option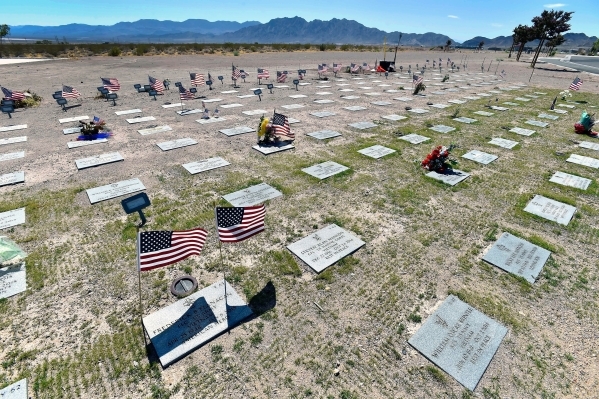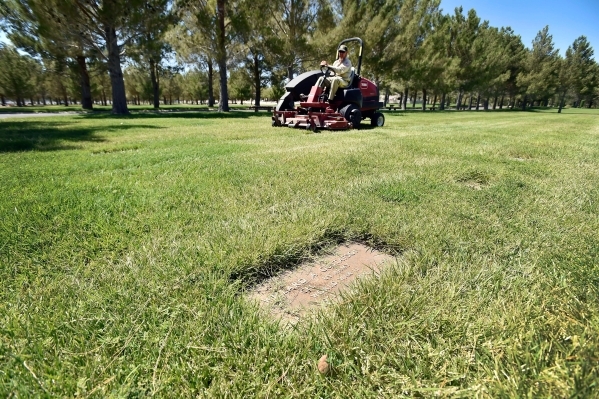 FERNLEY — Until now, the graves of Nevada veteran cemeteries were mandated to be groomed with green grass, an adornment deemed fitting to show respect and reverence for those who served their country.
But a new state law authorizes the state's two veteran cemeteries in Fernley and Boulder City to set up separate areas for desert landscaping.
The state Veterans Services Division pushed for the option, citing the region's lingering drought, escalating irrigation costs and a desire by some to be buried in a place that reflects their love of the arid climate and its unique flora.
Not everyone embraces the concept. Some fear it will leave the cemeteries looking like abandoned sandlots littered with wind-blown debris.
The challenge for state overseers of these hallowed grounds is to show that the final resting places for veterans can be tastefully done with water-saving xeriscape.
New territory in Nevada
Three national veteran cemeteries –€" in Phoenix, Bakersfield, Calif., and El Paso, Texas –€" have adopted xeriscape landscaping, though not all were without controversy.
Nearly 10 years ago the National Cemetery Administration of the U.S. Department of Veterans Affairs replaced grass at Fort Bliss National Cemetery in El Paso with xeriscape. The move was met with outrage from family members and city officials who are still urging a return to grass.
Officials don't foresee such intense opposition in Nevada but do concede it could take a while for people to get used to the idea.
"€œI do believe there'€™s a cultural aspect to be water wise," said Kat Miller, director of the Nevada Office of Veteran Services. "There are a lot of different things that can be done that will be respectful of our veterans and their families."€
But Miller and others stress that xeriscaping will be optional in Nevada. And they believe it will catch on, especially among younger generations as they grow old and ponder where they will spend their eternity.
The cost of green
Keeping grass green under a scorching desert sun isn't easy or cheap.
Boulder City utility records show the veterans cemetery there pumped 76.3 million gallons of water for irrigation during the fiscal year that ended June 30. That'€™s enough to fill roughly 115 Olympic-size swimming pools. In 2013-14, usage was nearly 78 million gallons.
The cost of irrigating the cemeteries has steadily increased, from $147,393 in 2008 to $247,757 in 2014, a 68 percent jump. The cost per acre in 2013 was $9,496 in Fernley, $8,468 at Boulder City.
"€œLet'€™s be realistic. We'€™ve got a problem here,"€ said Chuck Harton, a World War II Marine and chairman of the Northern Nevada Veterans Memorial Cemetery Advisory Committee.
"Neither one of these cemeteries are full yet,"€ he said. "In Fernley, what we'€™ve been fighting about is the cost. And we'€™ve only got a tiny little bit under grass. Then you'€™ve got to look into the future. Hell, the water bill would look like the national debt."
Southern Nevada Veterans Memorial Cemetery has 18.5 irrigated acres and more than 25,000 markers surrounded by turf, said Chris Naylor, cemetery superintendent. Another 11,000 are interred in columbarium walls.
Officials said costs at both cemeteries will keep escalating as water rates rise and the cemeteries expand to accommodate more veterans.
Maintenance challenges
It's tough to keep that much turf in tip-top shape when summer temperatures soar into the triple digits and desert winds approach dragon breath. The challenges are especially difficult when new grass is seeded on a fresh grave; the tender blades need frequent watering so as not to shrivel and die.
"We seed twice a year, in the spring and the fall depending on when the temperatures are right,"€ Naylor said. "The seedlings, we keep them damp,"€ he said. "€œWe water them a lot more often, but for less time."
Established lawn is watered at night to maximize retention and minimize evaporation. Special fertilizers and organic material is used to promote root growth and enhance water absorption.
Both cemeteries are maintained to adhere to the "€œshrine status"€ outlined by the Department of Veterans Affairs National Cemetery Administration.
"€œA national shrine is a place of honor and memory that declares to the visitor or family member who views it that, within its majestic setting, each and every veteran may find a sense of serenity, historic sacrifice and nobility of purpose,"€ the guidelines read. "€œEach visitor should depart feeling that the grounds, the grave sites and the environs of the national cemetery are a beautiful and awe-inspiring tribute to those who gave much to preserve our nation'€™s freedom and way of life."€
At Fernley, about 35 miles east of Reno, recent rains made the grass grow quickly. On Tuesday, a grounds keeper weed-whacked around each in-ground plaque. The edging will take two full days to complete. In Boulder City, with more than twice the amount of grass as Fernley, it'€™s a never-ending job.
Offering desert landscaping isn'€™t about reducing labor intensity. Xeriscape still needs to be maintained. Instead, it reflects an environmental consciousness some veterans want to carry with them into eternity, Miller said.
"Saving money was part of it but not the main part,"€ Miller, a retired Army colonel, said of xeriscaping plans as she showed a visitor around the Fernley cemetery. "€œIt'€™s the desire of veterans."€
Right now the department is in a "€œresearch and exploration'€ mode, she said. Outside the Fernley cemetery administrative offices on a small plot covered in decompressed granite, or DG, are two "€œtest"€ grave markers. One is a flat plaque on the ground; the other an upright monument. Cemetery officials want to see how they weather. Also being discussed are markers slightly raised at an angle to allow easier viewing.
Miller said it could be a year or two before the option is offered. Xeriscape grave sites will be in separate cemetery areas to avoid checker-boarding of turf and desert.
Tough sell for some
State Sen. Mark Manendo, D-Las Vegas, is a skeptic. Manendo was the primary sponsor of a 2007 law that required Nevada'€™s veteran cemeteries to '€œensure that the area immediately and surrounding the interred remains "is landscaped with natural grass."€
"€œI'€™m against that because I think the cemetery should stay green,"€ said Manendo, whose parents are buried at the Southern Nevada cemetery.
He remembers taking his mother to his father's grave and wondered how frail people will be able to navigate rocky pathways.
"€œMy mom used a walker and was legally blind,"€ he said. "€œIt'€™s very dangerous."€
Some cemetery visitors also like to recline on the grass or take a picnic when they visit the graves of loved ones. "Can you imagine trying to do that on rocks?"€ Manendo he asked. "€œI get the fact that we try to conserve water. There'€™s just certain things that need to stay green."
Changing public attitudes will take time, officials acknowledge.
"Everybody that I know of with the exception of some family members who have their loved ones there are pretty much open to at least looking at it,"€ said Charley Smith, a retired Army lieutenant colonel who also serves on the Northern Nevada cemetery'€™s advisory committee.
"€œWe have to look out for our environment,"€ she said. "€œWe have a lot of veterans like myself who love the desert. And I'€™m OK with being in a burial plot that is beautifully xeriscaped."
Contact Sandra Chereb at schereb@reviewjournal.com or 775-687-3901. Follow @SandraChereb on Twitter.