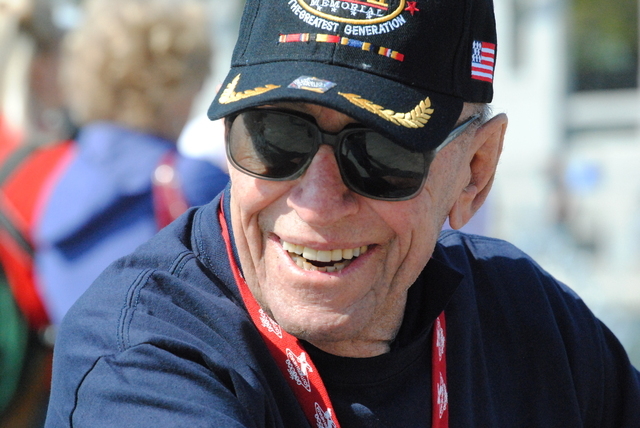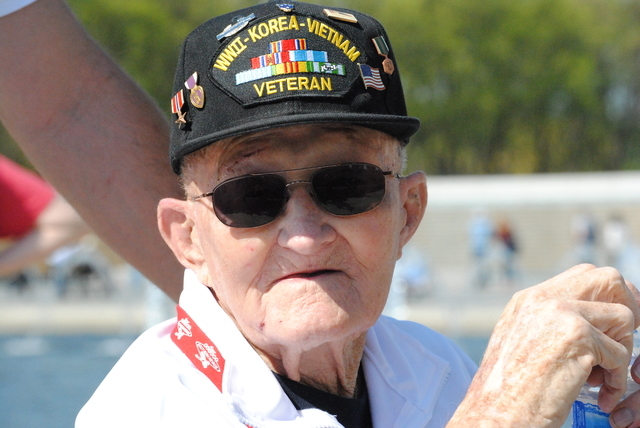 WASHINGTON — The morning sun was shining, the fountains were dancing and the crowds parted on Saturday to make way for 50 Nevada veterans entering the National World War II Memorial.
Some walked. Others were pushed in wheelchairs. All were greeted with spontaneous applause, embraces and thanks from fellow tourists and volunteers at the popular landmark near the Washington Monument.
"Come gets your hugs here!" called out Lauren Erhsam, a greeter for the Honor Flight Network, an organization that flies aging veterans to view the World War II tribute that opened to the public on April 29, 2004, almost exactly 10 years ago.
On the way into Washington from their suburban hotel, the two buses ferrying the Nevadans picked up a police escort and were guided through red lights to their destination.
And in another surprise, Bob Dole, the venerated World War II veteran, a former U.S. senator and Republican presidential candidate instrumental in getting the memorial built, was on hand to chat and pose for photos.
"It's all very overwhelming," said Harry Carrubba, 92, who served in the Marine Corps during World War II, the Korean War and in Vietnam. "Some of the show of gratitude is a bit embarrassing to me but I appreciate it."
"I don't know if I'm worth it or not," said Floyd Woods, 92, of Boulder City. The war "was just a job that needed to be done."
Woods grew up in Idaho and joined the Navy five days after he turned 18. "I volunteered, I wasn't drafted so that makes a difference, I think."
The visit marked the second "honor flight" from Las Vegas, following the first that took place during the government shutdown in October. The Honor Flight Network also flew in a group from Reno that was expected at the World War II Memorial later in the day.
"This is excellent. We were never treated like this during the war," joked Sonny DiGrazia of Wells. DiGrazia, 90, was born in Battle Mountain and said when he joined the Navy in 1942, "there were only 90,000 people in the whole state."
Most of the veterans were from Las Vegas, with others from Boulder City, Mesquite and Ely. Costs for the five Ely veterans and their escorts, a total of 21 people, were paid by the Robinson Nevada Mining Co., said Richard Howe, a White Pine County commissioner on the trip.
Melvin Laabs, 90, was an Army infantryman wounded on a bloody battlefield near Dortmund, Germany, in the final days of the war. He was 19.
On Saturday, Laabs, from Las Vegas, stopped near the Freedom Wall, where 4,000 sculpted gold stars commemorate the 400,000 Americans who were killed.
"It is much better than I anticipated, it makes me want to cry," Laabs said of the memorial. "I saw so many people die. Even the last day before I was wounded you cannot believe how many dozens laid out there."
During the war, "I did things I would never do today," Laabs said. "I've developed, that's all I can say."
"It's a shame other people can't see it the way we see it," said Gil Boscoe, 88, of Las Vegas.
Looking across the fountain centerpiece of the memorial, Boscoe, who served in the Army, said he saw "all the dead people who sacrificed, all the live people who put their life on the line, the broken promises and the future, hopefully it will all be good."
As an infantryman, Boscoe, past commander of the Jewish War Veterans chapter in Las Vegas, said he "walked all over Europe. I started out with Eisenhower, met up with Patton and we continued through to the end."
Many of the veterans were joined by family members.
Chuck McClain, 91, a Navy veteran who piloted amphibious landing craft in the Pacific, was escorted by his son Robert, who watched his father arise from his wheelchair for a photo.
"This guy, don't let him fool you," the younger McClain said. "At 91 and a handful, he still keeps his 59-year-old son in line."
DiGrazia was accompanied by his son Bob, a dentist in Boise.
"It's been wonderful," Bob DiGrazia said of the shared experience with his father. "I've been with him my whole life but I am learning more and more about his military career and what he went through. Like they say, they are the greatest generation."
Contact Stephens Washington Bureau Chief Steve Tetreault at STetreault@stephensmedia.com or 202-783-1760. Find him on Twitter: @STetreaultDC.