North Korean missiles could reach Las Vegas, experts say
Updated April 19, 2017 - 6:41 pm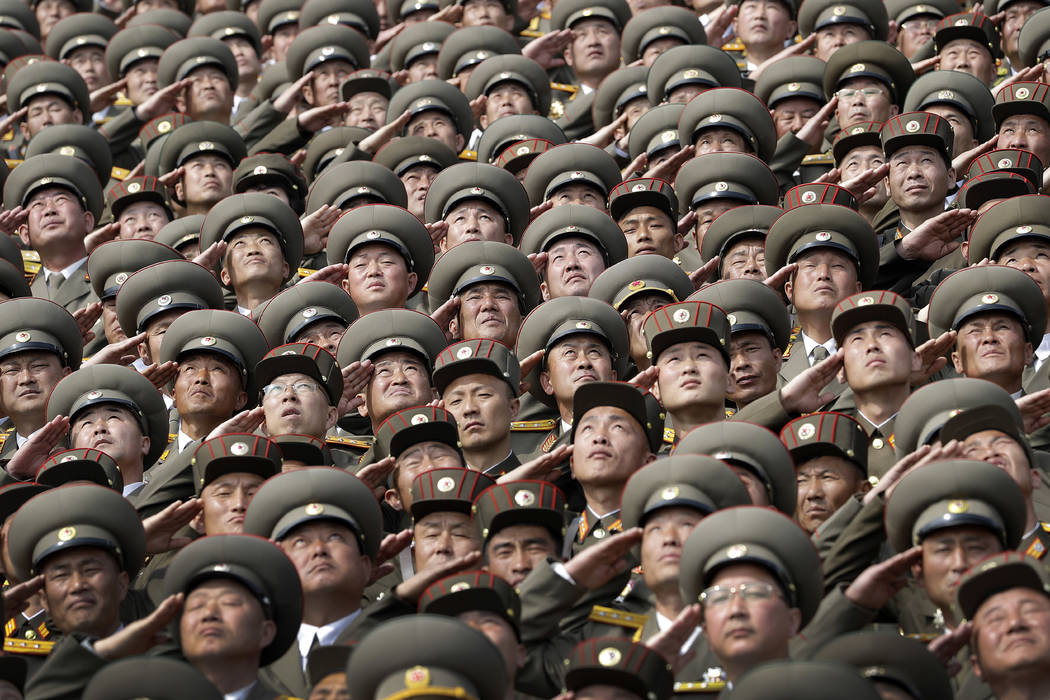 North Korea has long claimed it can strike the U.S. mainland with its missiles. Western military experts have mostly scoffed.
They aren't anymore.
The growing tempo and sophistication of the rogue nation's weapons tests has persuaded some experts that Pyongyang now has — or is close to having — the ability to fire a missile capable of reaching the West Coast or Las Vegas.
"It can't be dismissed," said Thomas Karako, a senior fellow for international security at the Center for Strategic and International Studies, a bipartisan nonprofit policy research group in Washington, D.C.
"They have some fairly robust medium-range missiles that could very well be armed," said Karako, who works on the CSIS Missile Defense Project. "I think the consensus is they've come a long way."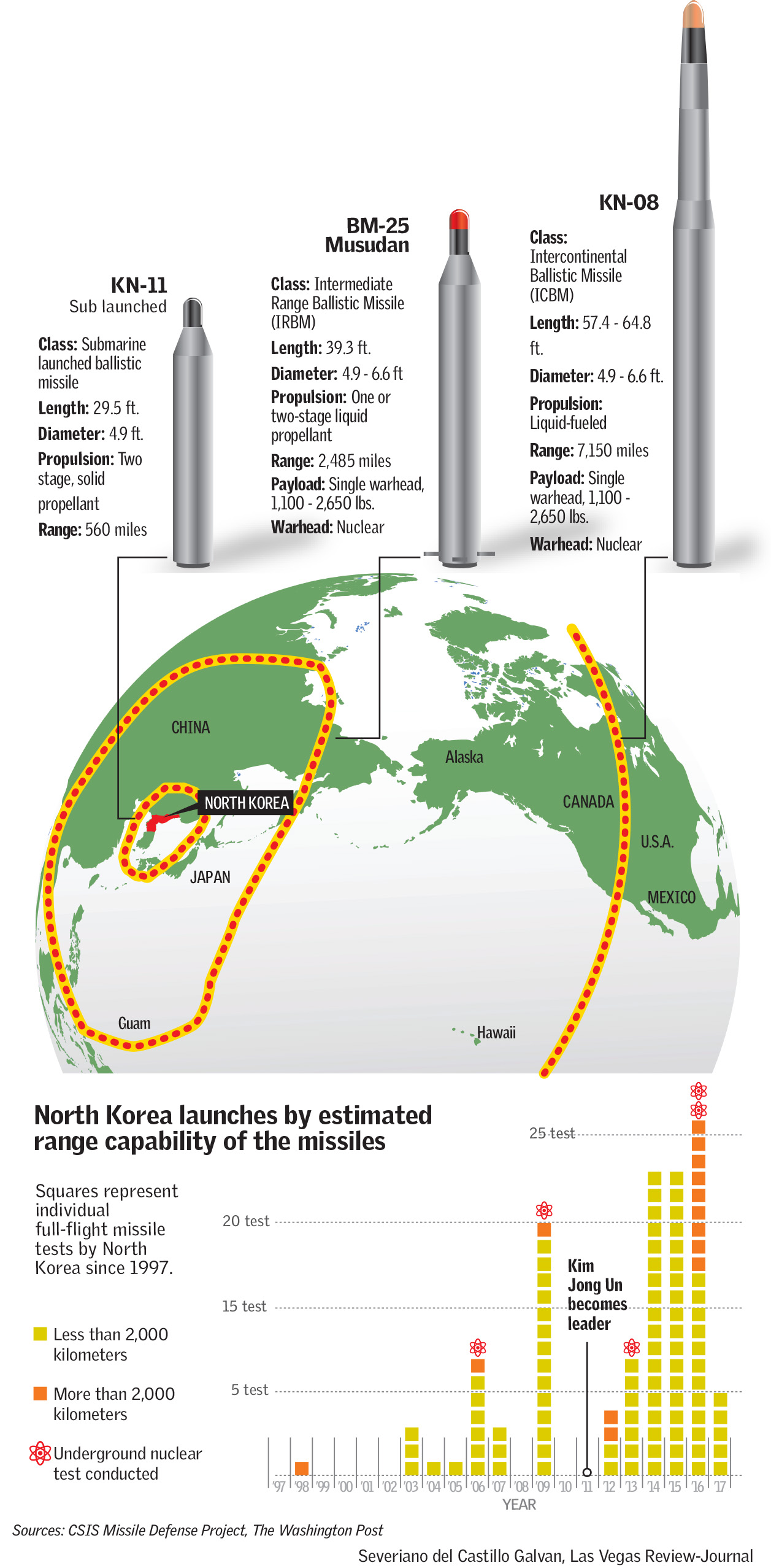 It remains unclear whether Kim Jong Un's nuclear scientists have developed the expertise to tip the regime's long-distance missiles with nuclear warheads capable of surviving re-entry, he said.
Growing nuclear capability
Plutonium science expert Siegfried Hecker, who has traveled to North Korea seven times to assess its plutonium program, said last year in Las Vegas that scientists there had been covertly enriching nuclear materials for as many as 25 bombs. It must be assumed then that nuclear warheads could at least be mounted on short-range or maybe midrange missiles, like the BM-25 Musudan that's under development, he said.
Putting them on long-range missiles, Hecker said, might only be five to 10 years away.
Karako said with two decades of intercontinental ballistic missile (ICBM) development and a growing stockpile of nuclear materials, Kim's regime is undoubtedly drawing closer to its goal of being able to carry out a nuclear attack on the United States.
Recent strides by the militaristic nation have included the ability to power the missiles with solid instead of liquid fuel, field mobile missile launchers and fire "more-energetic missile stages" capable of boosting warheads into ever-higher altitudes.
Some estimates show that the regime's two intercontinental ballistic missiles in development — the KN-08 and KN-14 — have ranges of roughly 7,150 miles and 6,200 miles, respectively. That puts them within range of Las Vegas — which is approximately 5,950 miles across the Pacific from Pyongyang — and other West Coast cities.
Karako said North Korea also has a "demonstrator" satellite-launch missile, the Taepodong-2, that could reach Denver — 6,115 miles from the Korean Peninsula – though it likely has only "a few lying around" at this point.
Submarine warfare
Karako said the U.S. also can't overlook the threat that North Korea could use submarines to shorten the distance to its targets.
He said North Korea recently demonstrated a sea-launched submersible launch platform.
"The speed at which they developed that has surprised some folks," he said, adding the prospect of submarine-launched missiles presents "a challenging problem."
Detecting an enemy vessel heading toward Guam or Hawaii is more difficult than detecting a missile in flight, he noted.
The biggest underwater threat to regional allies would be another missile in development, the KN-11 submarine-launched ballistic missile. However Karako said North Korea has "plenty of mobile, land-based missiles" that could strike South Korea or Japan.
Nevertheless, it's clear from recent missile tests that North Korea is forging ahead with a submarine-launched missile program.
Dave Schmerler, a research associate at the James Martin Center for Nonproliferation Studies at California's Middlebury Institute of International Studies at Monterey, said the test missile that exploded on launch last week was the second fired this month near the port city of Sinpo, commonly associated with North Korea's Submarine Launched Ballistic Missile (SLBM) program. North Korea showcased a missile resembling the new KN-17 , a liquid-fuel missile intended to sink ships, during last week's military parade in Pyongyang.
He said an Aug. 24, 2016, firing of another sub-launched anti-ship missile under development — known as the KN-11 — on a curved trajectory into the Sea of Japan was the most successful test to date.
He added, however, that North Korea has "not revealed the existence of more submarines that are SLBM capable — beyond the one used for testing." And that sub is believed to be able to fire only one missile at a time, he said.
"In short," he said, "they would need to build more submarines with the ability to launch multiple missiles before it becomes an operational threat."
Missile interceptor defense
The U.S. military has expressed confidence that its missile defenses would be able to shoot down an incoming North Korean missile.
Long before President Donald Trump was sworn in this year, the U.S. Missile Defense Agency was planning to test its readiness against a potential attack.
Two tests of U.S. sea-based and land-based missile interceptors are scheduled in May, agency spokesman Christopher Johnson said. First will be a test of the Navy's Aegis ballistic missile sea-based system off Hawaii followed by one of the Ground Based Midcourse Defense System at Vandenberg Air Force Base on the California coast.
The Army's advanced Patriot mobile interceptor missiles also are deployed worldwide to defend against short- to medium-range missiles, according to the agency's website.
Karako said the United States has a definite advantage over North Korea when it comes to knocking down missiles in flight, after detection at launch locations. He said the U.S. interceptors have a proven record but the problem is "we don't have enough of them" with only three dozen long-range interceptors deployed in Alaska and California.
As for nuclear attacks from aircraft, North Korea doesn't have that capability yet, he said. Nor has Kim's regime developed the technology necessary for so-called "MIRV" systems, intercontinental ballistic missiles with multiple warheads that can be aimed at independent targets.
Contact Keith Rogers at krogers@reviewjournal.com or 702-383-0308. Find him on Twitter: @KeithRogers2
Related
Pence visits military base near Korean DMZ
Test missile explodes on launch in North Korea