Parade draws hundreds to downtown Las Vegas to honor veterans
November 11, 2017 - 6:05 pm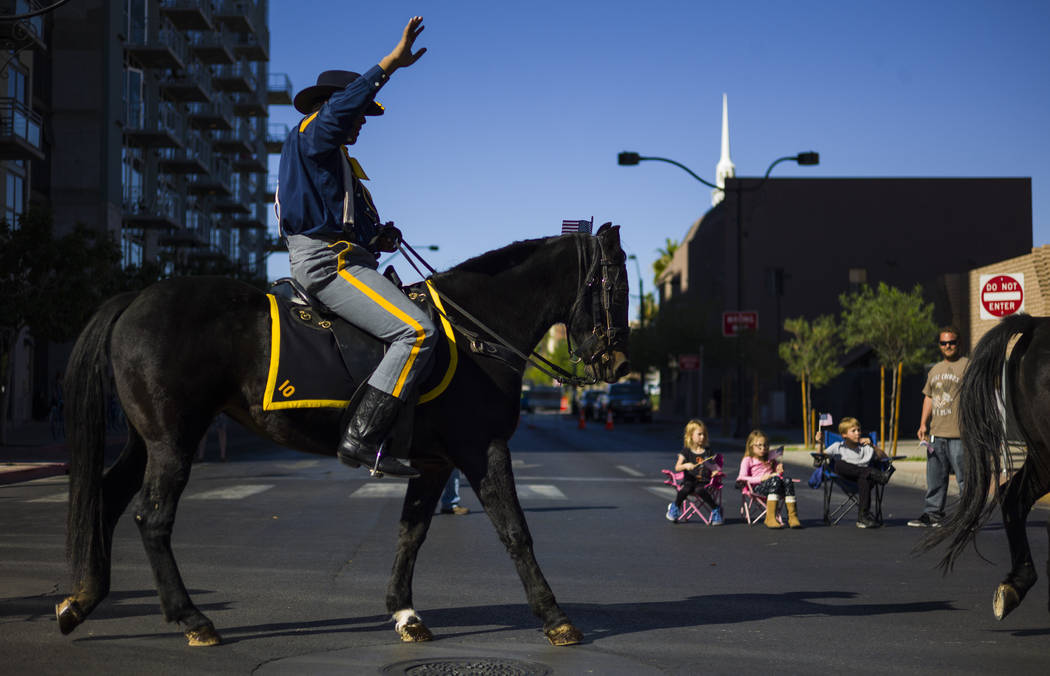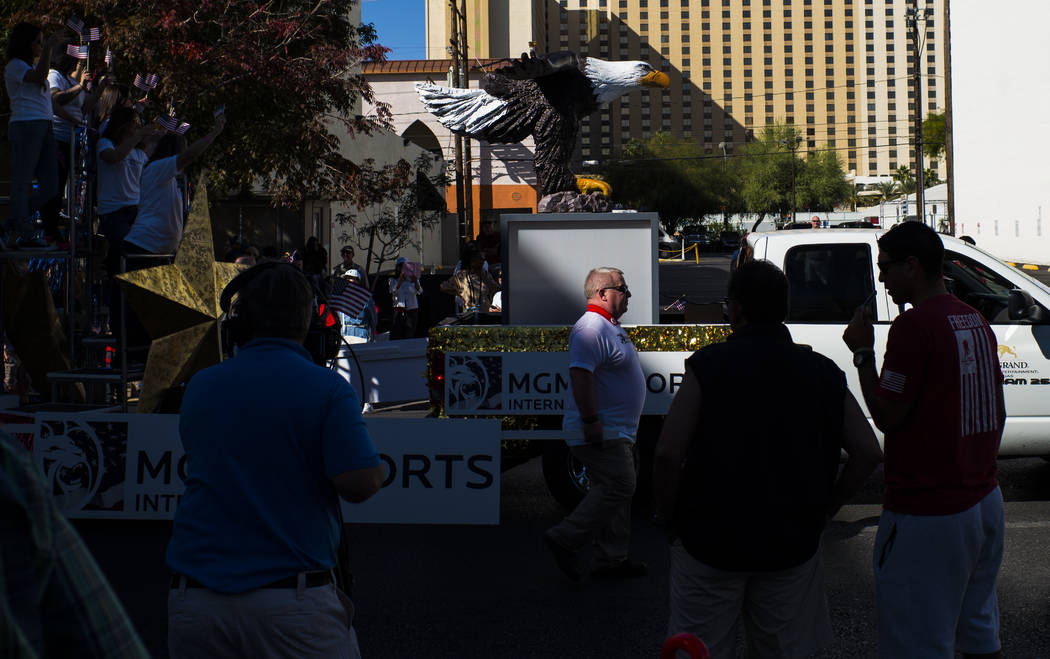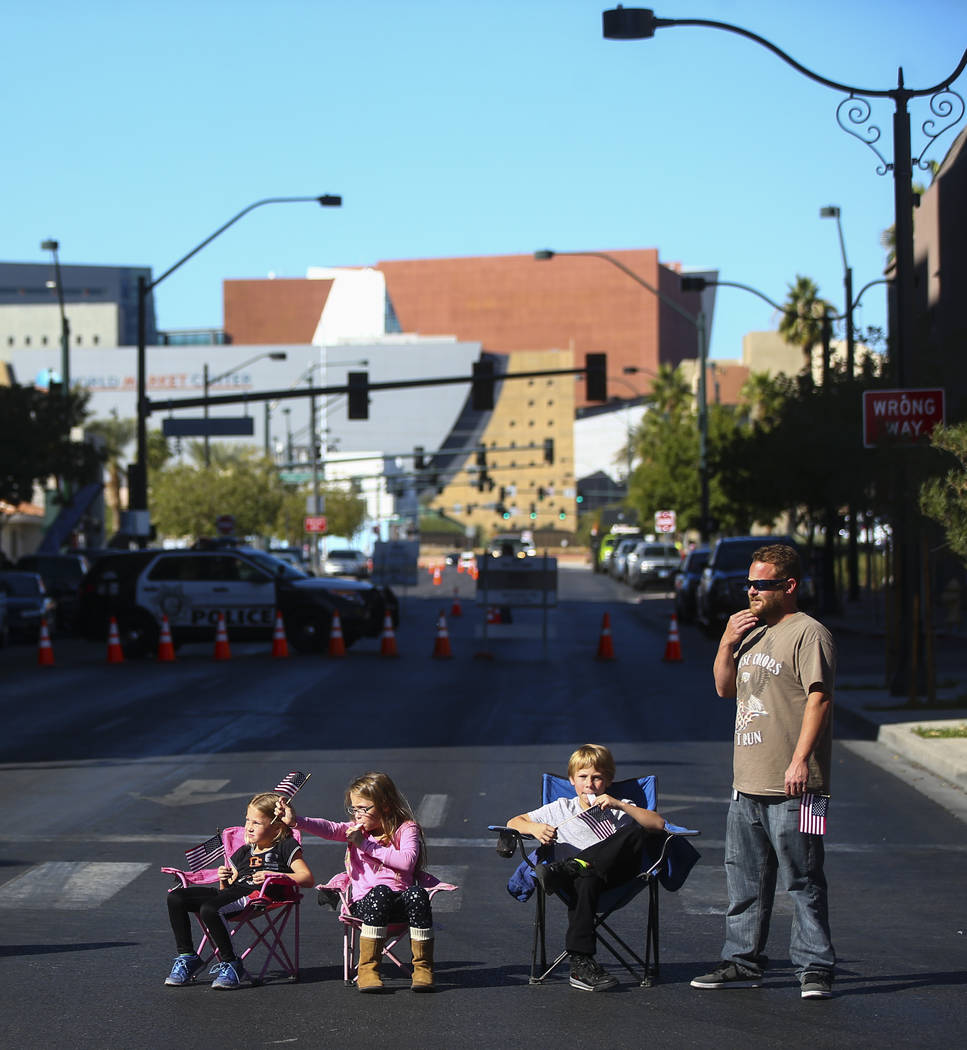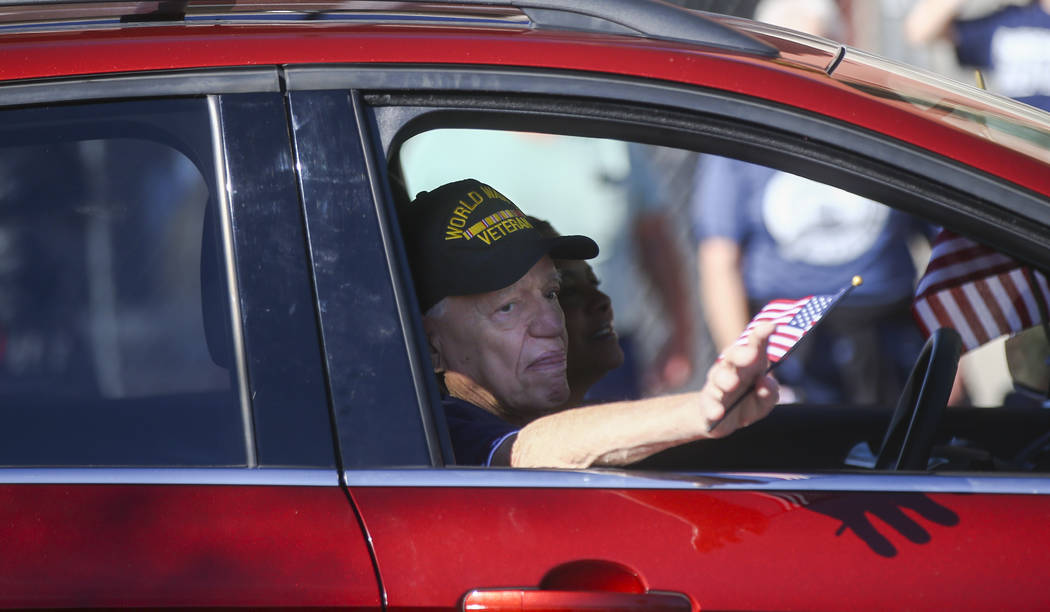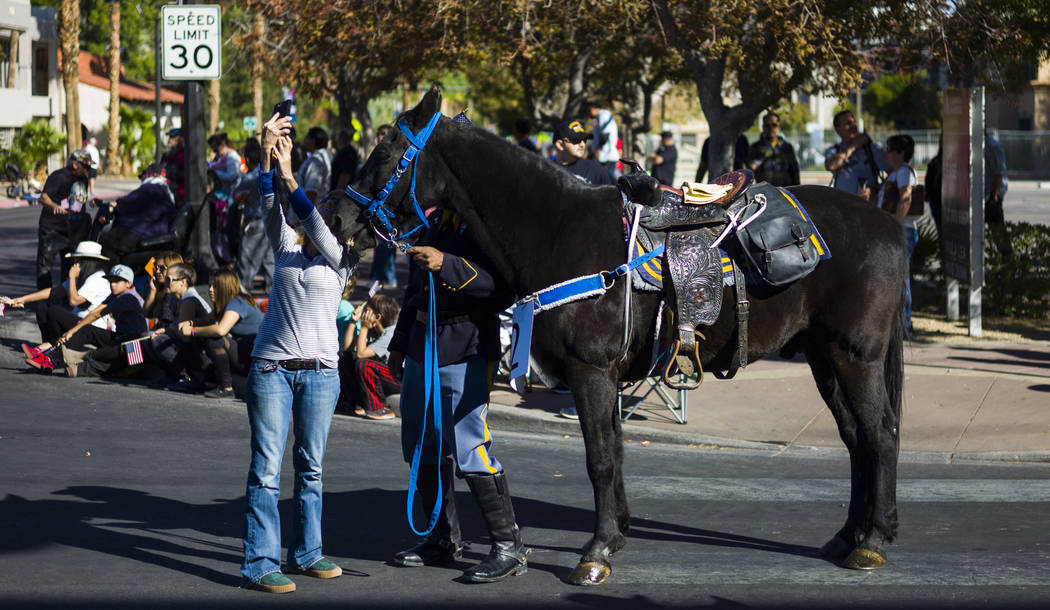 As military veterans marched down Fourth Street under a clear blue sky and a massive American flag strung between two fire-truck ladders, bystanders waved tiny flags and shouted thank-yous from the sidewalks.
Hundreds of people gathered Saturday morning in downtown Las Vegas to honor the men and women who have served and currently serve in the military. This year's Veterans Day Parade also paid tribute to veterans who are also first responders.
Gary Morrison, 67, who served in the Air Force for 21 years, completed a three-year tour in Vietnam and was later stationed in Taipei, Taiwan, for four years.
He was attending the parade to watch his grandson, who held the flag for Rancho High School's Air Force JROTC in the parade.
"We're a military family," said Morrison, whose son currently serves in the Air Force. "It means a lot to me that maybe [my grandson] will follow in my footsteps."
Morrison, who enlisted in the Air Force right out of high school, moved with his family to Las Vegas from West Virginia in 1970.
"When I came back from Vietnam … they didn't like us. But when I came back from Taiwan, it was different," Morrison said. "People are more into how the veterans came back … They're paying more attention to them now, which is a great feeling."
Lasting bonds
Bob Richards, 73, and Earl Schorpp, 70, marched in the parade as part of a group of veterans who served in Vietnam between 1968 and 1971. The group was in town for its annual reunion and for the parade.
"We're to some extent a band of brothers," Richards said. "We forged some relationships back then that have been renewed in the last 15 years that we've been doing these reunions."
Schorpp said the group was only 15 members strong at its first reunion in 2001. Its numbers have since climbed to 60 or 70 members.
Although the veterans didn't establish traditional friendships in Vietnam because they served in different capacities and at different times, the group has bonded over shared experiences, Richards said.
"We like each other generally," he said. "It's also important to renew those contacts because we're fading away, not quite as fast as the World War II generation, but we like to see each other before someone else is gone."
Schorpp said parades such as Saturday's are important to veterans from the Vietnam era because they returned home individually and weren't always greeted with gratitude.
"There was a lot of protest about the war," he said. "And back then, if you hated the war, you also hated the warrior."
Richards nodded.
"This has been a lot of healing for us, participating in these Las Vegas Veterans Day parades, with all the thank-yous and the signs," Richards said.
But Schorpp said it's because Vietnam veterans were treated so poorly when they returned from war that soldiers coming home from Iraq and Afghanistan have been given the respect they deserve.
Makings of a tradition
Chris Callahan, 42, brought his son and two daughters to the parade to watch a client, who was an Army ranger in Vietnam, march in the parade.
"We wanted to come down here and pay our respects and give him our thanks," Callahan said. "I have young kids, and I'd like to teach them what Veterans Day is all about."
Gavin Callahan, 10, shook a miniature American flag, seeking to capture the attention of a man driving a large, olive-green military vehicle. His efforts paid off, as the driver leaned on the vehicle's train-grade horn, the sound reverberating among the buildings.
Gavin's favorite part of the parade was "watching all of the people that served our country drive by and stuff," he said. "They served our country for a good reason."
Callahan's daughters, 6-year-old Madison and 9-year-old Kelsey, watched the parade intently from collapsible chairs as another high school JROTC marched by to the persistent beat of snare drums. He said it was their first Veterans Day parade.
"We're going to make it more of a tradition," Callahan said.
Contact Kimber Laux at klaux@reviewjournal.com. Follow @lauxkimber on Twitter.