Pay raises, women selective service, among contentious defense bill issues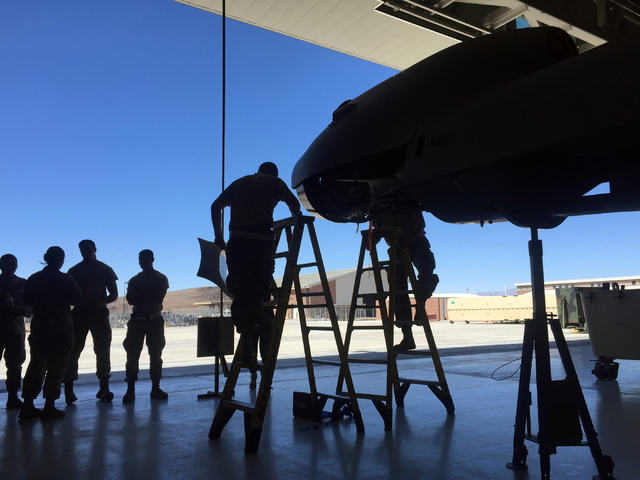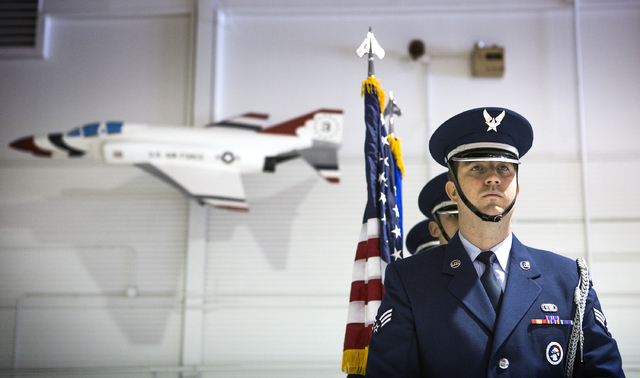 The stakes are high for Nevada as Congress irons out differences between the House and Senate versions of a defense bill.
Even with possible passage of the 2017 National Defense Authorization Act when it goes back for a vote in the House, the threat of a veto by President Barack Obama still looms.
What issues hang in the balance?
First, there's the pay raise gap for uniformed troops that could affect roughly 17,100 combined military personnel at Nellis and Creech Air Force bases, the Nevada National Guard, Naval Air Station Fallon, the Army's 6th Recruiting Brigade in North Las Vegas and Reserve units in Nevada.
The House bill seeks a 2.1 percent pay increase; the Senate wants a 1.6 percent raise.
A veto also could put in limbo at least $200 million recommended for funding for national security, defense programs and upgrades at the Department of Energy's Nevada National Security Site; Nellis Air Force Base; and the Navy base at Fallon.
That doesn't count operational budgets for military installations in Nevada if the next step in the funding process, appropriations, is put on hold.
And a provision in the Senate version that would require young women to register with the Selective Service System could affect 18-year-old women in Nevada and across the United States.
Senate Minority Leader Harry Reid, D-Nev., was one of 13 senators who voted against bill when it passed in Senate on June 14 though he was in favor of the Selective Service registration provision.
On the Senate floor, Reid said the measure "is not a good bill. … I know every senator who has an amendment can't offer it, but, gee whiz, we have had a handful of amendments."
Before voting not to end the debate, he added that the "the whole process" has been unfair.
WHITE HOUSE-SENATE CLASH
A week before the vote, the White House Office of Management and Budget issued a statement saying if President Barack Obama were presented with the Senate version, "his senior advisors would recommend he veto the bill."
The executive office's 21-page statement outlined several objections from wording of the national missile defense policy to elimination of the counterterrorism partnership fund to restrictions on U.S.-Cuban military interactions.
Near the top of the list of veto reasons was that the bill "continues unwarranted restrictions regarding detainees at Guantanamo Bay and adds new provisions, attempting to dictate how the Executive Branch conducts foreign policy and requiring the disclosure of sensitive national security information."
The Senate bill sponsored by Sen. John McCain, R-Ariz., calls for $602 billion in national defense funding, while the House bill set defense funding at $610 billion, up slightly from the amount for the 2016 fiscal year that ends Sept. 30.
The Senate's $602 billion includes a $543 billion annual budget plus $59 billion for the overseas war fund.
Sen. Dean Heller, R-Nev., supported the bill "because it upholds the nation's commitment to its service members, retirees, and their families," his spokesman, Neal Patel, said.
With some 300,000 veterans and military retirees in Nevada, Heller's amendments to the National Defense Authorization Act focused on improving veterans' health care by completing access to electronic health care records between the Defense and Veterans Affairs departments. One amendment calls for enhancing job training for military personnel transitioning to civilian life.
A HOUSE DIVIDED
As chairman of the House Armed Services subcommittee on military personnel, Rep. Joe Heck, R-Nev., wants a full 2.1 percent pay increase for troops rather than the 1.6 percent increase offered in the Senate bill.
"Most critically," he said, the House bill "boosts base defense spending while ensuring we have adequate contingency operations funds and, after three years of lower than by law pay raises, provides our troops and their families the full pay raise they deserve."
Heck also had a handing in crafting provisions that would modernize the commissary system, improve the military health system, change the Uniform Code of Military Justice to make it more transparent and provide up to two weeks leave for the second parent of a dual military couple.
Heck also leans toward requiring women to register for Selective Service, like the mandate for men of draft-eligible age.
"The prior exclusion of women registering for the Selective Service dates to a time when women were prohibited from service in combat roles," he said in an email from his spokesman, Greg Lemon. "That is no longer the case as women can voluntarily pursue combat roles and have even passed special operations qualifying."
Rep. Dina Titus, D-Nev., explained her position on voting against the House defense authorization bill in a statement Friday to the Review-Journal.
"While I support some provisions in the bill, such as a pay raise for military personnel, I could not support this legislation because it allows for discrimination against women and LGBT members of our community," Titus said.
She noted that the bill also "authorizes billions in funding not requested by the Pentagon, fails to end the sequester, and prohibits the Department of Defense from taking sensible actions to cut costs and re-prioritize spending."
A spokesman for Rep. Cresent Hardy, R-Nev., said Hardy has voted twice for a 2 percent pay raise for active-duty military personnel, "and that's the approach that he prefers for the final passage" of the National Defense Authorization Act.
As for the Senate's Selective Service provision, Hardy "believes our country is privileged to have so many brave women who risk their lives to defend our freedom," spokesman Larry Farnsworth said Friday.
"The service mentality of patriotic Americans knows no gender," Farnsworth said, adding, "The congressman favors an approach that encourages young people into national service — not specifically military service — but public service as a way to build patriotism."
Rep. Mark Amodei, R-Nev., had no statement on the Senate's Selective Service provision as the House bill didn't raise the issue.
In a newsletter regarding the bill, Amodei said, "In addition to ensuring our troops are properly compensated for their service, this bill also contains a number of provisions that offer meaningful solutions to the challenges facing the West, including lifting restrictions on the military's use of fossil fuels."
Correction: This story was changed to correct the attribution of a quote by Rep. Mark Amodei, R-Nev.
Contact Keith Rogers at krogers@reviewjournal.com or 702-383-0308. Find him on Twitter: @KeithRogers2