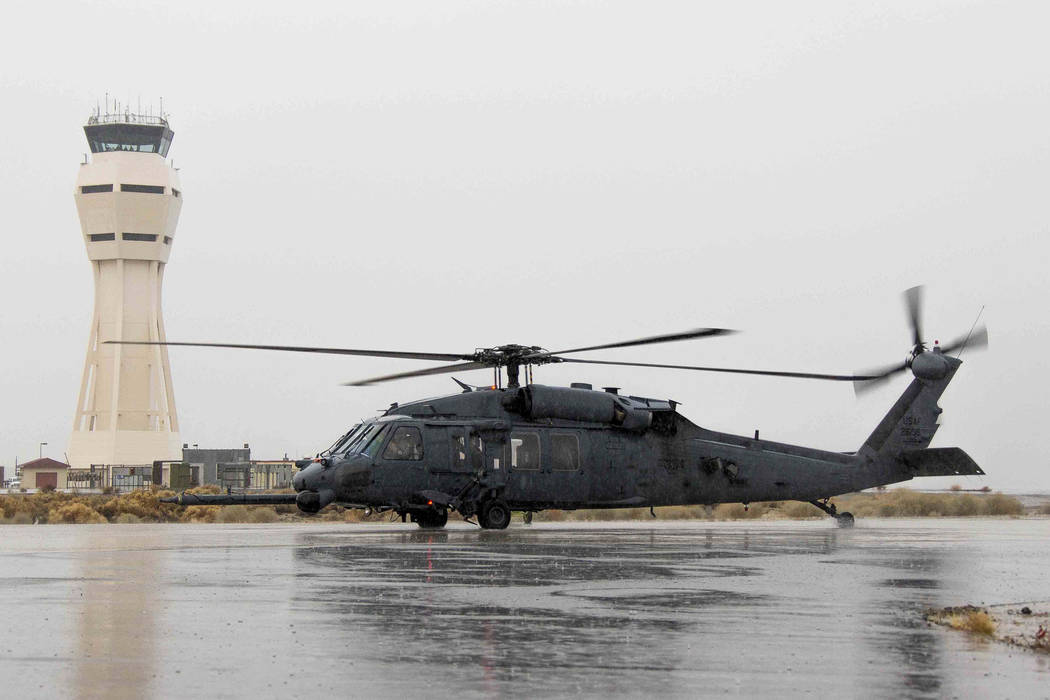 A Nellis Air Force Base rescue helicopter crashed Aug. 18 because the pilot over-corrected after a gunner warned that a trailing helicopter was closing too fast during a night training exercise, Air Combat Command said Thursday.
Four crew members were injured and the $21.9 million Pave Hawk helicopter was a total loss.
As the two helicopters converged "close to the ground" in mountainous terrain, the gunner "called for an immediate turn away from the other helicopter," Air Combat Command officials said, citing the accident investigation board's report.
"To avoid collision, the co-pilot made a 70-degree banked right turn. At this over-banked angle, the helicopter could no longer maintain altitude," the command's release read, adding that it "descended rapidly" then hit the ground and rolled.
Crew members were flown to a local hospital and treated for nonlife-threatening injuries.
Although Nellis officials didn't disclose the crash site's location, the Review-Journal reported Aug. 19 that the helicopter went down northeast of Hiko in Lincoln County, where part of the Best of the Desert "Vegas to Reno" off-road race course was closed because of the crash.
The HH-60G Pave Hawk was assigned to the 66th Rescue Squadron.
Contact Keith Rogers at krogers@reviewjournal.com or 702-383-0308. Find him on Twitter: @KeithRogers2