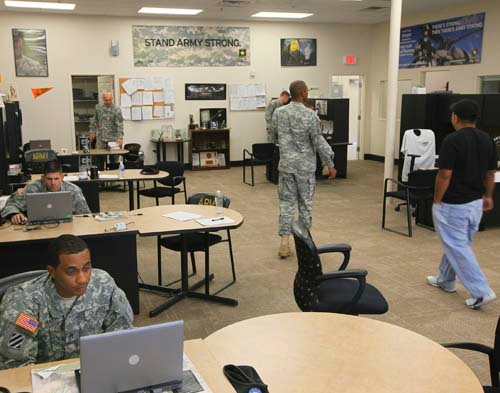 It's too early to tell if America's elation over Osama bin Laden's death has boosted military recruitment, the Army's deputy commander of recruiting said. Even if it has, the armed forces don't need the hype to drum up new soldiers.
All four branches — Army, Navy, Marine Corps and Air Force — have more want-to-be soldiers than they need.
Each branch met its goal for both active and reserve recruits for the fiscal year to date, signing up 76,000 soldiers between October and March, according to the latest U.S. Department of Defense report. The Army added 34,000 recruits, more than double any other branch and exceeding its quota by 2 percent.
"We used to have trouble filling the ranks," said Maj. Gen. Steven Abt, who is retiring after 38 years in the Army. "We're turning away more recruits every day."
The shift started about three years ago, partly because of the recession, he said during a recent interview at the Renaissance Las Vegas, where the Army's leaders met to discuss recruitment challenges.
Abt suggested that the public's increased respect for its armed forces has also boosted recruiting numbers.
"As a result, we're getting very selective, raising the bar," he said.
Las Vegas' Sixth Recruiting Brigade is the Army's hub for recruiting in the Western states, including Hawaii and Alaska. The brigade has 2,000 soldiers working at 275 recruiting stations covering 2 million square miles, the largest area of any recruiting brigade in the country.
The brigade has exceeded this year's quota by 4 percent, spokesman Kent Tidwell said.
Abt said one in four people are automatically ineligible because of their criminal history, not having a high school diploma or obesity, which is the most common disqualifier.
The Army used to make exceptions for those with a grade-equivalency degree, known as a GED, but no more. It used to give waivers on a case-by-case basis for criminal histories, but no more. Plus, it's more willing to let troublemakers go.
"We have one of the smartest armies of the last 50 years. Smarter, leaner, more efficient," Abt said, adding that was encouraging given how highly technological warfare is becoming.
The Army is also getting younger, deciding a month ago to reduce the maximum enlistee age from 42 to 35.
By having its pick of the crop, the Army has increased its retention of recruits, Abt said.
The academic side of it isn't difficult now, Abt said. The transition into a disciplined life is the challenge.
The military will only become more selective in coming years because of imminent budget cuts, Abt said. Although the Army wasn't hit with funding cuts for new recruits this year, those will come in 2012, he said.
"Success in Congress' eyes means move the resources to somewhere else," he said.
For that reason, the Army's leaders worked at a recent Las Vegas conference to streamline and coordinate recruiting efforts of all its branches, including the National Guard, Army Reserve and Reserve Officers' Training Corps, commonly called ROTC.
Abt said he couldn't predict the extent of the cuts.
"We'll make it work. You have to be creative to meet the mission. That's part of our culture. We're not ones to say, 'We can't do it.' "
Contact reporter Trevon Milliard at tmilliard@reviewjournal.com or 702-383-0279.