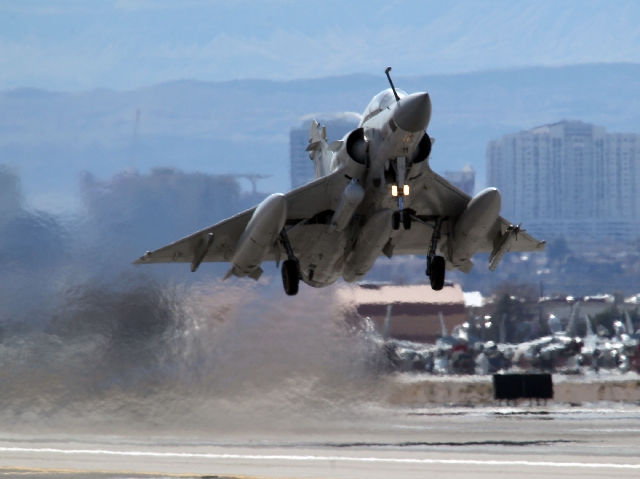 A fledgling intelligence squadron at Nellis Air Force Base put all its pieces together for the first time in a recent Red Flag air combat exercise. But now it may experience a setback.
The Pentagon is expected to postpone this summer's Red Flag to meet mandated budget cuts, unless there's a sudden change in funding priorities by Congress. That would mean the 526th Intelligence Squadron's effort in the exercise that ended in mid-March will be one to savor until the foggy view of future Red Flags clears up.
The squadron tests the skills of military intelligence personnel and pilots who collectively gather and interpret photographs, videos, communications and data.
In real combat situations, the dozens of aircraft and airmen in the operations control center play a pivotal role in defeating adversaries and protecting aircraft from ground-based missile strikes.
A Nellis spokesman said Friday that base officials are on track to conduct July's Red Flag and are continuing to plan for it.
But they are doing so knowing that the remainder of the Thunderbirds demonstration team's schedule has been canceled, along with November's Aviation Nation air show, because flying hours devoted to overseas combat operations take priority in the Pentagon's funding predicament.
On Feb. 6, the Air Force vice chief of staff, Gen. Larry Spencer, told the Review-Journal that Air Force leaders had talked about whether Red Flag would be canceled or curtailed to meet budget-cutting goals.
His comment was reiterated by Acting Undersecretary of the Air Force Jamie M. Morin, who acknowledged that future Red Flag exercises including the one scheduled for July could be put on indefinite hold, depending on decisions by Air Combat Command leaders.
Regardless of what happens, the last Red Flag was a good one, according to Lt. Col. Christopher "CJ" Reiz, commander of the 526th, a tenant squadron at Nellis.
"The biggest win on this was this was the most focus we've been able to bring on ISR (Intelligence, Surveillance and Reconnaissance) in putting air frames and ground personnel together, so everybody can see how each other operates," Reiz said as the squadron was preparing for the last days of the Red Flag exercise in mid-March.
"We can see successes and lessons learned, and can learn from that for the next time," said Reiz, 41.
His squadron is part of the San Antonio-based 70th Intelligence, Surveillance and Reconnaissance Wing, which does the heavy lifting for the Air Force ISR Agency.
More than two dozen intelligence professionals from around the world flew to Nellis to join comrades at the Combined Air Operations Center. Their task was to process, exploit and disseminate intelligence gathered by an assortment of reconnaissance planes including U-2s and MC-12 Liberty aircraft from Beale Air Force Base in California and the RC-135 Rivet Joint, in addition to some Navy planes.
Air Force ISR Agency commander Maj. Gen. Robert Otto said, "This is the first time that we've been able to bring real-time intelligence, surveillance and reconnaissance together here at Red Flag from start to finish."
The exercise gave his airmen "a holistic understanding of just what needs to come together to be effective."
"At the end of the day, this is all about a better understanding of the battle space and then providing targeting, so the aircraft can be effective in their mission," Otto said in an interview reported by Air Force ISR Agency spokesman Maj. Christian P. Hodge.
In all, 125 aircraft from the United States and British and Australian allies participated in the last Red Flag exercise. Included in the mix of fighter, attack and reconnaissance aircraft were three stealthy U.S. Air Force B-2 Spirit bombers, which flew in from Whiteman Air Force Base, Mo.
According to Reiz, the goal of the exercise from his squadron's perspective was to find and track important targets, including "simulated bad guys," and transmit the data for interpretation by the experts at the operations control center.
"Red Flag puts them through a very aggressive environment," he said. "There are no specific threats as far as certain countries or regions, but just any number of possibilities.
"You have the air threats — the aggressor squadrons — and ground threats or surface-to-air threats," he said, describing the complexity of the Red Flag battle space over nearly 3 million acres of the Nevada Test and Training Range.
Besides the simulated bad guys on the ground and other important targets, combat aircraft were pitted against a would-be enemy. They received communications from reconnaissance planes and created offensive and defensive capabilities.
Reiz said with 12 years of playing a key role in the global war on terrorism, the Air Force intelligence team "is very good at what they do as far as being technically savvy."
"But we need to be sure our airmen don't become complacent. We're trying to expand on their education and make sure they're looking at other environments that they might be involved with in the future," he said.
Maj. Christopher Keown, director of operations for the 526th, said his top priority is to train the airmen so they get the first 10 simulated combat sorties under their belts.
"From the first Monday when they were overwhelmed, our goal was to take these guys and push them forward. By Thursday, they were almost literally veterans of that combat environment," he said.
Contact reporter Keith Rogers at
krogers@reviewjournal.com or 702-383-0308.