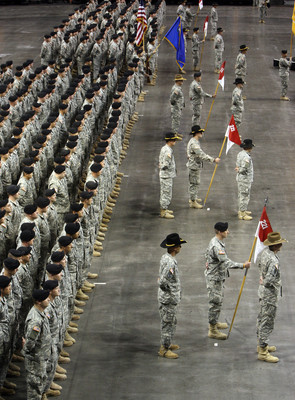 About 650 soldiers from Nevada's 1st Squadron, 221st Cavalry mobilized Friday for a tour in Afghanistan in what their commander says is the largest overseas deployment of Nevada National Guard troops in history.
"We will soon be leaving for the most dangerous parts of the world," Lt. Col. Scott Cunningham told thousands of family and friends of the citizen-soldiers during a ceremony at Mandalay Bay Events Center.
"When the call came, it has been answered, loud and clear," he said. "These soldiers and soldiers' families here have shown by their actions the meaning of the word, sacrifice. These are people who have stood up and said, 'If it must be done, then let me help do it.'
"Let it be known without any doubt, from Yerington to Las Vegas, from Reno to Elko that Nevada cavalry troopers will be standing guard and keeping watch on freedom's frontier," Cunningham said.
The unit will provide security for reconstruction
teams in Afghanistan and conduct counterinsurgency operations.
They will depart today for a training stint at Camp Atterbury, Ind., before deploying for at least a nine-month mission sprinkled across a dozen locations in Afghanistan.
One Yerington soldier, Sgt. Waylon Layton, 29, said he's "excited to go over to help out the country and do what we can."
Said Capt. Doug Seymour, 41, of Las Vegas: "We're ready to get going. It's going to be tough."
The squadron consists of citizen-soldiers who in civilian life work as lawyers, carpenters, pilots, contractors, law enforcement officers and many other job titles. The unit is augmented with soldiers from Arizona, Georgia, Arkansas and Guam.
"Everybody looks at a deployment with different apprehensions," Cunningham said during an interview Wednesday at the Clark County Armory. "For the first-time guy or the soldier, his apprehension is going to be, 'Am I going to be able to do my job? Am I going to be scared in combat? Am I going to get hurt?'
"For those of us who've been there before and are in a leadership role, our concerns are a little bit different," he said. "Our main concern is how well we prepare our units to go. Have we done everything we can to prepare these soldiers for our the challenges that lie ahead? And that's what keeps me up at night, wondering if there's anything I've overlooked."
This is the third deployment for the 1st Squadron, 221st Cavalry in support of the nation's war on terrorism since the Sept. 11, 2001 attacks. The squadron provided security at Nellis Air Force Base in 2003 and helped train active duty soldiers at Fort Irwin, Calif., through 2005. More than 100 troopers from the squadron volunteered to provide convoy escort security in 2006 in Iraq to assist the Wisconsin National Guard.
On this tour, which Cunningham said could last "nine to 10 months" in Afghanistan, the squadron will take over security details from the Illinois National Guard.
"I have absolutely no doubt this squadron is going to perform superbly over there," he said.
Contact reporter Keith Rogers at krogers@reviewjournal.com or 702-383-0308.
View the slide show