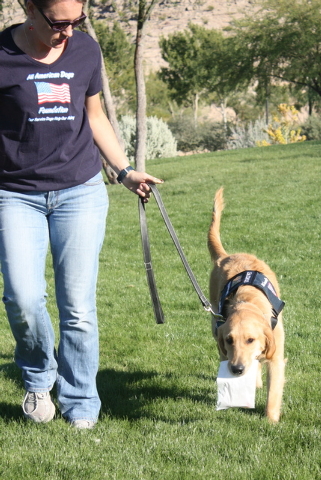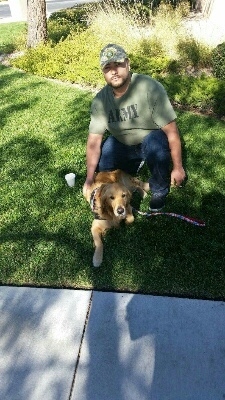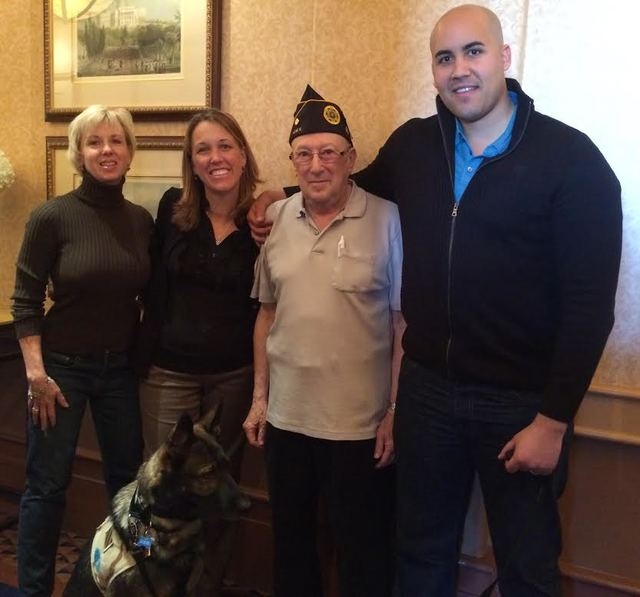 Army veteran Tony Ray Silva's dog, Freedom, couldn't have a more fitting name.
After two 16-month deployments to the Middle East, Silva said he was full of anger and suffered from post-traumatic stress disorder.
But thanks to a four-legged donation from Michael's Angel Paws, a nonprofit that trains service dogs, Silva is able to "enjoy life and live again" with his golden retriever.
"I was completely isolated. I didn't leave the house because of my anxiety, and my view of the world was so jaded and obscured," Silva said. "Having Freedom with me gives me the freedom to be myself again."
Inspired to help more veterans, nonprofit founder Stephanie Gerken gifted a service dog to Henderson resident Nasser Almansoori during a Jewish War Veterans of the United States of America, Sgt. Manny Peven Post 65 event Dec. 7.
Almansoori, 29, joined the Army in 2004 and moved to Henderson about three years ago. He underwent about six months of training to receive G.Q., a 5-year-old German Shepherd.
"It's been awesome," Almansoori said. "I'm excited and looking forward to having G.Q. as my dog."
Last year, the post sponsored four dogs to become certified service dogs for veterans through the organization. G.Q. was the first to complete the training through the partnership, according to Gerken.
"Training a service dog typically takes about 18 to 24 months, but G.Q. is the fastest we've had," Gerken said. "He has the perfect temperament to be a service dog, and he came to us so well-trained that it only took eight months."
A service dog is trained to do work or perform tasks for people with disabilities, including guiding those who are blind, alerting and protecting someone who is having a seizure and calming a person with PTSD during an anxiety attack, according to the Americans with Disabilities Act.
"Breed does not matter. We have had pit bulls, poodles, labs and shepherds all become service dogs," Gerken said. "What's important is their temperament and how they respond to situations. If the dog has the right temperament, can they handle the stress? Most can't, and that's why there's a 70 percent failure rate in the program."
In order to be certified, dogs have to master basic and advanced commands, such as walking on a leash, ignoring distractions, getting in and out of the car and behaving well in public. They must also perform at least one task or behavior directly related to a person's disability.
"PTSD dogs do what we call a block and cover. They block the individual from other people to give them some personal space when they feel anxious or upset," Gerken said. "Veterans are used to feeling protected by their battle buddies, so these dogs bring back that sense of always being protected."
Most important, a bond must be made between the individual and the dog, Gerken said.
"The minute (Almansoori) and G.Q. saw each other, I knew it was a match made in heaven," she said. "We let them just have fun together, and they were two peas in a pod. It was typical love at first sight."
Since receiving Freedom a year ago, Silva said he is less hesitant to go out in public and interact with people. He recommends the program to other veterans dealing with mental health issues.
"It's vital for veterans returning home from overseas to seek medical attention for mental health," Silva said. "Losing veterans weighs heavy on my heart, and I'm making a push towards helping those who are living the type of lifestyle I was. There's a lot of reasons to be angry, but reaching out is always OK."
For more information, visit michaelsangelpaws.org.
Contact Henderson View reporter Caitlyn Belcher at cbelcher@viewnews.com or 702-383-0403.