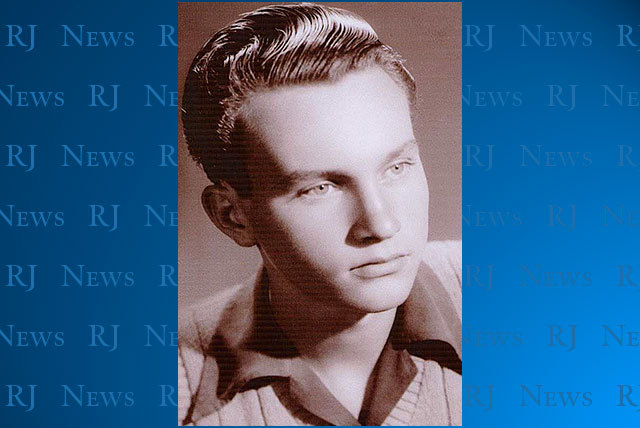 Lewis Stephens had "some very vivid memories" of his uncle, Sgt. Melvin Wolfe, when Army officials told him this summer that Wolfe's remains had been found in North Korea and soon would be coming home.
During a funeral Monday with full military honors at the Southern Nevada Veterans Memorial Cemetery in Boulder City, Stephens and about 100 family members, friends and fellow veterans buried the remains of the sergeant from San Diego who had joined the Army at 17 with his parents' permission to fight in the Korean War.
Wolfe was declared missing-in-action on Dec. 12, 1950, during an epic battle at Chosin Reservoir. Sixty-three years later the Army, through DNA testing, positively identified Wolfe's remains, which had been recovered in 2004 from a mass grave south of the Pungnyuri-gang inlet on the reservoir's east side. That's where he and other soldiers from K Company of the 7th Division's 31st Regimental Combat Team had been battling communist forces in late November 1950.
"Everybody that looks at his pictures tells me what a handsome young fellow he was," said Stephens, of North Las Vegas. Stephens was only about three years younger than his uncle and followed his footsteps to the Korean peninsula four years later as a soldier in the same 7th Division.
"He could have been another James Dean. He was a very nice person, and it was a very tough loss," Stephens, 78, said Tuesday.
Before Wolfe joined the Army, Stephens would hang out with his uncle in San Diego. "He would ride all over the neighborhood on his bicycle, and I rode on the handle bars."
Wolfe was a talented teenager who could do the "hucklebuck," a duck-waddle dance craze that swept the country in 1949, "and he liked to sing, too," Stephens said.
But the fun, he said, turned into the serious business of war when Wolfe left on a troop ship "that was packed like sardines" in February 1950.
By the fall of that year, the 31st Regimental Combat Team became part of the United Nation's police action in the conflict involving North and South Korea. In November 1950 the combat team was engaged in heavy fighting against communist Chinese forces at Chosin Reservoir, a frigid lake on the Yalu River in North Korea.
"The cold over there was brutal. It was as big an enemy as the enemy was. It was between 20 and 30 degrees below zero, and they were not properly clothed. The clothes got there a little late for some of the guys," Stephens said.
The real enemy was not just big, but enormous compared with the U.S. force. The 31st combat team along with 12,000 Marines around the area took on three Chinese divisions — more than 120,000 troops armed with rifles, machine guns, mortars and artillery.
When the battle ended after a 78-mile retreat to the Hungnam landing site, the 7th Army Infantry Division had been reduced from 3,000 soldiers to fewer than 500 with about 2,500 missing in action, including Wolfe.
In an interview for a 2001 Veterans Day story, Las Vegas Korean War veteran Don Welch, who also enlisted at 17 and served in the 31st Regimental Combat Team, described the battle involving hand-to-hand combat and many firefights.
"It was scary. They were right on top of you. We know those missing in action were killed," said Welch, who later died and was buried in the Boulder City vets cemetery in 2004.
"We suffered a lot of casualties. So did they. You've seen cord wood stacked up by a fireplace. Our dead were stacked up just like that. They were frozen and we put them there just boom, boom, boom,'" Welch said at the time, recalling a mass grave, one of many that had been dug in the area by U.S. bulldozers.
According to the Department of Defense POW/Missing Personnel Office, Wolfe's remains were recovered from an excavated site that contained remains from 32 individuals and remnants of uniforms worn by soldiers in the 1950s.
Stephens said he was "completely amazed" when he learned his uncle's remains had been recovered and positively identified.
"I was so proud of my country to realize they don't stop looking and try to recover these people and bring them home," said Stephens, a 23-year career soldier who served in Korea after the shooting stopped, in addition to two tours during the Vietnam War.
"I used to wonder when I was over there (Korea) that maybe my uncle had been walking around close by," he said.
Stephens, who retired as a sergeant, has lived in the Las Vegas Valley since 1978. The family decided that his uncle should be buried nearby at the Southern Nevada Veterans Memorial Cemetery.
"He's in a dignified place among fellow veterans, and I'm very happy about that."
Contact reporter Keith Rogers at krogers@reviewjournal.com or 702-383-0308