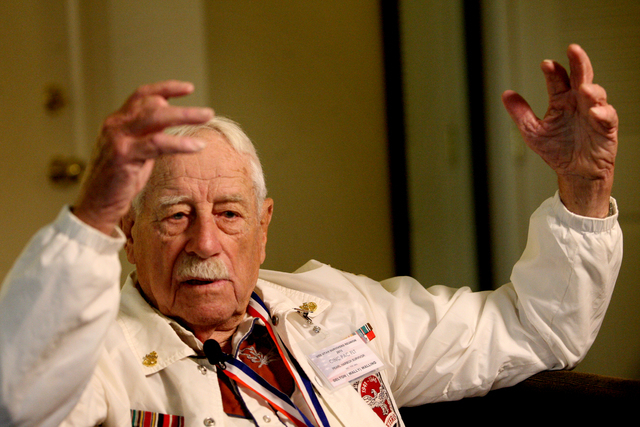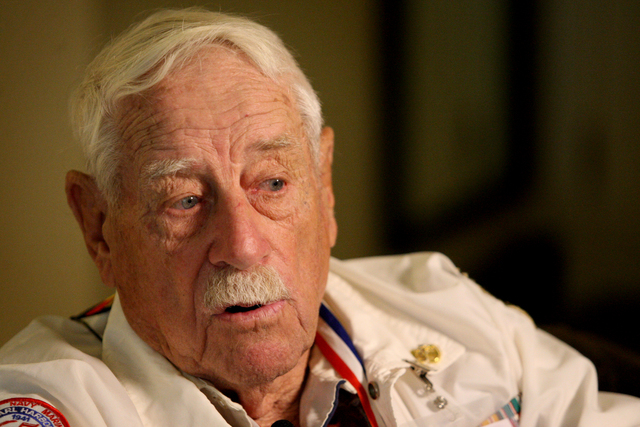 After the second torpedo slammed the USS Utah, Gilbert Meyer scrambled out of his bunk, climbed through an eerie darkness to reach the deck, then jumped into Pearl Harbor with hundreds of his shipmates.
Bill Hughes, too, made it to a safe area on the sinking ship only to see planes with "meatballs" on the underside of their wings "coming back strafing us."
"They wanted to kill everybody they could," he said.
And, Delton "Wally" Walling watched the raid from the top of a tower on Ford Island, in view of Battleship Row.
"I'm standing there froze to the rail watching these bombs and the ships going up, every place you look," he said. "All you could believe is what you're seeing and none of it is very good. Bodies in the water. Oil. It's a terrible, terrible scene."
The three men were young sailors, fresh out of high school and anxious to see the world when the first wave of 181 Japanese warplanes swooped down on Pearl Harbor just before 8 a.m. on Dec. 7, 1941. The planes unleashed a barrage of bombs, torpedoes and machine-gun fire on U.S. ships and military bases around the Hawaiian island, Oahu. Thirty minutes later a second wave of 170 planes joined the attack.
Now in their 90s, they are among the last survivors of the attack. They came to Las Vegas last week for a reunion of the USS Utah. Like the USS Arizona, it is a sunken memorial to the sailors and Marines who lost their lives on the day the United States was thrust into World War II.
In all, more than 2,400 Americans died during the attack, including 68 civilians. Most — 1,177 — were killed when the Arizona exploded and caught fire.
Bodies of some who were trapped on the Utah and Arizona have remained there. Other shipmates who endured the war and went on to live long civilian lives have had their ashes spread. Only a few Pearl Harbor Survivors from USS Utah are left.
"We know of six that are alive. There may be some we don't know about," Meyer said at their reunion at Palace Station last week.
Meyer, 91, traveled from a rural area of Texas, "the boondocks," 30 miles southwest of San Antonio, to join Hughes, 93, of Dallas, the only two who made the trip to Las Vegas.
Walling, 94, of Valley Springs, Calif., was assigned to the USS Pennsylvania, the flagship of the Pacific Fleet. The ship was in dry dock during the attack but was also hit by a 500-pounder that killed 32 of his shipmates. He flew in from Northern California to join the USS Utah vets.
The weeklong reunion with families of past survivors spanned the day that one of the last local Pearl Harbor veterans died. Willis V. Avery, of Boulder City, died May 13 at 93. He was a pharmacist mate on the USS Solace, who rescued wounded sailors from the Arizona before it sunk. He was one of only four known Las Vegas-area Pearl Harbor survivors along with Ed Hall, Clarendon Hetrick and Richard Hackett.
Meyer and Hughes hid in a crowded pipeline trench on Ford Island expecting the worst: another strafing by warplanes in the second wave. "I had the feeling of a fish in a rain barrel."
The thought crossed their minds that if rumors were true, Japanese soldiers would be coming ashore. "I didn't join the Navy to bayonet anybody. I was a technician," Hughes said.
Meyer served the remainder of the war aboard the USS Detroit, a "lucky ship" that came through later battles unscathed and dodged kamikaze attacks. He was on it in Tokyo Bay for the formal surrender by Japan on Sept. 2, 1945.
"That was the best 18 seconds of my entire life," he said. "It was just wonderful to be there for the ending of the war and to avenge what happened to our shipmates and our friends and our countrymen."
Hughes' ship reached Tokyo Bay "after the diplomats with their stovepipe hats had left."
"But I felt like I was part of it. It was a good feeling knowing that all the Japanese ships that participated in the Pearl Harbor attack were at the bottom of the sea," he said, recalling how he felt two weeks before when the Japanese surrendered unconditionally on Aug. 14, 1945, five days after after a U.S. B-29 bomber dropped the second atomic bomb on a Japanese city.
"We suddenly realized we had survived, something I was sure was never going to happen," Hughes said. "It was just a great moment. I'm lucky to be here. And, I'm lucky to be alive. I thank God for that."
Contact Keith Rogers at krogers@reviewjournal.com or 702-383-0308. Find him on Twitter: @KeithRogers2.