Two charged in theft of military ammunition, equipment
November 23, 2015 - 5:52 pm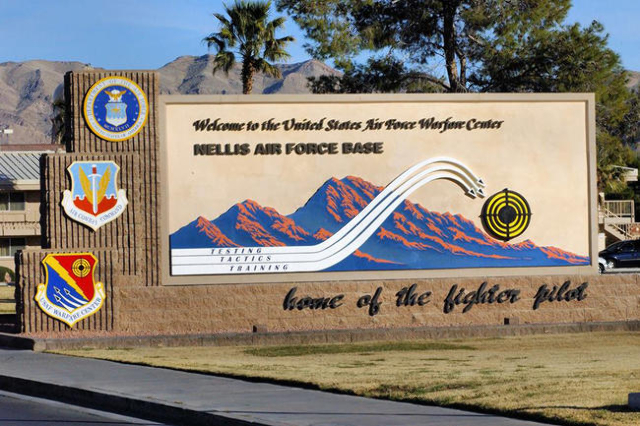 A Nellis Air Force Base non-commissioned officer and another man have been charged in an undercover federal investigation into the theft of military ammunition and equipment from the base.
Among the items alleged to have been stolen by Staff Sgt. Jonathan Owens were several hundred rounds of .50 caliber armor-piercing ammunition. Owens is the combat arms training manager for the 58th Rescue Squadron at Nellis, according to a copy of the criminal complaint.
The elite squadron supplies the skilled forces who travel the world from Nellis-based helicopters to rescue downed servicemen in combat conditions.
Owens, 25, who lives in North Las Vegas, faces one felony count of theft of government property. The other defendant, Temogen Noguni, 36, of Henderson, was charged in a separate complaint with the sale of government property without lawful authority.
The undercover investigation, which began Oct. 1, was conducted by the Air Force's special investigations office and the U.S. Bureau of Alcohol, Tobacco, Firearms and Explosives.
A Nellis spokesman could not be reached for comment.
Both Owens and Noguni were arrested Thursday and released on their own recognizance the next day by a federal magistrate judge.
A third man, Daniel Schwartz, also was arrested Thursday, but he has not been charged.
Earlier this month, Schwartz sold an undercover agent 2,000 rounds of 9 mm ammunition and two smoke grenades stolen from the Air Force base, the criminal complaints allege.
Schwartz, who owns Zen Vapors at 10430 S. Decatur Blvd., later admitted to authorities that he bought ammunition and equipment from Owens in the past. He allowed agents to search the business and his Las Vegas home and vehicles, where they found military items Schwartz said be bought from Owens, according to the complaints.
Noguni, who is employed at Zen Vapors, which specializes in selling electronic cigarettes and paraphernalia, also admitted that he had purchased military items from Owens, the complaints allege.
Owens told agents when he was arrested that he had stolen and sold various items from the base, including several crates of the .50 caliber armor-piercing ammunition, three pairs of night vision goggles, a thermal scope, three protective plate carriers, two target illuminators, and numerous crates of 9 mm and 5.56 mm ammunition.
A search of his car found three M-4 laser sights, the complaints allege.
During the course of the investigation, according to the complaints, Noguni sold 80 rounds of the armor-piercing ammunition to an undercover agent for $2,000 and another 240 rounds of the ammunition with night vision goggles for $4,500.
Noguni told the agent that "his guy" was stationed at Nellis and had access to more ammunition, the complaints state. Then he revealed three military-labeled crates that contained a total of 12,000 rounds of 5.56 mm ammunition in his pickup truck.
According to the complaints, Owens was one of only two people at the base who could sign out munitions from the 58th Rescue Squadron.
Agents conducting physical surveillance at one point observed Owens meeting with Schwartz and Noguni at Zen Vapors, the complaints allege.
Contact Jeff German at jgerman@reviewjournal.com or 702-380-8135. Find him on Twitter: @JGermanRJ