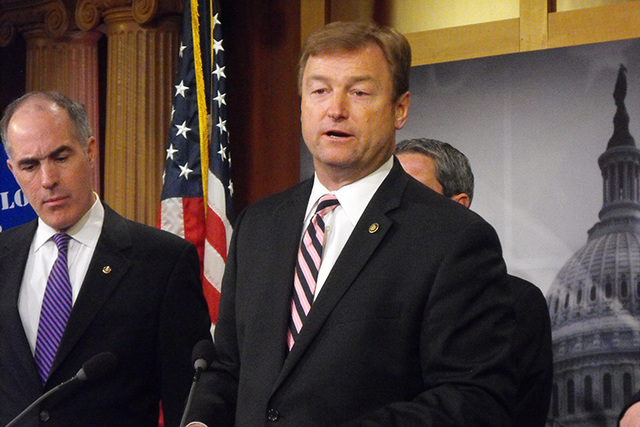 WASHINGTON — Veterans Affairs Secretary Robert McDonald said Monday that the VA should not use wait times as a measure of success, comparing waits for VA health care to the hours people wait for rides at Disney theme parks.
"When you go to Disney, do they measure the number of hours you wait in line? Or what's important? What's important is, what's your satisfaction with the experience?" McDonald said during a Christian Science Monitor breakfast Monday. "And what I would like to move to, eventually, is that kind of measure."
McDonald's comments set off a political firestorm, with Republicans denouncing the remarks as inaccurate and inappropriate.
Among those weighing in was Sen. Dean Heller, R-Nev., a member of the Senate Veterans Affairs Committee. He scolded McDonald in a letter, saying, "This is not a Disney fairytale Mr. Secretary, this is reality."
Heller said he was not only concerned about the "flippant nature of your comparison but also the fact that you said that your agency should not use wait times as a measure of success because Disney does not either."
He said the VA has shirked its responsibility to veterans, especially in Nevada, which has a shortage of doctors at VA facilities and in the Southern Nevada community generally which contribute to wait times.
"Recent statistics from Nevada show nearly 10,000 VA appointments remain scheduled over 30 days from the requested date," Heller wrote. "Given the issues that Nevada's Veterans continue to face accessing VA health care, I do not believe that promise has been kept."
McDonald took office in July 2014 after his predecessor was forced out amid a scandal over chronically long wait times at VA health care sites and reports that as many as 40 patients died while awaiting care at the Phoenix VA hospital. Similar problems were discovered at VA health sites nationwide, along with a widespread practice among VA employees of creating secret lists to cover up the long wait times and receive VA bonuses.
"There is nothing amusing about VA's performance over the past few years, and comparing VA wait times to those of an amusement park is just plain wrong," said Rep. Jeff Miller, R-Fla., chairman of the House veterans panel.
Review-Journal writer Keith Rogers contributed to this report.