VA claims backlog, signature problem frustrate valley Air Force veteran
September 6, 2015 - 10:31 pm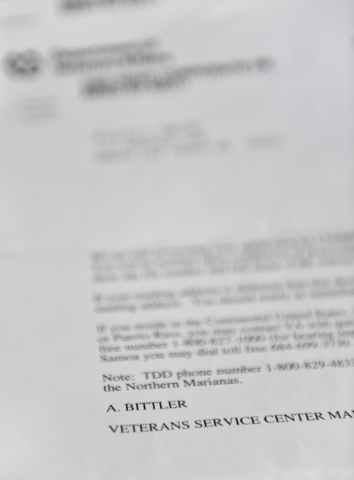 If you're a veteran like Willie L. Smith and you want to ask Veterans Benefits Administration Service Center Manager Allen Bittler in Reno about the delay in processing your disability claim and where it stands in the backlog, well good luck.
"A. Bittler," as his name appears in bold-faced type on the bottom of the form letter that Smith received March 30, hasn't worked at the agency's Reno regional office since he retired nearly two years ago.
Yet Smith and other Nevada veterans received decision letters this year from Bittler, or in Smith's case, the one that begins, "We are still processing your application for COMPENSATION."
Smith, a 30-year career Air Force veteran from North Las Vegas, wants to know why Bittler has sent him three letters long after the former VA employee retired.
More importantly, he wants to know why a year has passed and he hasn't received a disability rating decision when the Department of Veteran Affairs recently announced that the wait time for rating decisions was down to 95 days from 357 days at the peak of the backlog in February 2013.
"All I want is a final determination," said Smith, who receives VA health care for other disabilities but filed a claim for his his heart condition and spinal, neck and shoulder injuries on Sept. 24, 2014.
"Based on what they're saying about 95 days, why isn't mine resolved?" he asked.
VA officials don't comment on individual cases without a Privacy Act release. But a spokesman for the Veterans Benefits Administration's in Reno said the office in March "identified a computer glitch that continued to use Mr. Bittler's name on some outgoing correspondence."
The spokesman, Nathanial Miller, said Rashetta D. Smith replaced Bittler in April. Decision letters that contain Bittler's signature after he retired are valid, he said.
Rep. Dina Titus, D-Nev., who is a member of the House Veterans Affairs Committee, said she was alerted about the incorrect signature problem by veterans in her district in April and promptly sent a letter to Allison Hickey, undersecretary of Veterans Affairs for benefits.
"This problem has been fixed," she said Thursday, citing a reply from Hickey stating that both local and national systems needed updates. On May 15, the correct signature was included in the VA's national system, according to Hickey's reply.
Claims backlog improves, but …
As for the backlog issue, VA officials announced Aug. 25 that the initial claims backlog count had dipped below 100,000 nationwide, an 84 percent reduction since the peak in March 2013.
At the Reno regional office, which handles claims from veterans across Nevada and part of California, the backlog was down to 479 from the peak of 8,536 in February.
But while the initial claims backlog has decreased at the Reno office, appeals have increased over the past year, based on an analysis by Bergmann & Moore, a national law firm that handles veterans' benefits cases exclusively.
The latest figures, compiled by the firm's Kelly Kennedy, show initial claims and appeals are approaching even at the Reno office, 3,628 and 2,741, respectively as of Aug. 24. Last year on Aug. 4, those numbers stood at 5,883 and 1,615, respectively.
"It's hard to help but think that these cases could have been resolved correctly in the first place," Kennedy wrote in an email.
Elsewhere, veterans appeals cases outnumber initial claims in Baltimore, Chicago, Phoenix, Atlanta and Portland, Ore.
Titus has been concerned about a "tsunami" of appeals creating another backlog problem.
"I've been saying this for over a year. If you squeeze a balloon in one place, the air pops up somewhere else," she said.
Titus says VA officials note that the percentage of appeals cases is not increasing but the number of appeals is.
Sen. Dean Heller, R-Nev., who is a member of the Senate Veterans Affairs Committee, said in a statement Thursday, "As my office has worked on casework for both initial claims and appeals for veterans, I have always stressed to the VA that this is not just about timeliness, it is also about quality.
"Even a small mistake can wrap a veteran up in the appeals process for years," Heller said. "That is why I continue to hold the Reno VARO accountable to the quality of its work and will continue to stress that expectation when new leadership takes over in late September."
Contact Keith Rogers at krogers@reviewjournal.com or 702-383-0308. Find him on Twitter: @KeithRogers2.