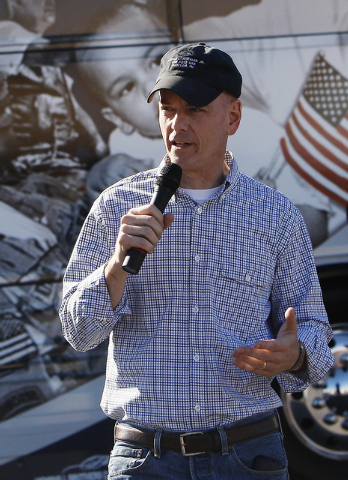 Vietnam War veteran Dave Freeman led a pack of 40 motorcyclists and a tour bus to the Cashman Center Bikefest on Friday, launching the Concerned Veterans for America cross-country campaign to heighten awareness about a staggering backlog of veterans' benefits claims.
The motorcade left the Red Rock Harley-Davidson parking lot on Rainbow Boulevard about 2 p.m., heading for the Bikefest event after a patriotic pep rally that featured a barbecue, music and speakers.
The cast included Jane Horton, widow of Oklahoma National Guard sniper Spc. Christopher Horton who was killed in Afghanistan in 2011, and Steve Russell, an Army lieutenant colonel who was a leader in the raid that captured deposed Iraqi dictator Saddam Hussein on Dec. 13, 2003.
In an emotional speech, Horton told the crowd of about 300 veterans and supporters gathered in the sun-drenched parking lot that they are all her heroes.
"I do not need to be told 'freedom is not free,'" she said, her voice cracking as tears rolled down her cheeks. "Every day when I realize Chris isn't with us, I know God has chosen me to carry his legacy. …I want you to know I will give my every last breath to defend the country that he defended for me."
The Defend Freedom tour, sponsored by the nonprofit, nonpartisan group, heads next to San Diego, one of dozens of stops it will make during the three-week campaign in California, Arizona, New Mexico, Louisiana, Florida, Georgia, Ohio, Kentucky, Virginia and North Carolina. Those states, like Nevada, are home to veterans who have been waiting for a year or more for the Department of Veterans Affairs to respond to disability benefits claims and appeals.
Last year, the average wait to complete a veteran's appeal was 903 days. In April, there were nearly 900,000 veterans disability claims pending nationwide. Two-thirds of the backlog, 606,000 claims, was generated by service members returning from Iraq and Afghanistan. Many of the remaining claims are attributed to veterans of previous wars, such as Vietnam, who filed claims for health problems linked to exposure to Agent Orange herbicides.
The VA has been under pressure from Congress and Nevada's delegation to reduce the backlog, especially at the VA's Reno regional benefits office. The Reno office, which serves 250,000 Nevada veterans in addition to veterans in some California counties, was fifth worst in the nation earlier this year for processing claims.
Concerned Veterans for America CEO Pete Hegseth described the backlog as a "national disgrace." He blames Veterans Affairs for allowing the backlog to build while it failed to convert its paperwork system to a digitized computer system. This occurred, he said, because of the VA's "culture of mediocrity" and "lack of accountability."
He said the progress that Veterans Affairs has made in reducing the backlog in recent months is because claims processors are issuing denials with little review. That has resulted in a backlog of appeals, Hegseth said Friday.
In June, there were 45,000 appeals waiting to be heard by the Board of Veterans Appeals and that number is expected to swell to 102,000 by 2017, according to Rep. Dina Titus, D-Nev., a member of the House Veterans Affairs Committee.
Darin Selnick, a retired Air Force officer who worked as a special assistant to the secretary of veterans affairs from 2001 to 2009, said he joined the Concerned Veterans for America's organizing committee to help sign up volunteers.
"Never again" should veterans have to tolerate the VA's foot-dragging, he said.
Selnick knows from the inside how the Department of Veterans Affairs operates. "The problem is there are a lot of good employees who want to get things right. Unfortunately, there are a lot of managers and career employees who are not very good at doing their jobs."
Russell urged Friday's gathering to seek reform in the Department of Veterans Affairs and keep America strong by reducing the $17 trillion national debt. Veterans should never quit, he said, or lose sight of achieving the group's goals.
"If you get riled up, you can make things happen," Russell said.