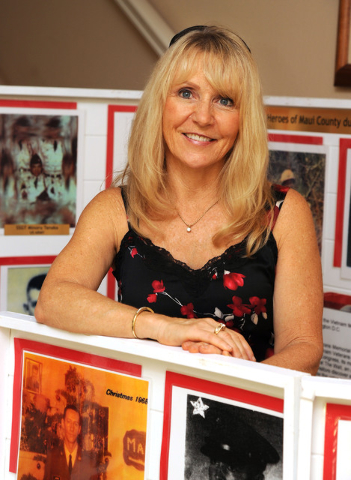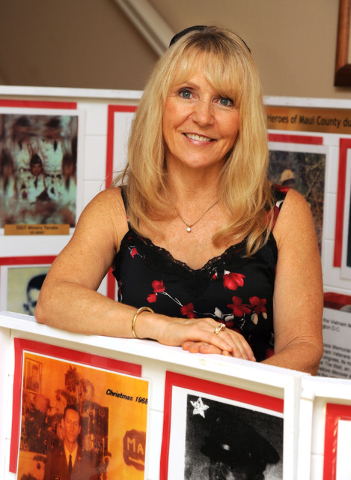 Before Memorial Day last year, Janna Hoehn of Maui needed to find the last 19 of Nevada's 149 fallen Vietnam War service members to help the Vietnam Veterans Memorial Fund complete its "Faces Never Forgotten" project.
Thanks to the help of "boots on the ground" volunteers in Southern Nevada she has completed the task and is now focusing on Texas.
"I have been working on Texas for six months now and needed 1,200 photos. I have found nearly 700 so far. I just started working on Kansas and Oklahoma," Hoehn wrote in an email last week from Kihei, Hawaii, on the island of Maui.
"I am moving West to East picking up a new state every few months. We have now collected 46,414 photos. … However that will change as I have posted at least six today!" she wrote May 22.
She said the nationwide project is down to finding the last 11,861 photos of some 58,300 of the nation's Vietnam War dead whose names are etched in the black-granite Vietnam Veterans Memorial in Washington, D.C.
She is glad to have checked Nevada off the list for completion. Cheri Collins of Las Vegas has been "my right arm," for tracking down the last 19 photos, Hoehn said.
But other local volunteers have made a difference.
Jim Reece, Robert Harik, Denis Jahn, Dana Kwist, Dan Brodt and Bob Seal "have all been great help in obtaining photos," she said.
"We all share a common bond, seeing the importance of making sure each one of our Fallen Heroes will never be forgotten," she said.
For Collins, a retired emergency room nurse, "It's been an interesting journey and so worth it. I loved it so much."
Collins estimates she contacted more than 400 people to get information on how to find relatives and friends of the fallen veterans whose photos she was trying to find.
In doing so, she found out that many were young, some died on their first day in Vietnam, and one — Richard H. Walker, a Marine from Sparks — was buried the day his daughter was born.
In another case, Collins learned that one girl had never seen a picture of her father until the volunteers were able to obtain it.
Another, Army Staff Sgt. Larry Parker, of Winnemucca, who had also served in the Marine Corps, was awarded a Silver Star medal and few people knew about it, she said.
"Most of them went into the service pretty much out of high school," she said, adding that many never got to experience college, marriage and children.
"These guys never got a chance to do any of this," Collins said.
Anyone who wants to participate in Hoehn's project can email her at neverforgotten2014@gmail.com.
Hoehn has said her motivation for the project stems from a visit she made to the Wall on the National Mall.
"I didn't know anybody personally who was killed in Vietnam, but that wall affected me," she said. "Vietnam changed America."
Contact Keith Rogers at krogers@reviewjournal.com or 702-383-0308. Find him on Twitter: @KeithRogers2