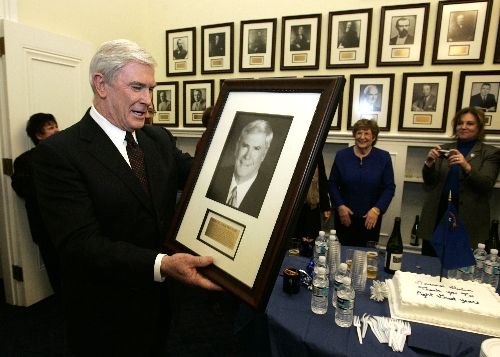 Tributes to former Nevada Gov. Kenny Guinn have been pouring in since his unexpected death on Thursday.
But perhaps the most fitting contribution to Guinn's legacy came June 2 at the University of California, Davis.
It's in the acknowledgement section of the thesis Jared Townsend submitted for his doctor of philosophy degree in biochemistry and molecular biology.
Townsend, 28, included Guinn among the people he thanked for making the dissertation possible though the founding of the Millennium Scholarship program, which has helped about 60,000 Nevada students pay for college.
"I and countless others will forever be indebted to the efforts of Gov. Guinn and everyone else responsible for bringing this program to Nevada students," Townsend wrote at the end of the thesis.
The scholarship program, which is named for Guinn, was one of the governor's proudest achievements.
Townsend didn't know Guinn, but when he read about his death he wanted to remind Nevadans about the significance of the scholarship.
"We hear all these negative things about politicians all the time," Townsend said. "I wanted to make sure this man is remembered for some of the ways he did affect people's lives directly."
Townsend said he didn't even consider himself a potential college student until he heard about the scholarship.
A Las Vegas native, Townsend graduated in 2000 from the Community College High School on the College of Southern Nevada's Cheyenne campus.
Neither of his parents had gone to college, and his family was of modest means so he wasn't expecting help from home to pay expenses.
"When that program came around it really kind of opened up my eyes," Townsend said.
With the help of the scholarship, Townsend graduated from the University of Nevada, Reno with a combination bachelor's and master's degree in biotechnology before heading off to UC Davis.
After completing his doctorate, Townsend returned to Nevada and works at a biotechnology firm in Reno.
"I truly doubt I even would have went into college much less worked all the way through my doctorate at UC Davis if not for Kenny Guinn's efforts," he said. "It has always been on my mind how much I owe to that program."
candidate resurfaces
Scott Ashjian has returned from obscurity.
Sort of.
It's been awhile since anyone has heard from the Tea Party of Nevada candidate for U.S. Senate, and Ashjian hasn't given a public interview in months.
Several attempts made to contact Ashjian by phone and e-mail Tuesday and Wednesday for an update on his campaign were unsuccessful.
It seems the Las Vegas businessman running as a third-party candidate is quietly revamping his campaign website (scottashjianforsenate.com) to gear up for November's general election, in which he will square off against Democratic incumbent Sen. Harry Reid and Republican challenger Sharron Angle.
With his avoidance of the media, Ashjian appears to be taking a note from Angle, who recently has been filmed running away from television cameras and reporters at her own events.
Ashjian's new site, updated in June, has a more political and all-American feel with Old Glory patterns stenciled into Ashjian's name, larger and bolder fonts and a blue background with stars exploding from the center of the screen.
There is an empty blogging section, a question-and-answer page and a party info section that paints Ashjian as a frustrated conservative willing to take on the "Republican establishment" and send the Senate majority leader packing.
Ashjian's name made headlines nationwide when he announced his candidacy in March using the Tea Party banner.
During this time, he was called a shady businessman, a Tea Party faker and a Harry Reid plant by conservatives and supporters of the Tea Party movement who distanced themselves from the Tea Party of Nevada label.
Then the thread in Ashjian's campaign seemed to unravel as major financial and political issues came to light.
There was the $200,000 in back taxes, the IRS lien on his business, the $1,000 business check that bounced, the revoked contractor's license, his asphalt business filed for bankruptcy and he was sued for ballot eligibility.
Ashjian paid back the money for the bounced check and court costs, alluding to a possible arrest warrant and felony charge.
In April, a District Court judge ruled that Ashjian could run, even though he was a registered Republican when he filed for office.
Joel Hansen, the Independent American Party candidate for attorney general, is appealing the case. Debbie Landis of Action is Brewing is forwarding all donations to her group until July 23 to the TPN Ballot Challenge Appeal Legal Fund, which Hansen will use to make his case.
"Everything about this is wrong," Landis said. "I think Republicans and Democrats should be outraged about the manipulation of the political landscape in Nevada. We feel like he did not follow the process.
"It has nothing to do with the Tea Party moniker."
Contact Kristi Jourdan at kjourdan @reviewjournal.com or 702-383-0279. Contact Benjamin Spillman at bspillman@reviewjournal.com.
POLITICAL EYE BLOG