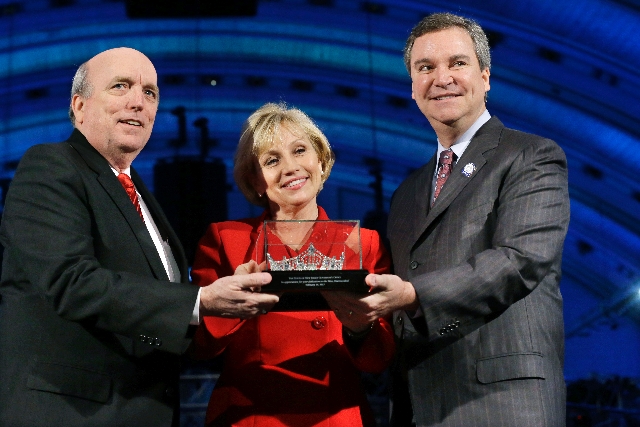 Was Las Vegas too sexy for the straight-laced Miss America Organization?
Rumors recently got back to Las Vegas that MAO's hierarchy might be looking for a city that better fit the brand's conservative reputation.
Art McMaster, the president and CEO of MAO, and Sam Haskell, chairman of the MAO board, are both devout church leaders. Both have served as ministers.
"There was talk that Art wasn't comfortable with Las Vegas," a spy said.
Word circulated Haskell had explored the idea of orchestrating the pageant's move to his home state of Mississippi.
But everything changed in December when the MAO leaders got a call from New Jersey Gov. Chris Christie.
At Thursday's news conference announcing the pageant's return to Atlantic City after an eight-year fling with Las Vegas, McMaster sounded like a runaway seeking forgiveness.
Saying it was "always my dream" to return to Atlantic City, he added, "Sadly this organization went West for a while. That sadness is over."
Sadly, the pageant's Las Vegas years may be remembered not for its resurrection, but for its ungracious exit.
I sent McMaster an email Saturday, offering him the opportunity to dig himself out of a Grand Canyon-sized hole after his indelicate comments.
His emailed response:
"I never said our stay in Las Vegas was a sad chapter. Quite the opposite in fact. My remarks about sadness were strictly reflective and intended for Atlantic City, NEVER intended to offend our friends in Las Vegas who supported our program for eight years.
"To be clear, the sadness was meant for a city, that after 85 years, 'loved it and lost it.'"
He added, "We made many, many friends in Las Vegas, especially at Planet Hollywood and Caesars. They all know how much we enjoyed our stay in Las Vegas and were surprised as much as everyone when Atlantic City fought to bring it back.
"Always know Las Vegas will be in our hearts and we always hope to remain friends with a city that welcomed us with open arms."
Las Vegas can be proud that the city's vibrant brand and the hard work of many locals helped nurse the Miss America pageant back from the brink seven years ago after losing its network TV contract.
ARENA RUMBLINGS
I hear former UNLV basketball standout Jackie Robinson is quietly heading a prospective ownership group that envisions putting a sports arena on the former Wet 'n Wild site on the Strip. Three years ago Texas developer Chris Milam said he planned to build a 20,000-seat, $750 million arena on that site in a deal that would include Paul and Sue Lowden.
ROMANTIC RUSE
Former Nevada first lady Dawn Gibbons got a St. Valentine's surprise.
She was under the impression her beau of 11 months, Jim Hooban, was taking her to dinner at Bellagio.
Next thing she knows there's a change of plans and there's this lady standing outside the Tiffany store, chatting them up and inviting them in. Suddenly they are in a private room and Hooban's on his knee, popping the question and, by his own admission, "shaking like a leaf."
A spring wedding may be in the works, he said, citing the line "long engagements are like long escrows."
He's the president of a medical malpractice insurance company. Now director of community relations at KSNV-TV, Channel 3, she was married to Jim Gibbons, Nevada's governor from 2007 to 2011 and a member of the U.S. House of Representatives from 1997 to 2006.
SIGHTINGS
Actor-producer Adrian Grenier and "True Blood" star Jamie Gray Hyder, at Hyde Bellagio with a group Friday. Grenier told reporters he couldn't go into details about reports that he will reprise his role as Vince in the movie version of the hit series "Entourage." … Justin Shandor, capping his Elvis journey with a Valentine's Day appearance on the David Letterman show. He sang "Can't Help Falling in Love." He won his first Elvis impersonator contest at 17 (I know this because I was a judge) in 2002 and went on to win Elvis Presley Enterprises' 2010 Ultimate Elvis tribute artist in Nashville.
THE PUNCH LINE
"Donald Trump called the Beyoncé Super Bowl halftime show 'inappropriate' and 'a national scandal.' Apparently, it lacked the quiet dignity of Gary Busey and Meat Loaf screaming at each other on 'The Apprentice.'u2009" — Jay Leno
Norm Clarke's column appears Sunday, Wednesday and Friday. He can be reached at 702-383-0244 or email him at norm@reviewjournal.com. Find more online at www.normclarke.com. Follow Norm on Twitter @Norm_Clarke. "Norm Clarke's Vegas," airs Thursdays on the "Morning Blend" on KTNV-TV, Channel 13.