Miss Nevada's crown is safe
November 8, 2012 - 2:14 am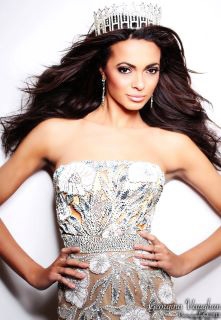 The state director for the Miss Nevada USA organization says it has no plans to dethrone its latest winner, Jade Kelsall, for posing in a raunchy photo with porn icon Ron Jeremy.
The photo, which showed Kelsall simulating a sexual act with a hand signal, appeared on her private Facebook page Nov. 1 . The image was deleted Sunday, the day the report ran in this column.
Shanna Moakler, the new executive director of the Miss Nevada USA organization, told the Fox411.com entertainment website that the state organization stands behind Kelsall "100 percent and has no intentions of removing her crown."
"There is no photo considered salacious and scandalous to our knowledge," Moakler said, "and we are saddened to see a poor attempt to berate a young woman who has represented her state so proudly."
The image sent to the Review-Journal appeared to be on Kelsall's Facebook page. It included comments from friends. Because of privacy restrictions, the R-J is not running the photo. Two sources identified Kelsall as the woman embracing Jeremy in the photo.
Neither Moakler nor Kelsall nor Paula Shugart, who heads Donald Trump's Miss Universe organization and its Miss USA and Miss Teen USA franchises, responded to requests for comment by deadline.
media notes
A newsroom meeting at KLAS-TV, Channel 8, erupted into applause Wednesday when it was announced that the CBS affiliate had landed ratings powerhouse game shows "Jeopardy" and "Wheel of Fortune."
KLAS President and General Manager Emily Neilson said acquiring the shows (next September) is "a game changer because so many people watch them. They are killer programs you want to follow your news."
NBC affiliate KSNV-TV, Channel 3, has aired the shows for years.
KLAS also has picked up "Dr. Phil," starting in September 2014. It will lose Ellen DeGeneres' show to KVVU-TV, Channel 5, also in September 2014.
THE SCENE AND HEARD
Caesars Palace is hinting that country star Shania Twain will be greeted Wednesday with one of the biggest arrival ceremonies put together for a local headliner. That covers a lot, from Frank Sinatra riding an elephant for the Dunes opening to Celine Dion's big-splash return in March 2011. A news release promised the Strip will be momentarily "transformed as never before." Twain's two-year residency for "Shania: Still the One" opens Dec. 1.
SIGHTINGS
Bradley Cooper and co-stars Zach Galifianakis and Justin Bartha, shooting lobby scenes for "The Hangover Part III" late Tuesday outside Michel Richard's Central restaurant at Caesars Palace. … Billy Vassiliadis, CEO and partner of advertising giant R&R partners, and Culinary union head D. Taylor, celebrating together at Democratic election night headquarters at Mandalay Bay on Tuesday. … Henderson high school seniors Ryan Popowcer and Joseph Maurer joined talk-show host Katie Couric in presenting Michael J. Fox with a $3,500 check during Wednesday's show. Popowcer and Maurer, big fans of Fox, raised the money to fight Parkinson's disease. … Pro Football Hall of Famer Terry Bradshaw, posing for photos with a dolphin at Siegfried & Roy's Secret Garden and Dolphin Habitat last Friday. The former star quarterback of the Pittsburgh Steelers told USA Today in February 2011 that he's working on a one-man Las Vegas show that would take about a year to put together.
THE PUNCH LINE
"One word: scootercade." – From David Letterman's Top 10 Signs You're a Fringe Presidential Candidate
Norm Clarke can be reached at 702-383-0244 or norm@reviewjournal.com. Find additional sightings and more online at www.normclarke.com. Follow Norm on Twitter @Norm_Clarke.