Miss USA officials cite sour grapes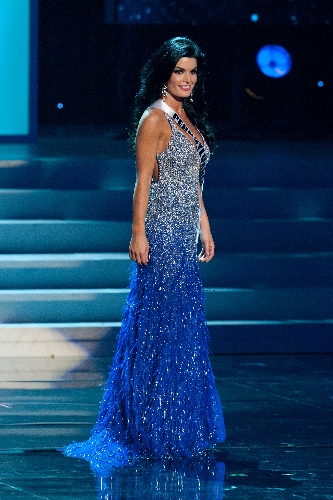 Former Miss USA Shanna Moakler, the new executive director of Miss Nevada USA, said Miss Pennsylvania USA's accusations that the pageant competition is rigged are nothing new.
Miss Pennsylvania Sheena Monnin submitted an incendiary resignation letter Monday, claiming a fellow contestant said she had seen evidence the top five were predetermined before the telecast on NBC.
Donald Trump, who owns Miss USA's parent organization, Miss Universe, threatened to sue Monnin for defamation unless she retracted the claim by Thursday night. She didn't.
The pageant was held at Planet Hollywood Resort for the fifth year in a row.
In her resignation letter posted on Facebook, Monnin wrote: "Effective immediately I have voluntarily, completely, and utterly removed myself from the Miss Universe organization. In good conscience I can no longer be affiliated in any way with an organization I consider to be fraudulent, lacking in morals, inconsistent, and in many ways trashy."
Moakler said Monnin's accusations "are very sad, and I have yet to see anything to back them." She added, "They are also accusations we have heard before from her ."
Monnin has competed in the Miss Texas USA, Miss Florida USA and Miss Florida Teen , according to her website.
Moakler, a competitor in the Miss Universe organization since she was 16 and a director for the past four years, said, "The experience, events and charities the contestants attend are once in a lifetime and far from trashy. I back Trump and the Miss Universe (organization) 100 percent, and more then anything I hope the attention can turn to Olivia (Culpo of Miss Rhode Island), the new Miss USA, where it belongs."
A Trump spokesman announced Wednesday that Trump had issued a 24-hour ultimatum to Monnin. If she didn't withdraw her "utterly baseless claim that the Miss USA pageant results were predetermined, then and only then will Mr. Trump and the Miss USA organization not proceed with litigation against Ms. Monnin seeking massive damages for her defamatory and offensive remarks."
The Miss Universe organization noted in a statement that Monnin finished out of the top 16 on Sunday and had informed the company via email two months ago that she was especially upset by Miss Universe's decision to allow transgender women to compete.
Trump said Monnin got what she deserved.
"She lost, and if you look at her compared to the people who were in the top 15, you would understand why she's not in the top 15," he said. "It's a very, very sad situation."
THE SCENE AND HEARD
Brianna Ruvo got a hard-to-top happy birthday serenade from Paul McCartney on her 16th birthday a year ago today. Her birthday present came two weeks early this year. During rehearsals the night before the Billboard awards, she got to meet pop star Katy Perry, who signed Brianna's portrait of the singer for her final grade in art class at Bishop Gorman. … Author Rob Miech will be signing "The Last Natural," about local baseball phenom Bryce Harper, from 1 to 4 p.m. Saturday at the Barnes & Noble in Henderson on Stephanie Street .
SIGHTINGS
British boxing star Amir Khan, hanging out with Marouane Chamakh, a member of Arsenal's soccer team, at Surrender Nightclub (Encore) on Wednesday.
THE PUNCH LINE
"A review of studies by physicians found that excessive exercise is bad for your heart. Another study says a daily serving of chocolate is actually good for your heart. That's got to make next year's New Year's resolution easier to keep. I'm going to exercise less. Eat a little more chocolate." – Jay Leno
Norm Clarke can be reached at 702-383-0244 or norm@reviewjournal.com. Find additional sightings and more online at www.normclarke.com. Follow Norm on Twitter @Norm_Clarke.