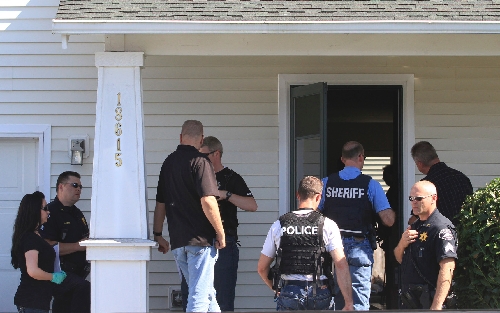 PUYALLUP, Wash. — Two years after Susan Cox Powell vanished, her case has spiraled into a salacious saga of finger-pointing and accusations of sex and lies between two families.
Powell was last seen by her husband Dec. 6, 2009, in her West Valley City home outside Salt Lake City. She was reported missing the next day when she didn't show up for work.
Police say her husband, Josh Powell, is the only person of interest, but he has never been arrested.
Investigators on Thursday searched the home Josh Powell shares with his father, Steve, in Puyallup, Wash.
The development came the same day Josh Powell and his father went on national television to discuss the case. The father-in-law said he and the missing woman had a flirtatious relationship and he believed they were in love.
Josh Powell's family also alleges Susan Powell was sexually promiscuous, emotionally unstable and suicidal, offering as proof several diary pages from the woman's teenage years.
Susan Powell's family members say the entries were written by a young girl and have no bearing on her disappearance. They vow to sue if the Powell family publishes them.
Josh Powell, who now lives with family in Puyallup, Wash., in a string of television interviews Thursday denied killing his wife or having anything to do with her disappearance.
"I would never even hurt her," Josh Powell told CBS' "Early Show." "People who know me know that I could never hurt Susan."
Josh Powell, who still wears his wedding ring, said his wife came from an emotionally abusive home with controlling, manipulative parents.
On ABC's "Good Morning America," Steve Powell said he and Susan Powell were falling in love .
"Susan was very sexual with me," Steve Powell said. "We interacted in a lot of sexual ways because Susan enjoys doing that."
Susan Powell's father, Chuck Cox, has said the allegations are false and has alleged that Steve Powell initiated unwanted sexual advances and that his daughter had no interest in her father-in-law.
Cox said Susan Powell said years ago that "something had happened" with Steve Powell that made her uncomfortable. He said she didn't disclose the details.
"She said something about Steve had wanted her to be a common wife for him and Josh," Cox said.
He said when Susan Powell discussed the remark with Josh Powell, he dismissed it as part of his father's penchant for saying outrageous things.
Cox said he believes Susan Powell's discomfort with her father-in-law was part of what motivated her to move her family to Utah from Washington.
Last week, authorities renewed their search for signs of the 28-year-old mother of two, scouring a network of abandoned mines in eastern Nevada.