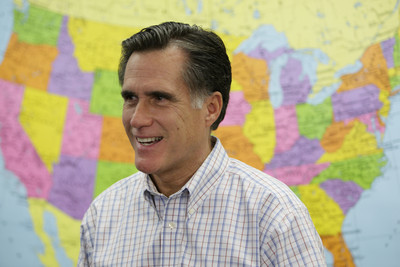 BIRTHDAY: March 12, 1947 (60) HOMETOWN: Bloomfield Hills, Mich. RELIGION: Mormon
FAMILY: Married to Ann Davies since 1969; five children, 11 grandchildren
EDUCATION: Bachelor's degree, Brigham Young, 1971; MBA and law degree, Harvard, 1975
EXPERIENCE: Vice president, management consultants Bain & Co., 1978-1984, returned in 1990 as CEO to revive the financially failing firm; founder and head of venture capital firm Bain Capital, 1984-2001; president, Salt Lake Organizing Committee for 2002 Winter Olympics, 1999-2002; governor of Massachusetts, 2003-2007
YOU MIGHT NOT KNOW: Survived a head-on car crash in 1968 while driving with fellow Mormon missionaries in France. The other driver was at fault in the accident, which left one dead and Romney with serious injuries.
CAMPAIGN OFFICIAL WEB SITE WWW.MITTROMNEY.COM
DECISION TO RUN:
Says he's running to ensure America is more prosperous for his children and grandchildren and everyone else's.
MAJOR THEMES:
Says his success in the private sector — including as a venture capitalist and his turnaround of the troubled 2002 Salt Lake City winter games — has given him the experience to deal with the global economy and economic challenges from China and India.
IN NEVADA:
Has the most robust grass-roots operation of any Republican candidate, including paid staff and volunteers. Romney has two offices in Nevada and has spent seven days campaigning here.
IN THE POLLS
NATIONALLY
Has risen steadily in polls over the past six months, but still trails Rudy Giuliani and has been eclipsed somewhat by Mike Huckabee.
NEVADA
A Review-Journal poll earlier this month showed Romney
5 points behind Giuliani, with 20 percent of the vote from
likely Republican caucus-goers.
POSITIONS
WAR/NATIONAL SECURITY
Supported the invasion of Iraq, but criticized the planning and management of the conflict. He supports the troop surge and believes the rise of radical Islam must be met by a buildup in the American military. He proposes placing 100,000 more soldiers on active duty and increasing defense spending by as much as $40 billion a year.
HEALTH CARE
He supports states making health insurance more affordable for their citizens through market reforms. He does not favor a federal plan. While governor of Massachusetts, he worked with Democratic Sen. Ted Kennedy on a plan that required all citizens buy health insurance or enroll in Medicaid. The plan provides subsidies to help low-income citizens buy private health insurance.
IMMIGRATION
Favors securing the U.S.-Mexico border with a fence. Romney opposes amnesty for illegal immigrants and supports an employment-verification system. He says he would cut federal funds to states that grant illegal immigrants driver's licenses, sanctuary or provide college tuition discounts to their children.
NEVADA ISSUES
Won't rule out using Yucca Mountain as a nuclear waste repository. Romney says any such repository must have the safety of the American people as its highest priority. In a written reply to questions posed by the Review-Journal, he says: "Before making significant decisions regarding Yucca Mountain … I will consult with Nevada leaders like (Gov.) Jim Gibbons, (Lt. Gov.) Brian Krolicki, (Sen.) John Ensign, (Rep.) Jon Porter, and (Rep.) Dean Heller."
ENERGY
Supports developing alternative energy and technologies that increase energy efficiency. Romney opposes "Kyoto-style sweeping mandates," which he says would depress growth and "shift manufacturing to the dirtiest developing nations." Citing costs to businesses and consumers, he pulled Massachusetts out of a multi-state agreement to cut power plant emissions.
TAXES
Would make the Bush tax cuts permanent, abolish the estate tax and make savings tax-free for any taxpayer with an adjusted gross income under $200,000.
CRITICS
Some see Romney as an opportunist who changes his position on issues depending what's politically expedient. On abortion, Romney now says Roe v. Wade, which legalized abortion, should be overturned and a constitutional amendment is appropriate. When running for governor in liberal Massachusetts, Romney made pro-choice comments. As governor, Romney initially opposed amending the Constitution to define marriage as between a man and a woman, saying it was unnecessary. In 2003, when the Massachusetts supreme court ruled in favor of legalized same-sex marriage, he lobbied for a state constitutional amendment. He now supports a federal marriage amendment.
2008 ELECTIONSGet more news, voter information
See other candidate profiles