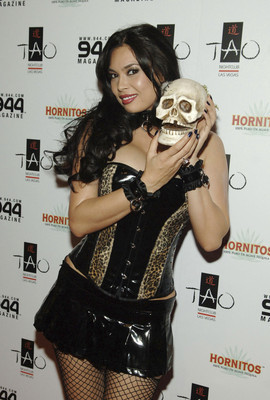 If Mayor Oscar Goodman's endangered Mob Museum doesn't survive, a knockoff could surface at Caesars Palace.
The Goodman-endorsed Museum of Organized Crime and Law Enforcement, aka the Mob Museum, has become the national poster child for pork spending.
The $50 million project has been the subject of hot debate since U.S. Senate Minority Leader Mitch McConnell held it up as an example of what should not be part of an economic stimulus package.
Even President-elect Barack Obama was less than enthusiastic about the plan during an interview Sunday on ABC-TV.
If it doesn't make the cut, a businessman is considering an alternative for a space at the Forum Shops at Caesars, a source confirmed Tuesday.
The space was formerly occupied by Exotic Cars at Caesars Palace, a 26,000-square-foot luxury automobile dealership.
Jay Bloom has leased the area from Caesars with the idea of putting in an entertainment theater. Along with a Mob Museum would be a Jekyll and Hyde restaurant, a theme restaurant that features haunted characters and spooky special effects.
Bloom, reached by telephone on Tuesday, said he could not comment on his project at this time.
UBALDO'S BIG 'MOMENT'
Larry Wayne Morbitt, who plays the principal role of Ubaldo Piangi in "Phantom – The Las Vegas Spectacular" at The Venetian, has a prestigious gig next week at a presidential inauguration luncheon.
He's performing two songs for the California State Society's inaugural luncheon and fashion show at The Ritz Carlton in Washington, D.C.
He's singing the national anthem as well as "This is the Moment," a moving song from the Broadway musical, "Jekyll and Hyde."
California Gov. Arnold Schwarzenegger will be in attendance, and Obama is expected to attend as well.
THE SCENE AND HEARD
With The Scintas leaving the Shimmer Cabaret at the Las Vegas Hilton on March 14 and "Menopause The Musical" vacating the room on April 5, there's buzz that a sexy show is under consideration. Adult film star Tera Patrick has been hinting that she's got a topless show lined up at a major property, but it's not the Hilton, a rep said. …
Five new illusions are being added to "Criss Angel Believe" (Luxor) during its break.
SIGHTINGS
Former Monty Python member John Cleese with his daughter at Anthony Cools' show "The Uncensored Hypnotist" (Paris Las Vegas) on Tuesday night. Cleese, who plays Chief Inspector Dreyfus in the upcoming "Pink Panther 2" movie, showed up for the first time last year, said Cools, "and it was the only time I've ever been nervous performing in front of a celebrity. He laughed his butt off and afterwards invited me out for drinks."… Grammy Award winner Pharrell of N.E.R.D., having dinner with friends Monday night at Joe's Seafood, Prime Steak & Stone Crab (Forum Shops). … At XS nightclub (Encore) on Monday: former boxing champion Floyd Mayweather Jr., poker star David Williams and hip-hop star Pittsburgh Slim, who delivered an impromptu performance of his hit song, "Girls Kiss Girls," and his new, yet-to-be released song, "Sip Champagne."
THE PUNCH LINE
"Two more weeks and President Bush's term will be finished. He had his final press conference — only three shoes were thrown." — David Letterman
Norm Clarke can be reached at (702) 383-0244 or norm@reviewjournal.com. Find additional sightings and more online at www.normclarke.com.