More candidates file for Las Vegas, Henderson council races
February 1, 2011 - 7:11 pm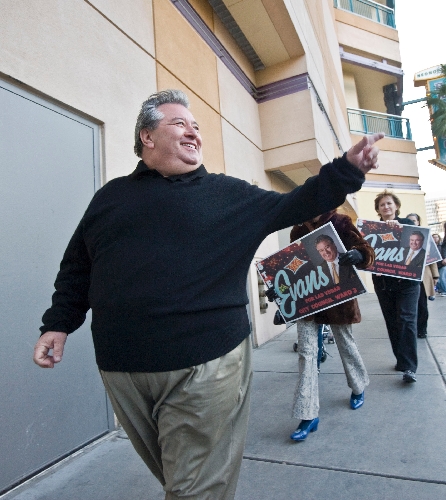 A boisterous crowd of about 40 people braved Tuesday's chilly winds to accompany Steve Evans on a short walk to Las Vegas City Hall, where he filed for the Ward 3 City Council race.
He is the third candidate in that contest, joining former legislator Bob Coffin and attorney Tony Liker.
Evans is chairman of the Las Vegas Planning Commission, has served in that body for almost 10 years and has been active in other neighborhood and downtown causes.
"I'll be running on trying to continue the renaissance and trying to nurture some of the older areas of downtown," Evans said. "I think my passion for the older areas of town and for the downtown telegraphs really well. I just want good governance and to continue to inspire the development."
Ward 3 is an open seat this year because the incumbent, Gary Reese, is term-limited.
The Las Vegas mayoral contest is also an open one, because Mayor Oscar Goodman is also term-limited. Two more candidates joined that already crowded field Tuesday.
Joe Falco, a retiree who is preparing to be a substitute teacher, said too many people in the race are already elected officials.
"It's the same people over and over," he said. "I think we need the average Joe."
Falco ran for mayor in 2003 and finished third with 3 percent of the vote.
He said the city needs to eliminate overtime, and said the city should have regular conferences with out-of-state businesses in order to pitch a move to Nevada to them.
George Harris opened the Mundo restaurant in the World Market Center last year and now employs 98 people, which he said is the job creation Las Vegas needs.
"I like what Mayor Goodman has done and I want to make sure that that culture and belief continues," Harris said.
"I didn't see anybody (running) who could continue the creation of jobs in downtown Las Vegas and the city of Las Vegas," he said. "I think it's going to take a businessman to know how to negotiate and bring businesses to Las Vegas."
With four more candidate filings in Henderson on Tuesday, run-off elections now appear likely in all three City Council races on this year's ballot.
The race to replace Steve Kirk in Ward 4 drew two of the four new candidates: Henderson Planning Commission Chairman Sam Bateman and financial adviser John Brislin.
Bateman is a 10-year resident of Henderson who works as a deputy prosecutor for the gun crimes unit of the Clark County district attorney's office.
Brislin is a fourth-generation Las Vegas Valley resident and Army veteran who now works for Merrill Lynch.
Kirk, who can't run again because of term limits, has endorsed Bateman in the five-person race.
Kevinn Donovan, who ran unsuccessfully for state Assembly as a Democrat last year, joined the race in Ward 2, where he will face incumbent Councilwoman Debra March and former city construction manager John Simmons.
Donovan sought appointment to the Ward 2 seat in 2009, but the City Council ultimately picked March to fill the seat left vacant when Andy Hafen was elected mayor.
The final filing of the day in Henderson came from Samuel Cohoon, who joins three other challengers already in the race against incumbent Ward 1 Councilwoman Gerri Schroder.
Boulder City drew only one new candidate on Tuesday, but it was a surprising one. City Councilwoman Linda Strickland decided to forgo a run for a second term in her current post and challenge incumbent Mayor Roger Tobler instead.
Filing for city offices in Boulder City and Henderson wraps up at the close of business on Thursday.
Filing continues through Friday in Las Vegas and North Las Vegas.
The primary election will be April 5. In races where no candidate achieves a majority, the top two finishers will compete in the general election June 7.
Contact reporter Alan Choate at achoate@reviewjournal.com or 702-229-6435. Contact reporter Henry Brean at hbrean@reviewjournal.com or 702-383-0350.