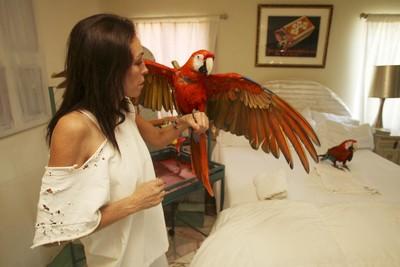 PAHRUMP — The Hollywood Madam has holes in her shirt.
They start at the sleeves of the billowy top she wears over her wiry frame. They creep up her shoulders and across her neckline, marking the spots where the beaks of curious parrots have punched through the fabric.
Heidi Fleiss may be opening a Pahrump laundromat called Dirty Laundry, and she still talks about launching a brothel for women, but lately her life in Nevada is for the birds.
Fleiss now keeps 25 parrots in and around the two-bedroom house she has been renting on the north side of Pahrump since December 2005.
Most of her exotic birds are macaws measuring up to three feet from crown to tail, with piercing squawks and beaks strong enough to crush your knuckle.
"I love my macaws," says Fleiss, whose infamous call-girl ring once served some of Hollywood's elite. "Come on, macaws are the pimpin' birds."
Eight parrots came from a woman next door who kept hundreds of exotic birds in her tiny trailer until her death last year.
Fleiss adopted six more birds from a parrot rescue operation in Los Angeles.
Several of her parrots came from homes where they were abused.
Before that, Fleiss never even had a pet.
"I didn't want to be a freaky bird person," she says.
As if on cue, a scarlet macaw named Gina comes charging out of the bedroom, her claws ticking across the floor with startling speed as she races toward the feet of a visitor.
Fleiss snags Gina at the last second, lifting the excited flash of red feathers into the air to perch on her arm.
The parrot immediately starts showing off, rainbow wings outstretched, as her pupils shrink and dilate in a gesture bird owners know as the moment before someone gets bit.
"I taught her to say stupid things like 'movie star' and 'big shot,'" Fleiss says as Gina strikes a pose. "You'll never see anything as beautiful as this. You'll never see a sunset or anything as beautiful as this."
Even Fleiss' decision to open a laundromat in Pahrump can be traced back to her birds.
Fleiss says she threw herself into the idea after the death of another beloved macaw named Dalton.
"I had to force myself to do something," she says. "Nothing in my 41 years — nothing — ever affected me like this."
The result is Dirty Laundry, a 1,000-square-foot operation tucked into Pahrump's busiest shopping center.
Fleiss will host a grand opening party there at 1 p.m. today. After that, the coin-op laundromat will be open 24 hours a day and offer fluff-and-fold services for 65 cents a pound.
Fleiss says she has poured more than $200,000 into the business, much of it to buy 13 washers and 14 dryers at about $6,000 a piece.
She wanted the place to have a certain flair, so she had the walls and floor covered with the nameplates from old slots and video poker machines.
The restroom floor is decorated with a collage of broken tile and mirrored glass, just like the floors of her house in Pahrump.
Fleiss says people might see her at the laundromat from time to time, but she won't be a permanent fixture there.
"I'm not going to be the attendant on duty," she says.
Fleiss has no idea how her business will be received in Nye County's largest community. She just hopes it will last at least as long as her 5-year lease.
Kari Frilot, chief executive officer for the Pahrump Valley Chamber of Commerce, wouldn't offer a prediction. She wouldn't even address Dirty Laundry by name.
Instead, Frilot issued a statement declaring generically that "new businesses drive increased revenue and competition and contribute to economic development."
Fleiss says she has already been approached by a New York investor who is ready to open two more Dirty Laundry locations, but she isn't ready for that yet.
She wants to see what happens in Pahrump first.
"I still have to build a brothel," she says.
Fleiss ran her high-priced ring of call girls to the stars in the early 1990s. Then she got busted, put on trial and turned into an even bigger celebrity than some of her clients, all on her way to the slammer.
She made headlines again in late 2005 when she moved to Nye County and announced plans to open Heidi's Stud Farm in the tiny town of Crystal, about 20 miles north of Pahrump.
The 20-man operation would be Nevada's first legal bordello catering exclusively to female customers. First, though, the concept requires approval from the Nye County Liquor and Licensing Board, which includes the sheriff and the five-member County Commission.
Fleiss has yet to submit an application, but she says she plans to within the next three months.
Fleiss says she still gets e-mails from men who want to work in the brothel and women eager to spend some money there. "I have at least 400 women who are ready to buy a membership."
To go with her stud farm, Fleiss eventually hopes to establish a commercial wind farm. All she needs are several massive General Electric turbines and a stiff Nevada breeze.
"That's my future," she says. "If I get my wind project going, I'll never have to work again."
Fleiss insists her decision to open the laundromat had nothing to do with her plans for the brothel. She doesn't feel the need to convince anyone that she is a legitimate businesswoman.
"I don't have anything to prove. I qualify for that (brothel) license," she says. "My life is an open book. There are a few things that are private, but they're not skeletons."
Fleiss and her brother, Jesse, bought 60 acres of vacant land for the brothel in Crystal in 2005. She plans to build a house for herself and a guest house for her father on about three acres of the property.
No blueprints have been drawn up, but Fleiss says her place in Crystal will have a master bathroom almost as large as her entire house in Pahrump. "I'm not going to do a Hearst Castle, but it's going to be nice."
The house also will include a three-story, auditorium-style enclosure for her birds. "I'm going to build them a structure as close to their natural habitat as I can in Crystal, Nevada."
A hint of what that might look like can be found on Fleiss' back porch in Pahrump. She has transformed that space into an air-conditioned sun room filled with perches, plants, ropes and toys.
Water gurgles in a plastic pond filled with goldfish.
"It's like a Beverly Hills for them," she says of her birds.
They also have the run of the rest of the house. There are birds on the doors and the furniture and the floor, birds climbing around on the cages of other birds.
In the guest bathroom, an African grey parrot perches on a shelf across from the toilet and talks visitors through their business with an encouraging "hello."
A few of the parrots are learning Spanish from Fleiss' housekeeper. Others came with cuss words and other insults already in their vocabulary. Groucho the macaw recently called the UPS guy a "pervert."
Her pets have gnawed on some of her artwork and destroyed a $5,000 set of bed linen. There are holes in most of the clothes in her closet, thanks to a macaw who spends much of the day in there.
Lately, Fleiss admits her relationship with the birds has come at the expense of human interaction.
"I spend as much time with them as I can," she says.
The unabashed L.A. party girl estimates she spends at least five nights a week at her place in Pahrump. She keeps a perch next to her bed, and Gina sometimes sleeps under the covers with her.
Occasionally, Fleiss can be seen playing $3 blackjack at one of the local casinos.
"Once I put the birds to bed, I sneak out," she says.
Her name and number are listed in the local phone book. She keeps 25,000 extra copies of "Pandering," her self-published 2003 memoir, in storage trailers parked next to the house.
To at least one of her friends, it almost looks like nesting.
"I go back a long ways with Heidi," says Dennis Hof, outspoken owner of the Moonlight Bunny Ranch brothel near Carson City. "I never thought I'd see her settle down and have a family. She's got a family of birds.
"Heidi loves Pahrump. She loves her life," Hof said.
Fleiss even traded in her Porsche convertible, her speeding-ticket magnet on wheels, for a bright blue off-road vehicle.
"It's a big change for me, all of it," Fleiss says. "I love going out into the desert. I collect rocks. I've changed."