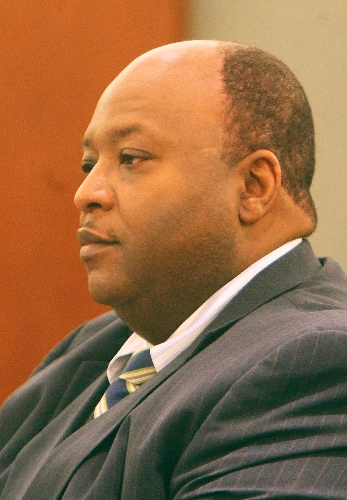 The defense attorney for former University Medical Center chief Lacy Thomas said Tuesday that Las Vegas police failed to turn over a more extensive amount of evidence than originally believed.
Dan Albregts said he has discovered a voluminous amount of documents in the Metropolitan Police Department evidence vault that could exonerate his client, but the material was never turned over to him, as required by law.
Albregts said at least some of the evidence he has reviewed supports the defense claim that Thomas had little to do with the contracts that he is accused of awarding to his friends.
"There was clearly what I would determine exculpatory evidence in these files," Albregts said.
A district judge declared a mistrial last month after learning police did not turn over 577 pages of documents to Albregts. Judge Michael Villani said those documents could lead to other witnesses or evidence to help Thomas defend himself.
Thomas is charged with five counts each of theft and misconduct by a public officer stemming from contracts UMC awarded to five companies during his three-year tenure. Prosecutors contend the contracts were unnecessary or duplicative and cost the county's only public hospital about $10 million.
Albregts said his client brought in his Chicago contacts because he had worked with them at a large county hospital there and trusted they could help solve major problems at UMC.
On Tuesday, prosecutors maintained they did not have copies of the documents referred to by Albregts.
Also, prosecutor Chris Owens said he understood that the defense attorney had previous opportunities to review all of the evidence but didn't.
"It could be a lot of this information was available and just wasn't looked at, at that time," Owens said.
Albregts said prosecutors were just trying to shift blame for their failure to turn over evidence. He believes that prosecutors have never even visited the Metropolitan Police Department evidence vault to review what was there.
Prosecutors at the hearing did not dispute that claim.
Albregts said he plans on filing a motion to dismiss the case, not just for the failure of police and prosecutors to hand over evidence but also because the evidence that could exonerate Thomas was never presented to the grand jury that indicted him.
A hearing on the discovery issues was scheduled for June 1. A hearing on the motion to dismiss set for July will be rescheduled after Albregts has time to review the additional documents.
It's unclear whether the additional discovery will delay the second trial, which was scheduled for August.
The documents that led to the mistrial were minutes from weekly meetings ACS Healthcare Services employees had with UMC department heads and executives.
ACS lawyer Don Campbell had given the documents to police in February 2007 as they probed a handful of contracts the hospital awarded during Thomas' three-year tenure at UMC. But detectives never told prosecutors about the documents.
Contact reporter Francis McCabe at fmccabe@reviewjournal.com or 702-380-1039.