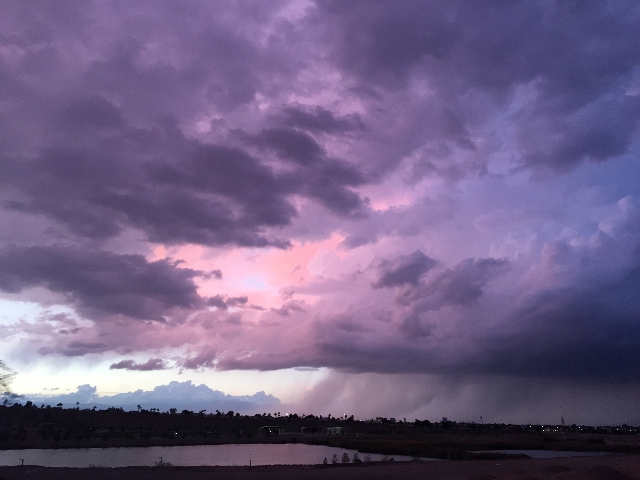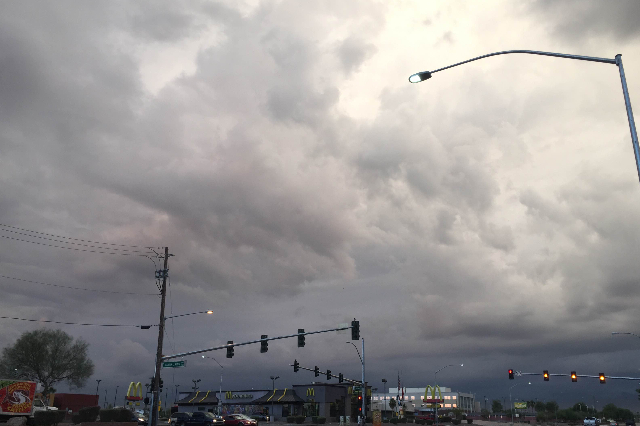 Southern Clark County is under a flash flood watch as Sunday storms have hammered areas surrounding the Las Vegas Valley, causing multiple road closures, according to authorities.
The storms were moving northeast toward Mohave County, Ariz., National Weather Service meteorologist Caleb Steele said about 7:30 p.m.
The watch is set to expire at 10 p.m. Sunday, Steele said.
Storms have mostly missed the Las Vegas Valley, but have caused problems to the west, east and south of it, meteorologist John Adair said.
Nye County was especially hit hard, Steeled said.
There were reports of washed out roads and Clark County fire departments participated in several swift-water rescues, according to a county website. No injuries were announced.
Mud and flooding shut down northbound U.S Highway 95 at state Route 160 and southbound 95 in Beatty, the Regional Transportation Commission of Southern Nevada said about 2 p.m. A reopening or estimated time for it wasn't announced by Sunday evening.
The Nye County Sheriff's office said that the 95 was shut down at mile marker 22 of state Route 160 and the 95 on Beatty was shut down at Airport Road.
There was also water and mud on state Route 160 on mile marker 34, the Sheriff's Office said.
U.S Route 93, Apex Highway, 10 miles northeast of Interstate 15, was also shut down due to flooding, Adair said.
The Nevada Highway Patrol warned motorist to not drive over moving water.
A line of thunderstorms was hammering Lake Mead and the Boulder Basin to the southeast of the valley and Overton, Moapa and Valley of Fire State Park to the northeast of Las Vegas, Adair said. A flash flood warning expired at 7 p.m.
Sunday's temperatures did not rise above 78 degrees, Adair said.
Storms were forecast to diminish Sunday night into Monday morning and there should only be a slight chance for showers and Thunderstorms on Monday, Adair said.
Monday's forecast is partly cloudy with a 20 percent chance for showers and high temperatures about 77.
Tuesday should be partly sunny with similar chances for showers. Possible rain Tuesday would come from a low-pressure system centered over Yuma, Ariz.
The storm is expected to circulate over Yuma Tuesday and then move east across Arizona, bringing mostly sunny skies and afternoon highs in the upper 70s to the valley on Wednesday.
Contact Kimber Laux at klaux@reviewjournal.com or 702-383-0381. Find her on Twitter: @lauxkimber. Contact Ricardo Torres at rtorres@reviewjournal.com and 702-383-0381. Find him on Twitter: @rickytwrites.