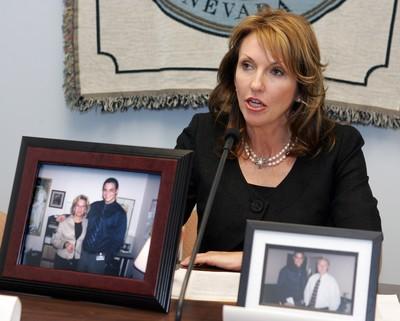 CARSON CITY — A tearful mother called on legislators Tuesday to pass a tougher seat belt law and spare other mothers from the grief she experienced over the loss of her son.
"Investigators tell me if he was wearing a seat belt he would have survived," said Kelly Thomas-Boyers of Las Vegas. "If Senate Bill 42 was in effect, I believe my son would have been wearing a seat belt."
Her 21-year-old son, Adam, a student at the University of Nevada, Reno, died March 18, eight days after being ejected from a vehicle involved in an accident along Interstate 80 in Reno. He had been the legislative intern for Sen. Mike Schneider, D-Las Vegas.
Thomas-Boyers asked the Assembly Transportation Committee to approve SB42, which would make Nevada's seat belt law a "primary" enforcement law.
Under the state's current "secondary" seat belt law, a motorist or passengers cannot be cited for failing to wear seat belts unless the police officer pulls the vehicle over and cites the driver for another driving offense.
The bill was approved 11-10 by the Senate on April 24.
A day earlier, the proposal had been killed 13-8 in the Senate. But Senate Transportation Chairman Dennis Nolan, a former paramedic, convinced Senate Majority Leader Bill Raggio, R-Reno, and Sen. Maurice Washington, R-Sparks, to change their votes.
Nolan, R-Las Vegas, initially also had voted against the bill, but only because of a rule saying that if a lawmaker votes on the prevailing side, he or she can request another vote.
Nolan told the Assembly committee that a primary seat belt law would save 18 lives a year and cause 220 people to have less-severe injuries.
But witnesses offered widely different figures on the projected benefits of the bill.
Frank Adams, executive director of the Nevada Sheriffs' and Chiefs' Association, said 432 people died last year in Nevada highway accidents. Adams said 145 were not wearing seat belts, and 72 of them would have survived if they had done so.
Other witnesses testified that 53 percent of those killed in fatal accidents in Nevada were not wearing seat belts.
Nolan acknowledged that attempts to adopt a primary seat belt law have failed in virtually every session. Nevadans have a "fiercely independent" streak, he said, but the state is "growing up."
After a long hearing, Assembly Transportation Chairman Kelvin Atkinson, D-North Las Vegas, said he would conduct a vote on the bill at a later date.
The bill must be approved by the committee by May 25 or it will be declared dead.
Atkinson questioned whether people will start wearing their seat belts if Nevada has a primary offense law. A national transportation study last year found 91 percent of Nevada drivers wear seat belts, he said. That is the 6th-highest rate among the states and far above the national average of 81 percent.
"I am not sure how much it will raise those numbers," he said. "Will it make my cousin wear his seat belt? He adamantly doesn't like to."
Jason Frierson, a lobbyist for the Clark County Public Defender's Office, said the bill should be amended so police could not pull people over on the pretext that they were not wearing seat belts and then charge them with nontraffic- related offenses.
In a move to win support for the bill, Assemblyman Mark Manendo, D-Las Vegas, suggested an amendment that calls for the provisions to expire in two years. That way, he said, the Legislature could "see if it saves lives."
2007 Nevada Legislature