'Mother of Nevada wilderness' Marge Sill dies at 92
October 26, 2016 - 5:31 am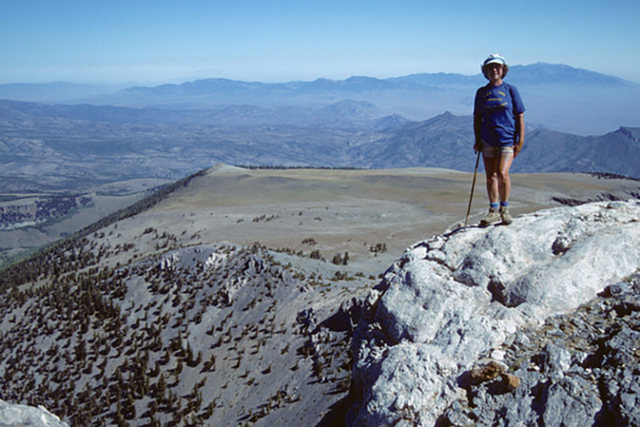 The wilds of Nevada have lost their matriarch.
Through more than five decades of conservation work, Marge Sill came to be known as the mother and, later, the grandmother of Nevada wilderness.
"It was a title she embraced fully and loved," said Shaaron Netherton, executive director of the Friends of Nevada Wilderness, a nonprofit advocacy group that Sill helped found in 1984. "She's just been a force in Nevada conservation for a long time."
Sill died Sunday at her home in Reno at age 92.
Her years of advocacy work led to the creation of Great Basin National Park in 1986 and the passage of the Nevada Wilderness Protection Act in 1989. That measure established 13 new wilderness areas covering more than 730,000 acres across the state, including Mount Charleston, Mount Rose outside Reno and the Ruby Mountains near Elko.
"It was a hard-fought battle. They had death threats," Netherton said, referring to Sill and her fellow activists.
The intimidation never seemed to get to her.
"She was tough," said Sill's niece, Judy Cameron. "She was exactly the right person to do it."
In a written statement, U.S. Sen. Harry Reid, D-Nev., called Sill a friend and inspiration.
"No one cared more about protecting Nevada's breathtaking wilderness than Marge Sill, and no one fought harder to ensure it stayed that way," Reid said. "Over the past five decades, every protected acre in Nevada has had Marge's fingerprints on it."
Sill was born Dec. 2, 1923, in Bakersfield, California, and grew up in the Los Angeles area. Her first adventures in the outdoors came with her father, William Leite, an oilman who used to take her with him on geological surveys.
She went on to study mathematics and literature at the University of California, Berkeley, where she got her first taste of environmental activism. After she graduated in 1949, she married fellow conservationist Richard Sill, joined the Sierra Club and moved to Reno, where she spent 40 years working as a math teacher at Sparks High School.
Sill never had any children, but she doubled as a mother and a mentor to many in Nevada's then small, tight-knit environmental community. Friends of Nevada Wilderness board member Tom Myers was one of them. He said she nudged him into wilderness advocacy the same way she brought others to her cause: with knowledge, eloquence and perseverance. She also took him hiking.
This wasn't an abstract cause for her. An avid hiker, backpacker and camper, Sill continued fighting for the sorts of places she loved to go, Netherton said.
She used to take groups on backpacking trips all over the Nevada and California, and she was still leading hikes around Reno in her late 70s and early 80s, Netherton said.
Sill also volunteered on behalf of many Democratic candidates and progressive causes not related to the outdoors. She was still sending out emails, prepping for meetings and working on environmental issues the day before she died.
No services have been set, but Cameron said her aunt's many friends in the conservation community are planning a memorial gathering in her honor.
Contact Henry Brean at hbrean@reviewjournal.com or 702-383-0350. Follow @RefriedBrean on Twitter.