Mother pleads for son's life
October 24, 2008 - 9:00 pm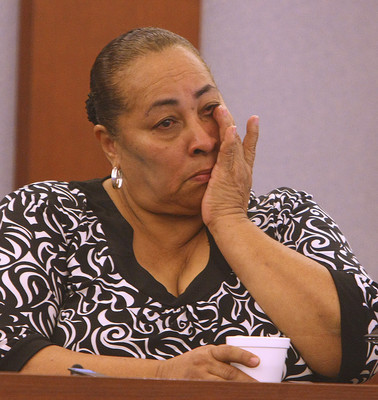 Authorities have called Norman Flowers a serial killer who raped and strangled three women, but his mother said sentencing him to death would be one of the worst tragedies of her life.
Eleanor Flowers testified in District Court on Thursday that her son does not deserve a death sentence. He was convicted this week of sexually assaulting and killing 18-year-old Sheila Quarles in 2005.
A jury will decide whether he should be executed for the killing.
Eleanor Flowers told the jury that she had seen the news reports describing her son as a serial killer but that is not the son she knows. She described him as a loving, caring son who always respected her.
When you love somebody, you love them unconditionally, she told the jury.
On Thursday, the jury learned much more about the 34-year-old Flowers, who is married, has a 4-year-old son and worked as a telemarketer and a stock boy at a department store.
Besides an extensive criminal history that includes multiple burglaries, an armed robbery and an arson that killed a pet dog, jurors discovered that Flowers grew up in Compton, an area of Southern California with a reputation for poverty and violence.
Flowers, one of eight children, had a physically abusive father who once tied him up naked in a garage and beat him, his sister said. He was sexually molested by a neighbor when he was a young child. At one point, he was left with relatives when his mother took his five siblings to live with her in Belize.
His sister Cherrett Ramos called their childhood "terrifying."
Flowers' older brother was involved with gangs and has been confined to a wheelchair since getting into a shootout 20 years ago, said Maribel Rosales, a mitigation specialist with the special public defender's office. Mitigation specialists compile family and social histories of suspects to present to juries during the penalty phase of a hearing.
A psychologist, Dr. Louis Mortillaro, testified that he interviewed Flowers in 2006 and that the man suffered from a host of psychological problems, including anxiety, anti-social behavior, suicidal thoughts and depression.
But Chief Deputy District Attorney Lisa Luzaich Rego asked Mortillaro whether everyone diagnosed with the same illnesses is also a rapist and a killer.
Mortillaro said no.
Flowers moved to Las Vegas when he was 16. Within two years, he was getting in trouble with the law.
Prosecutors said Flowers in 1992 was accused of committing home burglaries and stealing a vehicle from a car dealer at gunpoint. Chief Deputy District Attorney Pam Weckerly said Flowers killed a pet dog when he left it inside a house he set on fire after a burglary. He was 18 at the time.
Flowers pleaded guilty to burglary, robbery and arson and was sentenced to 18 years. He served about 10 years in prison and was released on parole, which was revoked after he violated a temporary protection order issued for his wife.
He was released on parole again on March 4, 2005. Authorities said that 20 days later, he killed and raped Quarles. She was found in a bathtub full of hot water at her family's apartment on Pecos Road near Washington Avenue.
About two months after that, he raped and murdered two more women at an apartment complex on Russell Road near Boulder Highway, authorities said. One woman, 45-year-old Marilee Coote, was found with burn marks on her thighs and her pubic hair singed. The other, 24-year-old Rena Gonzales, had injuries to her genitals.
Flowers knew Quarles because he dated her mother in 2004. He knew Coote and Gonzales through an ex-girlfriend.
DNA evidence linked Flowers to Coote and Quarles, police said.
No physical evidence links him to the sexual assault and murder of Gonzales, said Donald Tremel, a Metropolitan Police Department homicide detective.
But Flowers was seen at the apartment complex on the day of the slaying, and jailhouse informants told authorities that Flowers admitted to smothering Gonzales, court records show. She was found strangled with a telephone cord.
Flowers is set to go to trial in connection with the slayings and sexual assaults of Coote and Gonzales next year.
Debra Quarles, Quarles' mother, said she and her family felt betrayed by Flowers. After her daughter was found dead, Flowers befriended her and her family.
Debra Quarles said she has had trouble keeping a job and thinks about killing herself.
"Her life meant nothing to him but everything to me," she said.
Contact reporter David Kihara at dkihara@reviewjournal.com or 702-380-1039.