Mother saves young son after stabbing slippery snake
January 23, 2009 - 10:00 pm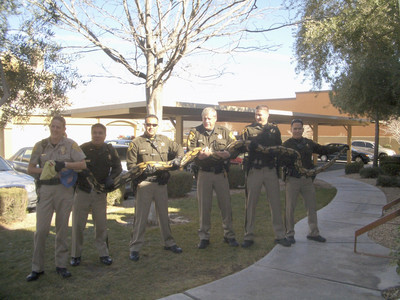 A 3-year-old boy who earlier this week was bitten and squeezed to the point of unconsciousness by a snake nearly 18 feet long was doing fine Thursday.
The boy's grandmother said that her toddler grandson, after spending Tuesday night in the hospital and taking two doses of antibiotics, is "doing great."
The grandmother, who gave her first name as Patty and declined to give her last name, said her grandson entered the master bedroom of the family's southwest valley apartment just after President Barack Obama's televised inaugural address and hit the snake in the head with the door.
The female tiger reticulated python had escaped from its cage, and the bedroom door was supposed to have been locked, she said.
"She wasn't trying to hurt him," the grandmother said of the snake. "She was just startled. She just instinctively, as a snake would do, coiled him."
The child's 25-year-old mother then grabbed a kitchen knife and stabbed the snake 17 times, she said. The snake let go of the boy, who was unconscious, and his mother began performing CPR while the snake started coiling around her.
She revived her son and escaped the snake's grip.
"I'm so proud of my daughter," she said. "Her mother instincts kicked in."
Las Vegas police, who responded to the incident and carried the snake out of the apartment, declined to comment on the case Thursday, citing an ongoing investigation by the department's abuse and neglect detail.
The grandmother said the snake belonged to a strip club operator. Her daughter's family was taking care of the snake while the strip club was being renovated.
The family owns several snakes, according to the grandmother, although none nearly as large as the python that coiled around the toddler.
"The snake was a good snake," she said. "Snakes, especially ones like this that are bred in captivity, they don't have that hunting instinct that a wild one would."
The python was taken to Lied Animal Shelter and euthanized because of its deep wounds, according to Jim Seitz, the shelter's co-director of operations.
The family's other snakes, which were seized by animal control officials, are also being housed at Lied, Seitz said.
"We've gotten four or five calls already from people wanting to adopt them," Seitz said.
The grandmother said her daughter does not want the snakes back.
"It's a very traumatic situation," she said. "She feels horrible that it happened, that there was even a chance that it could happen."
The toddler also had a few bite marks from the snake on his chest, but none deep enough to require stitches, the grandmother said.
Las Vegas Review-Journal writer Antonio Planas contributed to this report. Contact reporter Lawrence Mower at lmower@reviewjournal.com or 702-383-0440.