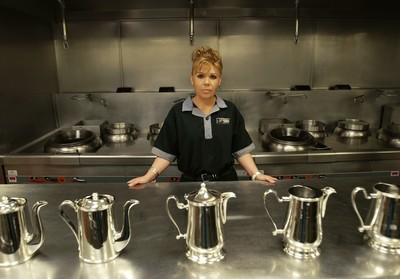 Blanca Machado came to the United States from Colima, Mexico, alone, at age 17.
She knows the fear of being deported and the reality of being exploited.
Now she awaits the security of U.S. citizenship, having filed her naturalization papers in April with the help of her employer, the Bellagio.
Employed at the hotel since it opened in 1998, Machado, 37, has been in this country 20 years. Shy about her English, she told her immigration story with the help of a co-worker, who is bilingual. Now a lead kitchen worker, Machado, along with co-workers, gets her daily shift briefings in Spanish.
"Sola," she says and shakes her head no, when asked if she came to the United States with relatives. She entered illegally, with the help of family friends who used to live in her hometown. They had moved to the Apple Valley area of Southern California, and told her they needed a live-in baby sitter. After two years on the job, she left because they had failed to pay her a cent.
With no legal status and few options, Machado quickly found work in an Apple Valley restaurant. Along the way, she fell in love with and married a man from El Salvador who was a legal permanent resident. Their daughter, Karla, is a U.S. citizen because she was born in California.
When the restaurant where Machado worked failed in 1995, the trio moved to Las Vegas. She received her own status as a legal permanent resident about the same time. That enabled her to join the Culinary union, which places members in jobs at many Las Vegas hotels. She started in kitchen work at the Monte Carlo, then won a spot at Bellagio when it opened in 1998.
Machado's marriage has since ended. She is now a single parent raising Karla, who is a sophomore in high school.
It is for Karla's sake that Machado scrimped and scraped to save up the $400 required to file her citizenship application, not a small sum on her income. She went to a naturalization workshop, sponsored by the Bellagio for foreign-born employees, where consultants pre-screened her application and told her it should take less than a year to be approved.
"I've always explained to my daughter how I got to the United States," Machado says through the translator.
She thinks her naturalization is a vital step, given Congress' recent immigration debate.
"My daughter is always going to want to live here in the United States, and I don't know if the laws (on noncitizens) are going to be changed. We don't want to be separated."
ILLEGAL IMMIGRATION: Counting The CostMore News Stories