Motorcycle fatalities spike recently on Las Vegas roads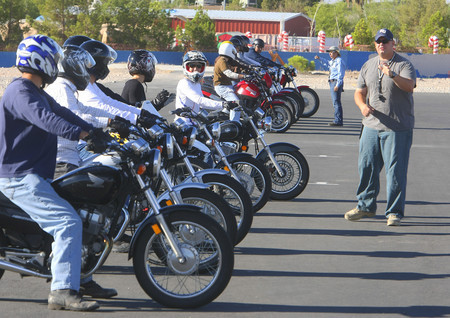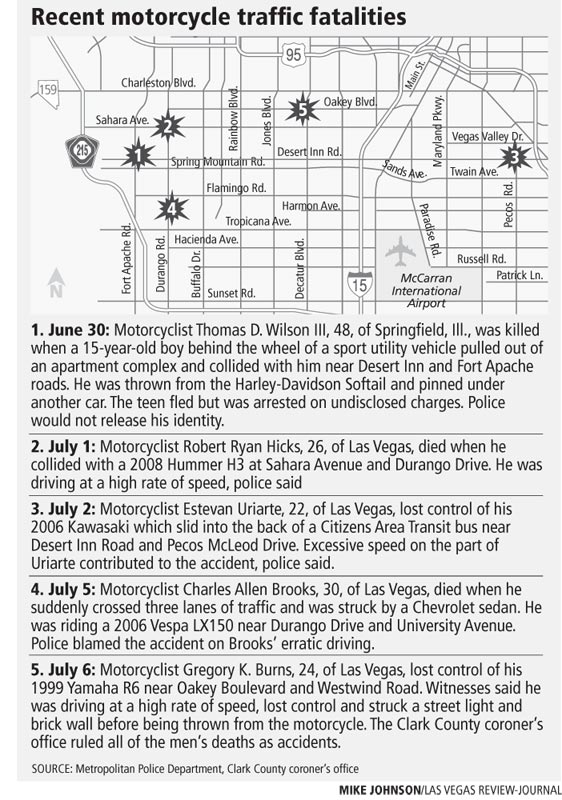 More times than Kevin Rexford can remember, riders on sports motorcycles zoom past him, hit the gas and pop a wheelie — all on city streets.
In the wake of five motorcyclists dying within a week on Las Vegas roadways, Rexford calls that kind of riding unacceptable.
"That type of behavior is risky on a racetrack and these are city streets," he said. "The roads are very crowded in this city. … Motorists aren't looking for them."
Rexford has 41 years of motorcycle experience and is president of the Desert Rider Club. He rides one of his three bikes at least three times a week and boasts that he's an extremely defensive rider.
He kept tabs as motorcyclist deaths spiked to five in the Metropolitan Police Department's jurisdiction between June 30 and July 6.
Of the five fatalities, two of the riders were struck by other motorists, and Las Vegas police found the three other men were traveling at high speeds and lost control of their motorcycles.
"You never want to see these young guys die like that," said Rexford, who didn't know any of the deceased riders.
"I ride very defensively. That time you let your guard down is the time you'll be in an accident."
Police Detective Bill Redfairn took one important lesson from his four years of patrolling on motorcycle detail — riding safely is real work.
"At the end of the day when you finish riding, you should be mentally and physically exhausted," he said.
Redfairn pegged the recent upturn in motorcycle deaths as unusual and said motorcycle fatalities have been trending down in recent years.
"Having weeks like we just had isn't the norm," he said.
The last time Las Vegas police documented multiple fatalities in a short period was March 2008, when four motorcyclists died in a 17-day span, said Sgt. Oscar Chavez of the department's fatal accident detail. Motorcycle-involved accidents totaled 75 that month.
"When (an accident) involves a motorcycle, the results are serious, if not fatal," Chavez said.
One possible reason for more crashes is that more people are purchasing motorcycles — as well as the much slower scooters and much faster sports bikes — for economic reasons.
Carter Powersports, 6275 S. Decatur Road, saw a rise in sales last year when gasoline prices spiked and the economy started to decline, said store General Manager Craig Kennelly.
"You can get a lot of motorcycle for $7,500 and get 40 to 50 miles to the gallon," he said.
Kennelly said that although the business can provide the bike, obtaining a license and mastering the basics to ride are left to the riders.
Rexford said a lot of people think they can start riding sports bikes as beginners, but they can't always control the power of the bikes, which can reach 130 horsepower. That's more horsepower than some compact cars, including the Honda Civic, about 110, and the Chevrolet Aveo, about 108.
"These are powerful," he said. "It's a recipe for disaster."
Redfairn cited these imperatives for riders: assume other motorists don't see you; wear protective gear such as a helmet, eye wear, riding pants and jackets; and don't ride above your ability level.
Another road rule that many motorcyclists follow is getting trained to harness the power of their bikes and refreshing their skills as they go.
The Motorcycle Safety Foundation is a national organization that develops education and training programs for both new and seasoned riders. The foundation offers seven courses in Clark County and emphasizes that motorcyclists don protective gear, get trained and licensed, and ride within their skill limits.
Roger Fox is chief instructor for the motorcycle training courses at the College of Southern Nevada and uses the foundation's curriculum. He said demand is high for the classes, which are booked to capacity for months.
They offer courses for beginners as well as advanced riders like himself. Fox has been riding for more than 30 years.
"I learn something new every time I ride," he said. "We teach them to ride to their limits. We can't guarantee they are going to learn (that lesson)."
Contact reporter Maggie Lillis at mlillis@reviewjournal.com or 702-383-0279.
Video