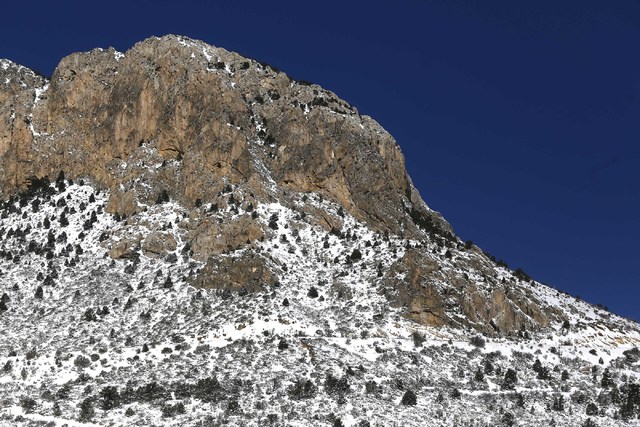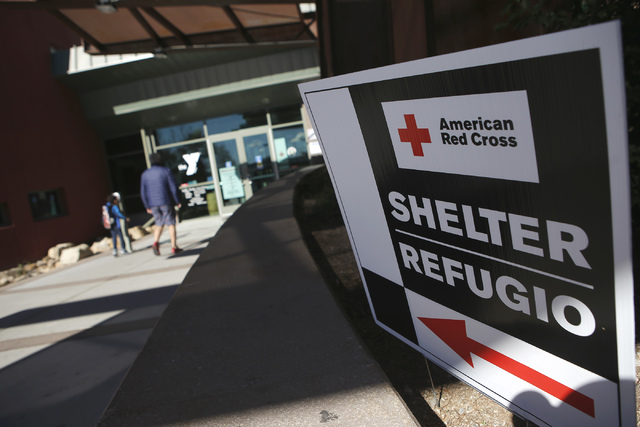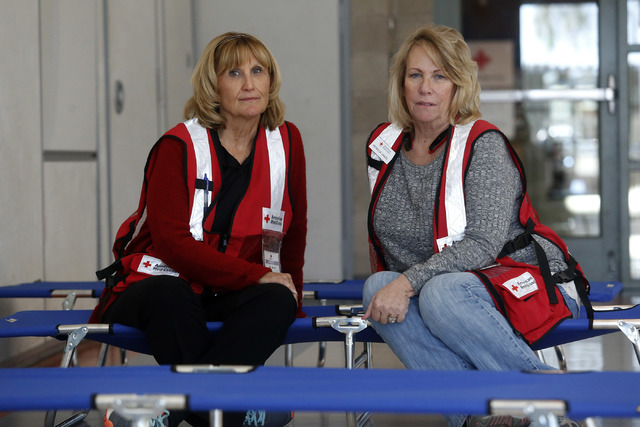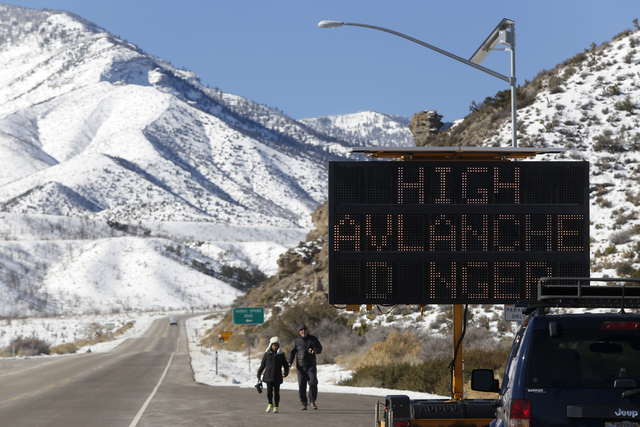 Public safety agencies urged hundreds of Mount Charleston residents to leave their homes Wednesday after recent snowfall put the area at high risk for avalanches.
Last weekend's storms unloaded on the area mountains — 2 inches of snow an hour for roughly 16 hours. Now, about 90 inches of snow have accumulated, and officials are worried.
"That's a lot of snow in a short amount of time, and it creates an unstable situation," Metropolitan Police Department Sgt. Matthew Marlow said. "All the neighborhoods in Kyle Canyon are surrounded by these large mountains, and there's a lot of snow on all those mountains."
A voluntary evacuation notice was issued Tuesday night. And the elementary school and library in the Old Town neighborhood were closed Wednesday as a precaution.
"Here's the situation," Marlow told the three dozen officers, firefighters and volunteers who had gathered for a 9 a.m. briefing near the Metro substation on Kyle Canyon Road. "We've been tasked with making door-to-door contact with all the residents."
Many residents of the 500 or so homes in Kyle Canyon are "part-time folks" and probably not home, Marlow said. He estimated about 150 are year-round residents.
The volunteers were asked to make contact and explain the avalanche risk, leaving a notice when no one could be reached. Marlow noted, however, that they can't force anyone to evacuate. That would require a declaration from the governor.
Only five people police contacted Wednesday agreed to leave their homes. Another 39 residents said they planned to stay, police said. No one was home at 216 houses, and 338 residences could not be reached because snow blocked roads or walkways.
Snow conditions are "similar to snow levels that have caused avalanches in the past," Marlow said. In 2010 — the last time a voluntary evacuation notice was issued — an avalanche occurred.
"We want people to be aware of the situation," he said.
The American Red Cross' Southern Nevada chapter set up a free, temporary shelter for Mount Charleston evacuees at the Centennial Hills Community Center YMCA, 6601 N. Buffalo Drive. Separate rooms are offered for families, single men and single women.
No one had checked in to the shelter as of Wednesday afternoon.
Clark County spokeswoman Stacey Welling said county officials are consulting with Northern Nevada and Utah experts, who have confirmed the avalanche risk.
Officials can't set off any controlled explosions to mitigate the avalanche conditions because of the proximity to homes and roads, Welling said.
Mountain roads and recreational spots remained open Wednesday in spite of the avalanche risk, but Marlow said visitors who come to the mountain do so at their own risk.
Earning signs of an avalanche and unstable snow include cracks forming in the snow and rapidly increasing temperatures, according to the U.S. Forest Service. If the ground feels hollow underfoot, the snow may be settling and a slab of snow might release.
Visitors are urged to plan ahead and check driving conditions, road closures and chain requirements by visiting www.gomtcharleston.com or calling 511 before traveling to the Spring Mountains.
National Weather Service meteorologist Clay Morgan said no more snow is expected to fall, but wind and warmth are moving in to the mountains this weekend.
The weekend's expected high temperatures may reach into the 50s, he said, and that may have an effect on the avalanche conditions.
A 2005 avalanche on Mount Charleston killed a teenage Las Vegas boy who was snowboarding with his mother and 15-year-old sister. Allen Brett Hutchison, 13, was swept off a ski lift by a 10- to 20-foot wave of snow on Jan. 9, 2005. He was buried under 2 to 4 feet of snow for more than six hours before rescue crews recovered his body.
For information on the temporary shelter, Mount Charleston residents can call Red Cross spokesman Frank Rutkowski at 702-232-6604.
Contact Wesley Juhl at wjuhl@reviewjournal.com and 702-383-0391. Follow @WesJuhl on Twitter.