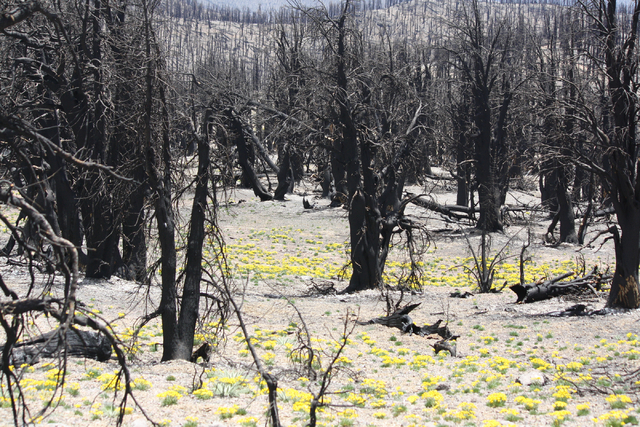 More than a year after the Carpenter 1 fire, three popular hiking trails remain closed on Mount Charleston, and two of them are likely to stay that way for a while.
Though U.S. Forest Service officials still hope to reopen the Cathedral Rock trail and Echo trailhead in coming months, hikers will have to wait at least another year before they can take the South Loop to the top of Mount Charleston.
The trail to Griffith Peak is expected to take even longer.
"That could be several years," said Spring Mountains National Recreation Area manager Randy Swick, assuming the Forest Service can find enough money and people to do the work.
Extensive fire damage is only part of holdup.
In the case of South Loop, the trail passes through prime habitat for the little-seen and newly endangered Mount Charleston blue butterfly. Before Forest Service crews can start cutting up or blasting downed trees, they are required to submit detailed plans to the U.S. Fish &Wildlife Service, the agency in charge of protecting the butterfly.
Swick said his staff is now collecting all the necessary data and photographs they need to produce a biological assessment and planning documents for the trail repairs. They are being assisted by a Fish &Wildlife Service biologist, he said.
The goal is a plan showing how the work will be done without killing any butterflies or disrupting their habitat, and thus avoid what is known as a formal consultation with the wildlife agency.
Dan Balduini, spokesman for the Fish &Wildlife Service in Las Vegas, said a such consultation generally takes up to 135 days, while an informal review can be wrapped up in a month or less.
Further complicating trail repair is the federal wilderness designation that blankets most of the area burned in last year's roughly 28,000 acre wildfire. Swick said Forest Service employees must abide by the same restrictions that apply to anyone who ventures into a wilderness area. In this case, that means repair crews can't use any mechanized equipment — no trucks, no chainsaws, no heavy construction machinery — to reach the burned area or remove debris. All the work must be done with picks, shovels and hand saws, though Swick said explosives are permitted and might be used.
Butterfly habitat is less of a concern on the Griffith Peak trail, but damage there is far worse.
Swick said the trail was heavily impacted by the fire and subsequent flash flooding. More than 300 downed trees have been counted along the five-mile path, and more than 100 of them have trunks at least 30 inches in diameter.
In some places, the trail has been erased altogether or buried beneath as much as 10 feet of rocks and dirt.
Swick said the Cathedral Peak trail and Echo trailhead in Kyle Canyon are on track to reopen before year's end. He said he hopes to see the South Loop trail back open by the first snowfall next year.
The work will likely begin on the steep, lower portion of the 8-mile trail, which is below the ridge-line butterfly habitat and unlikely to run afoul of the Endangered Species Act. So far, though, repair crews have been in no hurry to get started because fixing the bottom of the trail will only make it harder to keep people out of more sensitive areas expected to stay closed longer.
Already, some hikers have chosen to ignore the closure signs and walk the South Loop trail anyway, even though it means picking their own way through a ghostly landscape of charred and unstable trees.
Too much access too soon could just lead to more problems. As one Forest Service botanist put it, "People like to hike to a destination. They don't want to go half way up a trail and have to hike back down again."
Contact Henry Brean at hbrean@reviewjournal.com or 702-383-0350. Follow @RefriedBrean on Twitter.