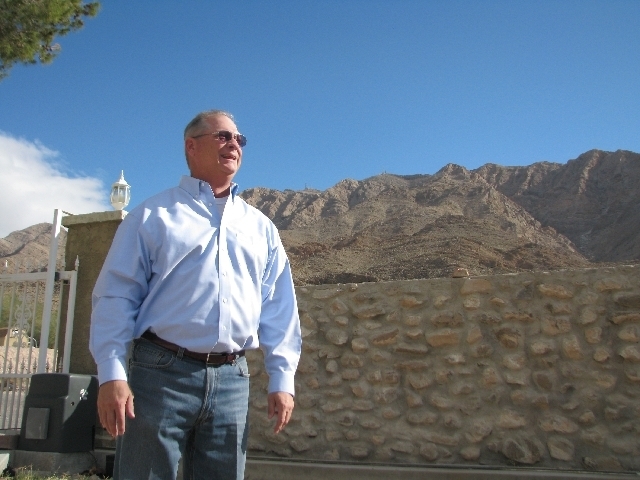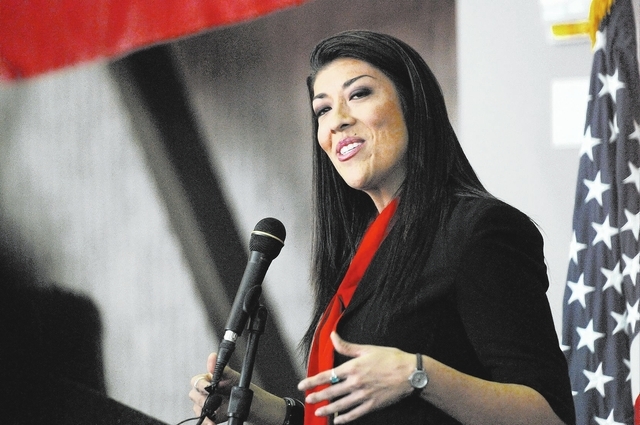 A bill that would name a peak on Frenchman Mountain for Ronald Reagan took a small step forward in Congress last week. But for Nevada Democrats, it was a hot potato.
At a state delegation meeting in Washington, lawmakers were asked whether they supported the proposed Mount Reagan on the eastern edge of the Las Vegas Valley. The thought was batted around the table.
"We probably haven't named enough stuff for Reagan," U.S. Sen. Harry Reid said with a touch of sarcasm. The Democrat's tongue reached deeper into his cheek when he suggested renaming Mount Doherty in his Searchlight hometown after the Republican icon.
"There's been plenty named after him," said Democratic Rep. Dina Titus, who turned to Republican Rep. Mark Amodei. "Put him up there in Northern Nevada," she said. "Put him up in your district."
Titus suggested renaming Yucca Mountain for the 40th president because the controversial nuclear waste project for that site was hatched during Reagan's tenure.
Reid, the Senate majority leader, was asked whether he would bring the bill to a vote in the Senate. He punted, saying he would take the lead of the congressman whose district contains Frenchman Mountain.
That would be Democratic Rep. Steven Horsford, who showed a pained expression and declined to answer directly. Rather, he said he was focused on public land bills for Lyon County and Clark County.
Also not taking a side last week was the Department of Interior, whose Bureau of Land Management controls Frenchman Mountain. Deputy Secretary Ned Farquhar told the Republican-controlled House public lands subcommittee at a hearing the Obama administration "does not have a position" on the bill.
On naming bills, Farquhar said the BLM usually defers to Congress and the U.S. Geological Survey that administers the Board on Geographic Names. With the hearing completed, the next steps are committee and House votes.
The Mount Reagan bill is sponsored by Rep. Joe Heck, R-Nev., after he was asked for help by Las Vegas conservative activist Chuck Muth. The effort is an offshoot of the Ronald Reagan Legacy Project, conceived by conservative leader Grover Norquist in 1997 to place Reagan's name on landmarks in every state.
Muth's petition to the Board on Geographic Names to name the highest peak on Frenchman Mountain after Reagan was blocked by Titus who introduced a bill in October to name the same peak after Maude Frazier, a Democrat and the first woman to serve as Nevada lieutenant governor. Heck's bill instead would name one of the adjacent peaks after Reagan.
"This seems a worthwhile compromise and a way to satisfy all parties involved," Heck said in a statement sent to the subcommittee. "Mount Reagan will serve as a fitting tribute for one of our nation's greatest presidents and leaders."
— Steve Tetreault
FLORES: THERE'S A BETTER WAY
Is Assemblywoman Lucy Flores for or against the proposed 2 percent margins tax?
Well, the Democratic candidate for lieutenant governor doesn't like what will appear as the "Education Initiative," or Question 3, on the Nov. 4 ballot. She has repeatedly called it flawed and said, "It's not a solution I favor."
But Flores, of Las Vegas, isn't saying whether she would vote yes or no on the matter.
In an interview with the Las Vegas Review-Journal just before she officially announced her campaign on March 1, she called the proposed margins tax "flawed" and said she preferred considering a broader tax package to raise revenue to boost education funding and other needs in the state. She said she hadn't decided whether to support or oppose it.
The 2 percent tax on businesses making more than $1 million in revenue a year would apply to any company whether or not it's profitable. Critics contend that could put small mom-and-pop shops out of business. Proponents argue that 87 percent of Nevada business won't be affected by the tax and it's time to raise more revenue dedicated to education.
On March 24, Flores went on "Ralston Reports" on KSNV-TV, Channel 3, and was asked about the margins tax.
"It's not the solution that I favor," Flores said. "For me this is not a black-and-white yes or no answer. The voters of Nevada ultimately are going to make the decision."
On Tuesday, asked via email by the Review-Journal to clarify her position, Flores wrote:
"I mean that it's not the solution that I favor," she said. "I prefer a broad-based approach — one that is fair, equitable and sustainable. I would rather see us address the issue with a plan more along the lines of what was proposed in 2011, restructuring our tax system as opposed to adding a new tax."
"I still think that's a better way to address education funding in Nevada," she added. "But either way, the inadequate funding of education MUST be addressed and now it's up to the voters of Nevada to decide."
Asked in a subsequent email how she would vote on the margins tax herself, Flores replied:
"I'm going to leave it at that," she wrote, referring to her previous statement. "That's my statement for now."
Sounds like Flores still isn't a hard yes or a hard no on the margins tax.
Her answer is relevant because she has made education a part of her campaign, saying it needs more funding.
Also, one of her Republican opponents, state Sen. Mark Hutchison, R-Las Vegas, criticized her for not taking a stand for or against the margins tax. He is opposed to it as is GOP Gov. Brian Sandoval, who has endorsed Hutchison.
"Wow, Day1 on the #NVLG campaign trail &@LucyFlores takes a pass on standing up for #NV jobs &small business," Hutchison tweeted on March 1, the day she announced. He linked to the RJ story with her saying she hadn't decided.
— Laura Myers
LOWDEN: REPEAL 17TH AMENDMENT
A century ago, Americans ratified the 17th Amendment to the U.S. Constitution, including Nevadans on Feb. 6, 1913. As a result, voters directly elect their U.S. senators, two for each state, by popular vote instead of having them elected by state legislatures. The amendment was meant to prevent corruption — the buying of Senate seats — and deadlocks with some legislatures unable to agree on who should fill the seats. Between 1891 and 1905, for example, 46 Senate elections were deadlocked in 20 different states, according to Todd Zywicki, a George Mason University Foundation law professor.
Zywicki has proposed repealing the 17th Amendment as has Mark Levin in his book, "The Liberty Amendments."
Who cares, you ask?
The two main Republicans running for Nevada lieutenant governor, Sue Lowden and state Sen. Mark Hutchison, both of Las Vegas. If you recall, former state Sen. Lowden, who once was the Nevada Republican Party chairwoman, lost a 2010 U.S. Senate race. She lost in the GOP primary to Sharron Angle, who went on to lose to U.S. Sen. Harry Reid, D-Nev.
Lowden said in a recent interview that she favors repealing the 17th Amendment. She was asked about it in an interview with the Douglas County Republican Central Committee, which posted the Q&A online Thursday. (The interview took place on Nov. 18.) Lowden said repeal might lead to more turnover in the Senate.
"I would absolutely support it," Lowden said of repeal, according to a transcript. "I supported term limits, for instance, when I was in the state Senate. If we had term limits in the United States Senate we wouldn't have this problem right now. I don't know why the senators wouldn't want it shown in good faith to the American public that this would be a good idea for our country."
"Instead we have Harry Reid, the Harry Reids of our country, who are there over and over again and have a tremendous amount of money to be re-elected," she added. "Yes, I think people are really fed up with bad people in government. If that's a way to change things up in Washington, I would be all for it and do whatever we [need] to do it, but I think term limits is an easier way to do it if there was some way to get that on."
Hutchison, an attorney, was asked the same question in a separate interview that took place March 20. He hedged at first and then said if the citizens of Nevada want to repeal the 17th Amendment, he would support them.
"I know that historically the reason for the 17th Amendment was because there were many instances, at least perceived instances, where state legislatures would appoint those who were less than qualified …," he said. "I don't know that I would be in support of a complete repeal of the 17th Amendment, you know, just by waving a magic wand."
"I would be supportive of allowing the states to, by the process permitted by the United States Constitution, to come together and to determine within their state legislators whether they would like to do that on a state by state basis," according to a transcript. "And if there is sufficient numbers, if there is three quarters (of states) that decide that they wanted to amend the Constitution back to the way it was, I'm all in favor of the people of the United States being able to make that decision."
— Laura Myers
Contact Stephens Washington Bureau Chief Steve Tetreault at stetreault@stephensmedia.com or 202-783-1760. Follow him on Twitter @STetreaultDC. Contact reporter Laura Myers at lmyers@reviewjournal.com or 702-387-2919. Follow her on Twitter @lmyerslvrj.