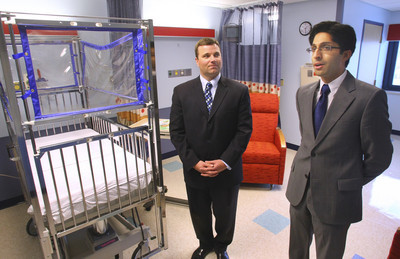 Northwest valley residents are gaining a dozen more pediatric hospital beds today.
At 7 a.m., Sunrise Children's Hospital officially expanded to a dedicated and secure area on the third floor of MountainView Hospital, 3100 N. Tenaya Way.
The expansion, 18 months in the making, brings expertise from Sunrise Children's Hospital to the northwest region, said Will Wagnon, chief executive officer of MountainView Hospital.
However, not all of the specialty services offered at Sunrise will be available at MountainView. Some pediatric patients who are "critically ill" still might have to travel across town for care.
Having such a presence in the northwest valley reduces the need for those kinds of trips, said Susan Crowder, director of MountainView's pediatric services.
"We average 300 to 400 pediatric emergency room visits a month. If those children were in need of critical services, we had to send them to Sunrise. Now, they have a place where they can stay that's much closer to home," Crowder said.
The pediatric unit has 10 private rooms and 12 pediatric medical/surgical beds.
The rooms are beach-themed and furnished with flat-screen televisions, couches with pullout beds and private bathrooms with showers. The unit also has a playroom.
Wagnon said MountainView has hired a dozen experienced pediatric nurses. The hospital also has contracted with the Children's Health Network, a physician hospital organization, for pediatric hospitalists, which are physicians who generally work only in a hospital setting.
Along with Crowder, Dr. Ravi Garehgrat will head the pediatric unit.
Garehgrat, the unit's medical director, helped start a pediatric program at a Maryland hospital a few years ago.
Wagnon said the area's growth is the main reason for the $500,000 expansion.
Summerlin Hospital Medical Center, about eight miles from MountainView, operates a 17-bed general pediatric unit and a 12-bed pediatric intensive care unit.
The hospital also has a pediatric emergency room with a separate entrance from the adult emergency room, said Lori Harris, a Summerlin spokeswoman.
Most pediatric services are offered at Summerlin hospital, but it doesn't have pediatric neurosurgery or pediatric open-heart surgery such as Sunrise.
Other hospitals in Clark County accept pediatric patients in their emergency rooms, but only a few have dedicated pediatric units like Summerlin, Sunrise and University Medical Center.
Contact reporter Annette Wells at awells@ reviewjournal.com or 702-383-0283.