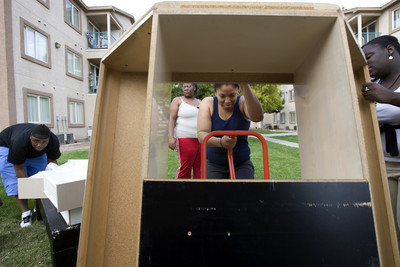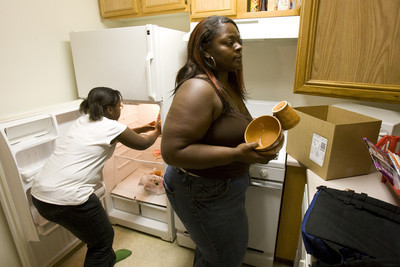 Shaquanda Worthy is excited to have working electricity in every room of her new apartment.
Brenda Booker can't wait to take a bath in a tub with no mold or peeling paint.
The single mothers and their children were two of the 21 families who during the past week moved out of the decaying Casa Rosa public housing complex into new apartments.
"It's just a much better, cleaner, safer environment for my daughter to live," Booker, 40, said about her two-bedroom apartment at Cheyenne Pointe, near Las Vegas Boulevard and Cheyenne Avenue.
Though by no means luxurious, their new homes are a far cry from those the families lived in while at Casa Rosa, the women said.
"I have no complaints. I'm thankful I'm out of Casa Rosa," Booker said.
City of North Las Vegas officials last month ordered the North Las Vegas Housing Authority to either repair or demolish many of its Casa Rosa family units because they were unsafe. Violations found at the complex for poor families, near Las Vegas Boulevard and Owens Avenue, included failing stairways, rotting landings, wiring problems and non-working smoke detectors.
The agency also was told to relocate 21 families, including Worthy's and Booker's, as soon as possible because of unsanitary conditions caused by water or sewage that had been leaking for an undetermined length of time.
Residents said they had complained and waited for years for repairs to be made.
Don England, the housing authority's CEO, last week announced his resignation, effective as soon as a replacement is found. He blamed shrinking public housing funding from the U.S. Department of Housing and Urban Development for the problems at Casa Rosa.
Worthy said the drains in her old place were continually clogged. The electricity often didn't work in her or her 4-year-old son's bedrooms.
"I'm excited (about moving), except for the hassle," Worthy, 20, said Tuesday afternoon while hauling some of her furniture into a second-story apartment at Cheyenne Pointe. "It's a little smaller, but much nicer."
Ten of the families were moved into Cheyenne Pointe, while 11 relocated to a North Las Vegas Housing Authority-owned complex near Las Vegas Boulevard and Evans Avenue, said Carl Rowe, director of the Las Vegas Housing Authority, which coordinated the families' moves.
The North Las Vegas agency has decided to demolish rather than repair Casa Rosa. That means dozens more families will soon have to move. Rowe said he hopes all of them will be relocated by year's end.
Once the agency gets permission from HUD to demolish Casa Rosa, it can pursue giving the families Section 8 vouchers, which can be used to rent housing wherever landlords accept the vouchers.
For now, the families are happy to stay put.
Booker said she no longer has to worry about the loose railing on the stairs to her second-floor Casa Rosa apartment.
Her 11-year-old daughter can take a bath without getting loose paint chips stuck beneath her fingernails.
Best of all, the unemployed Booker said, the new digs have inspired her.
"It encourages me to try harder, to go back to school and get educated, to do better for myself and my daughter."
Contact reporter Lynnette Curtis at lcurtis@reviewjournal.com or 702-383-0285.
Slideshow