Muhammad Ali had magic touch
February 19, 2012 - 2:09 am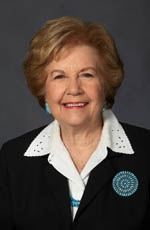 Muhammad Ali's magic didn't always take place inside a boxing ring.
Magician David Copperfield knows Ali as a master illusionist.
Ali's favorite trick knocked 'em out, said Copperfield, who had Ali attend his shows on numerous occasions and visit him backstage.
"He does a classic levitation — classic — but he added his bodyguards," Copperfield told reporters on the red carpet at Ali's 70th birthday tribute on Saturday at the MGM Grand Garden.
Ali, the perfectionist, took it to another level, "not times 10, but 100 times. It was something people in the magic world didn't think of," Copperfield said.
The almost 2,000 people who attended Saturday's $1,500-a-plate gala included boxing legends and entertainment stars performing at an extravaganza that Larry Ruvo called "the greatest of them all."
The event was a benefit for the Cleveland Clinic Lou Ruvo Center for Brain Health and the Muhammad Ali Foundation.
MOBSTER IN GOOD STANDING
If it still exists, there's an irony-rich document worthy of instant induction into the Mob Museum's treasure trove of history.
Civic leader Thalia Dondero is aware of the document because she delivered it.
As a three-time chairwoman during her 20 years on the Clark County Commission, one of her duties was to present proclamations honoring local citizenry for their contributions and good standing.
"The staff put you in the car with the proclamations; then you go where they want you to go," said Dondero, the first woman elected to the commission. She served from 1974 to 1994.
They stopped at three casinos looking for the honoree before learning he was at Villa d'Este, a popular Italian restaurant known for its, umm, colorful clientele during the 1960s through the 1980s.
Seated in a booth at what is now Piero's Italian Cuisine was the proclamation recipient: much-feared hitman Tony Spilotro, in a dining room where Frank Sinatra and Chicago mob boss Sam Giancana would show up for owner-chef Joe Pignatello's to-die-for pasta.
Dondero said Spilotro "had given some money to the school where his son was going, which I thought was good. But I gave the proclamation and got out of their in a hurry. I never did find out who arranged it."
Oh, yes, and she figured out why Spilotro wasn't in any of the casinos among her stops: He was blacklisted after the Nevada Gaming Commission added him to the Black Book in December 1978.
Dondero, who turned 91 last month, has served on countless boards over the years. Among them was the first committee to determine what to do with the former federal courthouse and post office building. That's now officially known as the National Museum of Organized Crime and Law Enforcement, better known as the Mob Museum.
SIGHTINGS
NFL Hall of Famer Jim Brown, being toasted at a private party in the MGM Grand's exclusive Mansion on Friday, his 76th birthday. In 2002, Sporting News named Brown, who played from 1957 to 1965, the greatest pro football player ever. Attendees included NBA greats Karl Malone and Larry Johnson, boxing legends Evander Holyfield, Tommy Hearns, "Sugar" Ray Leonard and Leon Spinks and host Scott Sibella, MGM Grand president. Ali was rumored to be on his way but didn't make it. … Dallas Cowboys owner Jerry Jones, in the audience Saturday at Elton John's show (Caesars Palace). … Paris Hilton, in a midnight tweet Friday: "Just won 30k playing blackjack at @WynnLasVegas! # YES! #BirthdayGirlsLuck. I love gambling! :D." … Oscar-nominated actor Chazz Palminteri at Tabu (MGM Grand) on Friday. He was in town for the Ali tribute. … Mötley Crüe guitarist Nikki Sixx, dining at Joe's Stone Crab (Forum Shops at Caesars) on Friday. … "Dancing With the Stars" pro Mark Ballas, with friends at Lavo (Palazzo) on Friday.
THE PUNCH LINE
"Mitt Romney is sinking in the polls. That is the magic of a Donald Trump endorsement right there." — David Letterman
Norm Clarke can be reached at 702-383-0244 or norm@reviewjournal.com. Find additional sightings and more online at www.normclarke.com. Follow Norm on Twitter @Norm_Clarke.